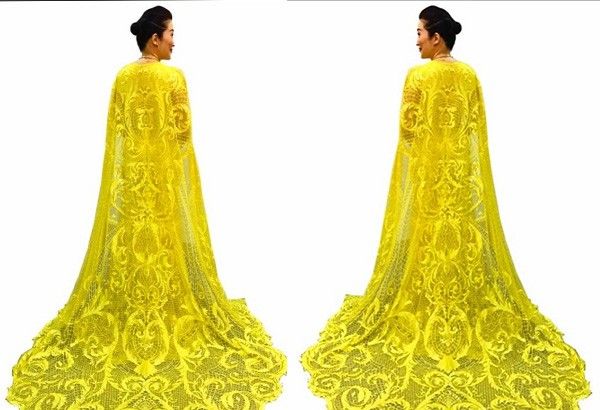 Kris Aquino showing the back detail of her "Crazy Rich Asians" gown designed by Michael Cinco
Screenshot from Instagram/Kris Aquino
Kris Aquino's 'Crazy Rich Asians' gown draws mixed reactions
HOLLYWOOD — Before heading back to the Philippines following a successful green carpet walk for the Hollywood premiere of "Crazy Rich Asians," actress and TV host Kris Aquino posted on Instagram the back detail of the Michael Cinco gown she wore in the movie.
"This is the back shot of the gown i wore as Princess Intan in @crazyrichasians, created by @michael5inco who originally came from #Samar... i chose this picture as my last post before we fly home because for the rest of my life i shall look back at the experience of being part of @crazyrichasians as a turning point," Kris said in the caption.
The post quickly drew mostly praises from fans.
Princess, queen
Netizen @rochellecarreon8 said Kris looks "every inch a Princess" in the gown.
Some netizens said Kris should not only be a princess, but a queen. "You look so majestic!" said @tu_ron, "Fit for a true queen!!!"
Many also praised Cinco for the design. "OMG. I'm screaming! Another stunning creation! This is another @michael5inco work of art We are excited to see in the movie!" said @grutjom.
"Amazing! Fit for a royalty. Kudos to @michael5inco for showing that we are at par with the best designers in the world," added @kerwinmacopia.
Golden
Some said Kris looks golden in the gown.
"Gintong makinang! Perfect ang color ng gown, hairstyle," said @trulyyoursgen.
"Wow ang ganda parang ginto ang dating sa akin ng gown!" added @leonilakilbane.
Met Gala, Rihanna
Meanwhile, others think the gown deserves to be worn in Vogue's annual Met Gala.
"Bongga pang Met Gala," said @crystal_glitterrss.
According to @shijofranzmoss, the gown looks like "Rihanna's omelette gown sa Met Gala."
"Kris is the Philippine Rihanna," said @dwayne.senoron.
"This reminds me of Rihanna's big yellow dress with a humungous train! BUT this is much more elegant and royal," noted @john_robrigado.
Superwoman, statue, Beyonce, curtain
Netizen @celestial_aly thinks the gown's back detail looks like superwoman's cape. "OMG The cape! FOR.SUPERWOMAN!!!" the netizen said.
"Beyonce?" said @rodenmarlmacutay.
"Akala ko Mama Mary na Statue," said @dunhill_dufrens.
"Parang santo," said @jcamunoz03.
"Para kang rebulto, aparisyon," added @rodellubaldo.
"Masyado papansin naman ito," said @florianzerda2085.
"Parang kurtina!" @celestino2032 commented.
Elsa in yellow
Some netizens compared the back detail of Kris's gown to that worn by Disney character Elsa from the movie "Frozen."
"Elsa? Lol," said @arlenejaculo.
"Elsa?nagchage outfit ka na?," said @bonichiwa15.
"ELSA IN YELLOW… uuugh," said @kyle_regino.
"Nice and pretty ms. Kris look like Elsa but in different color love it... frozen is coming," added @arnoldbuesa.
"Ang elsa ng plipnas...lady in yel0w," @iamjocelgabriel stated.
Some netizens noted that Kris's choice of yellow means she is a certified "dilawan."
"@krisaquino so certified dilawan ka talaga? XD," asked @4thsss.
"The anti-dilawans are shakiiiiing," added @putoalbum.
Kris then replied to @putoalbum, explaining why she chose to wear yellow in the movie.
"You know the color yellow is a representation of my dad & mom- and it was carried on by my brother... i am proud of the fact that regardless of the demolition job being done to undermine the legacy of my parents- in the UNITED STATES of AMERICA, the country where as a 9 year old i learned the value of freedom & democracy- i proudly got to wear something to honor them... ganun ang mundo, yung kasalanan ng iba, especially yung mga political "butterflies" pina pa-ako sa kapatid ko na alam kong matapat nagbigay serbisyo sa bayan," she said.
Besides the fact that bright yellow has been linked to the Aquinos, Kris said she wore yellow because it flatters her skin tone.
"Napagod na lang akong mag avoid ng yellow for gowns & formal wear- kasi karapatan ko & let's be honest- bagay naman sa kutis ko... so pwede silang mag chill- i've said this many times- my mom said i can go into public service when i've learned SIMPLICITY as a way of life- sa choice ng gown & alahas obvious na super far into the future pa yun," the actress said.
Netizen @pattiepatpatrish agreed with Kris. "The power of the color yellow… it feels like your mom and dad are with you as you represent our country in the film. They are surely proud!"
"Only @krisaquino has the guts to wear and then get away with that kind of yellow... Beautiful yellow outfits. I love yellow, too!" added @xtineflorido.
"Love the color yellow… its the color of Sunshine.. it has a warming effect.. and as you said, a lasting meaningful symbol of sacrifice," remarked @augustrush2oo7.
Kris was asked by @realjarimac if she was allowed by the movie's producers to choose her own gown, to which the "Queen of All Media" replied: "@realjarimac yes but they had suggested the color palette."
Kris's yellow Michael Leyva gown with a giant bow, which is also a symbol of her parents, has been featured by Vanity Fair as among the "must-see looks" from the Hollywood premiere's imperial green carpet.
Netizen @instagreatpaolo asked Kris why she was not in the group photo with other cast members.
Kris then replied: "Because nahiya naman akong umepal & it was so nice to chat w/ the family of Mr. Emmerich & the rest of the Filipinos inside."
According to some netizens like @pearla_ig, Kris made the right choice not to join the group shot because her yellow gown could have been the picture's "highlight" that could have outshone the others.
"Crazy Rich Asians" opens in Philippine cinemas on August 22.