WATCH: Anne Curtis models new Mark Bumgarner collection
MANILA, Philippines — Actress and TV host Anne Curtis, whose "effortless style" was featured in Vogue, modeled the final runway look of the latest collaboration collection of Filipino celebrity fashion designer Mark Bumgarner.
The corset top Anne wore at the recent fashion show is among Mark's favorites because it could be dressed up or down, and can be worn from boardrooom to red carpet.
The collection, the biggest designer collaboration of Filipino brand Plains & Prints, features 13 designs that include four dresses, five tops, one pantsuit, and three bottoms that lend Bumgarner's signature aesthetic to pieces that are more casual and wearable.
Mark said some of the pieces from the collection were given a dash of local style by incorporating recognizable Filipino symbols in the prints.
"We took inspiration from the Anahaw because it is our national leaf and is endemic to our islands. We also chose the Waling-Waling prints because it's considered as the 'Queen of Philippine Flowers' and one of the most prized orchids in the world," he explained.
Mark on designing wedding treats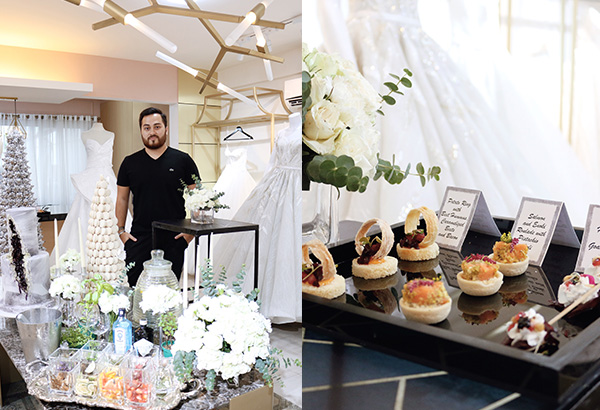 Filipino celebrity designer Mark Bumgarner and his designer confectionery collection for Bizu. Photo release
Sometimes you cannot help it. You just find yourself salivating over a piece of clothing. A cocktail dress in candy colors. A gown with cabbage roses good enough to bite. A long dress in buttery silk.

Fashion designers have this uncanny ability to whet your appetite, compelling you to buy their delicious creation. And, you have a ready excuse for the purchase: It's a confection!

Now there is something that fashion designers are creating that you can actually, literally eat! Bizu Catering Studio recently launched "Taste by Design" in collaboration with Rajo Laurel, Vania Romoff, Michael Leyva and Mark Bumgarner.

"The idea was we partnered with four of the hottest top designers in Metro Manila," said Christine Marie Palma-Tanco, marketing manager, Bizu Groupe/Philippine Pastries Inc. "They don't have to have any culinary background. We sat down with the designers and interviewed them to know their personalities. So the menu is crafted based on their personalities. It's not a collection per se. It's more of when we met them, we wanted to understand them as designers."

The designers were chosen based on their social-media following and how big their reach is in terms of their market. Bizu, an upscale purveyor of fine French and international culinary offerings, also considered the clientele that the designers have.

"We wanted them a little bit young and not so old. We gave them full creative control while also being able to work together because we said we want relevance but we also want tradition," Palma-Tanco said. "So we have upcoming designers like Mark, Vania, Michael. They're not long-time designers like Rajo Laurel, who is established. We needed that mix of designers in the group. We also approached other designers but unfortunately they declined."

But Bumgarner, the brightest young thing dressing up today's A-List stars, had no hesitations.

"It was a no-brainer with Bizu because they're a well-established brand especially in their field and they serve really good food. In both of our industries, we're allies. We're the same, like for brides, they also cater what the brides want for their menu. There's a consultation just like when a bride wants pagawa her wedding gown," Bumgarner said.

"It all goes together and that's what's important---the wedding gown and the food. Because the food is what the guests remember also," he added.

The designers worked on themes according to their design philosophies. "Vania is more romantic. Rajo is not doing a bridal collection. What he's doing now is, which we are supporting, is a cruise collection inspired basically by his love of plants--botany. His theme is 'Hortus,' which is Latin for horticulture. Michael Leyva, he is just being him. He loves fantasy. He loves sparkle. He loves bling so everything to him is big," shared Palma-Tanco.

She added: "Mark is more straightforward. He loves navy blue, one of his favorite colors so we added that. He wanted a little bit of sparkle. He said before that he doesn't do sparkle. But for this, he added sparkle because people were saying they didn't know he can do it. He's known more for the big ribbons, simple straight cuts. For his new collection of wedding gowns, he started putting beads."

Bumgarner said that he decided more on the look of the cakes than its flavor or ingredients. "I'm very boring with pastries because I like them all! No bawal, as long as it looks nice. I eat vegan, gluten-free food. I don't mind it if it's less sugar. I don't mind it if it's all sugar. I'm not picky. But there a lot of brides who are. That's why Bizu can adjust to everything. If you are vegan, they have an option for that. If you want less sugar, they can do that without compromising the taste."
"Sugar-free for cakes is very difficult but we are moving in that direction because that's the trend. Gluten-free, there is an option if you don't want gluten or wheat in your cakes. We have another brand, Happy Garden, that is our healthy concept. So everything there is sugar-free, gluten-free and organic," Palma-Tanco said. — Video by Deni Bernardo, EC Toledo IV