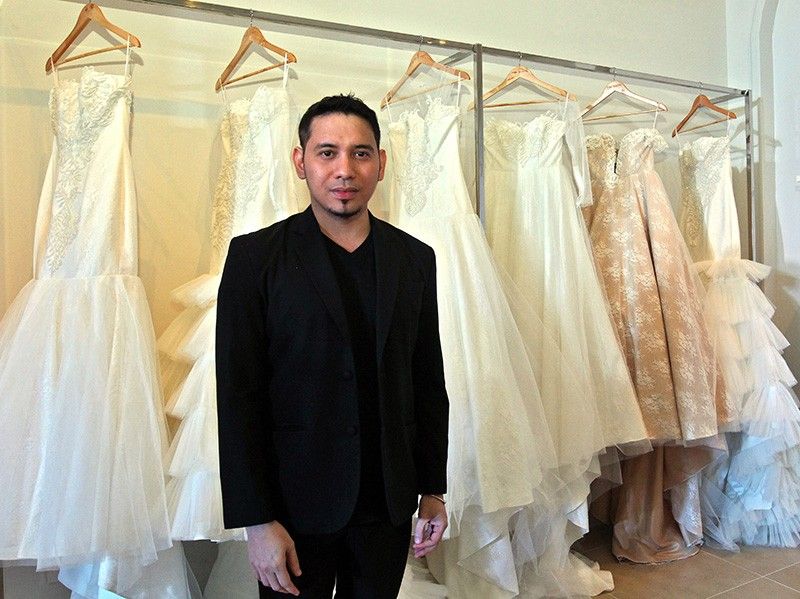 Internationally acclaimed fashion designer John Herrera opens Louvre-inspired boutique offering off-the-rack bridal and evening wear at Shangri-La Plaza.
John Herrera opens first store in Shangri-La Plaza
MANILA, Philippines — Celebrated fashion designer John Herrera has set up shop in Shangri-La Plaza mall, the country's most established upscale shopping and lifestyle destination. Known for his specialization in evening and bridal wear, the London-based designer and his partners felt that now is the right time to open a store in the Philippines.
"Before, the Philippines was very centered around made-to-order, made-to-measure clothes but then I saw a trend wherein foreign companies are coming here, creating off-the-rack bridal collections (and selling them) and I realized that it's perfect for my business now to do both things — to make clothes and sell them in London and in the Philippines because both businesses have become aligned now. I couldn't pass it up," shares Herrera.
"If things here were still like 10 or 15 years ago, I don't think I would have opened this store. The trend of offering off-the-rack bridal and evening wear — that's also how it's being done in London — it's something that I can do whether I'm in the country or not."
When asked if the Philippines is ready to break from the tradition of having gowns tailor-made and instead opt for ready-made pieces, the designer explained, "Brides are starting to go for the 'no fuss, no drama' wedding planning, wherein you can see the gown right away and there is no 'lost in translation,' no stress, no headaches, no fear of if the gown will be ready on time for the wedding or not — none of those.
"We removed the drama part of the equation when it comes to finding the right dress. You see the gown, you check if it fits you or not, you decide if you like it or not (on you) — it's just about finding the dress and getting married. We don't mass-produce or repeat our gowns; we change the collection every six months. So every six months, brides can have something to look forward to," he added.
"This is also in the concept of service. I really like it when a business answers a question: we're doing this for what, to serve what market, to help make things easier for a certain group of people and this is the kind of business that does that."
Out of all the shopping malls in Metro Manila, why decide to open his first store in Shangri-La Plaza? "Because I really, really love this mall. Something about the place, the traffic, the way it was designed — I've always liked Shangri-La," he explained.
The feeling is mutual says Lala Fojas, executive vice president and GM at Shangri-La Plaza, "We are very happy to have John open his home in the Philippines with us. It is an honor," adding, "Our core market is a very discriminating market, whether it is by a local fashion designer or by an international fashion brand, they always look for quality and we are proud to say that we have both. To have John Herrera, an internationally acclaimed fashion designer, open his store with us is truly an honor. His designs are really art. You can always assure yourself that you will have a unique, one-of-a-kind piece and Shangri-La is very much a prime mover when it comes to art and culture."
The store itself can be likened to a museum. "I'm inspired by the Louvre in Paris. I fell in love with that museum. I wanted the feeling of vastness, that even though it is a small space, it seems big and I think it's a nice backdrop for gowns," Herrera explained. On one side of the room, wedding gowns hang on display, on the other are evening gowns and cocktail dresses. The dresses are not cramped; every dress has enough space for you to be able to admire them. The lace used, the placement, the intricate beading and details that went into the gowns — you can tell each gown was crafted to perfection. And any bride would be ecstatic to wear one of John Herrera's creations.
John Herrera's store is located at Second Level, Shangri-La Plaza, East Wing.