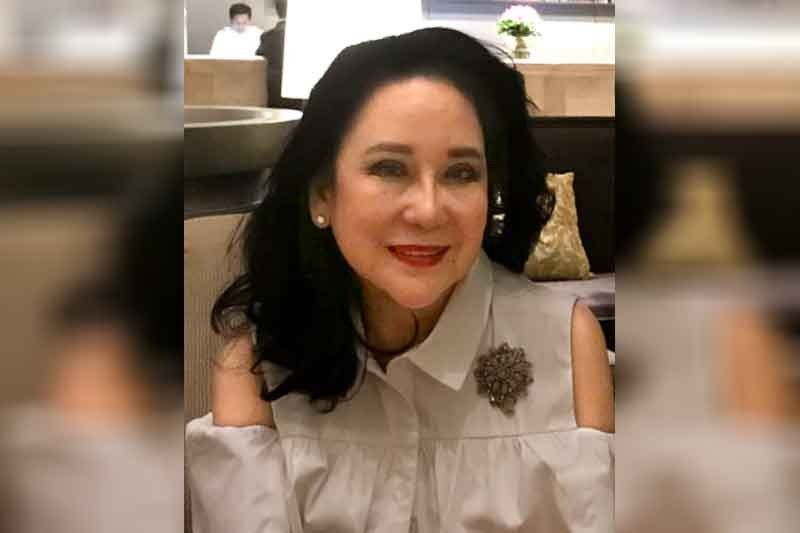 Minnie Osmeña at the lobby of The Peninsula Manila
Photos By Alex Van Hagen, Powered By Mac Center
For Minnie Osmeña, Home Is Where The Heart Is
If Philippine history — from the '60s to the present — were to be revised, Maria "Minnie" Victoria Osmeña, the granddaughter of the Philippine's second President Sergio Osmeña, would have been an important source of information. Coming from a famillie of politicians, she has seen the political processes and the attitude changes of the Filipinos over the years. However, discussing her main passion, politics, with the local media would only stir a hornet's nest.
Glamorous Minnie ­— who has been on the Dean's Council of Harvard's Kennedy School of Government for 23 years and had a Minnie Osmeña fellowship at the Kennedy School of Government for 22 years — is continuously spreading her wings and making her presence felt in the barangays of Cebu City where she is seen regularly, whether it be at a birthday lunch or a fiesta with her brother Mayor Tomas "Tommy" Osmeña.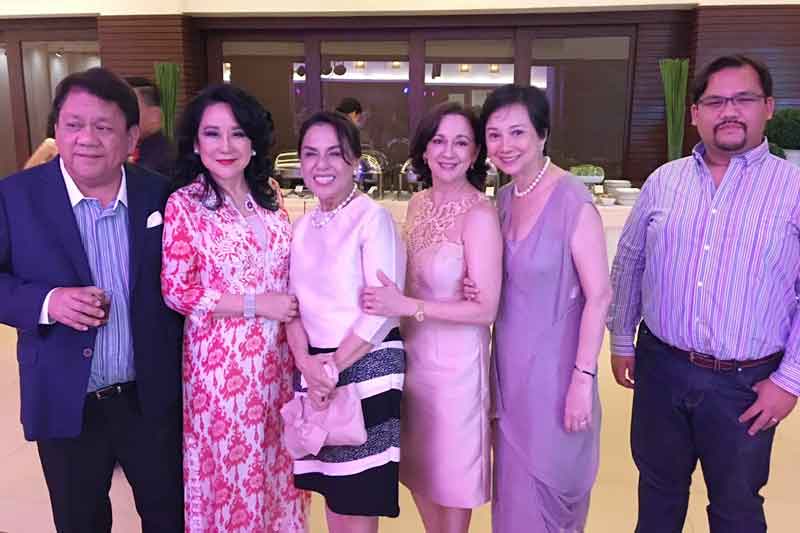 Cebu City Mayor Tommy Osmeña, Minnie and Margot Osmeña with Tina Valencia, Bettina Osmeña, Miguel Osmeña
I recently bumped into Minnie at the wake of Minnie Lizares del Rosario Pertierra whose mother Letty is a Lizares, while Minnie Osmeña's mother Lourdes is a De la Rama — both of whom belong to the grand old Negros families.
Minnie inspires people of the barangays, such as leaders and barangay officials and the students of the Sangguniang Kabataan, with her talks — teaching them about politics, values, and leadership — drawing from her extensive exposure to students and famous professors over the years. Minnie was also an elected student leader at Harvard where she received a certificate of appreciation from President Bok of Harvard University.
She admires and supports her brother, "Tommy's Long Life Program," which distributes free medicines, such as cholesterol pills, high blood pills, and diabetic pills every day to 40,000 constituents in Cebu City. She frequents the orphanages, palanggas.
Minnie is currently contributing a "skate park" to the city of Cebu for the younger people so that they can have a place for play and recreation, which garnered thousands of likes on the Internet.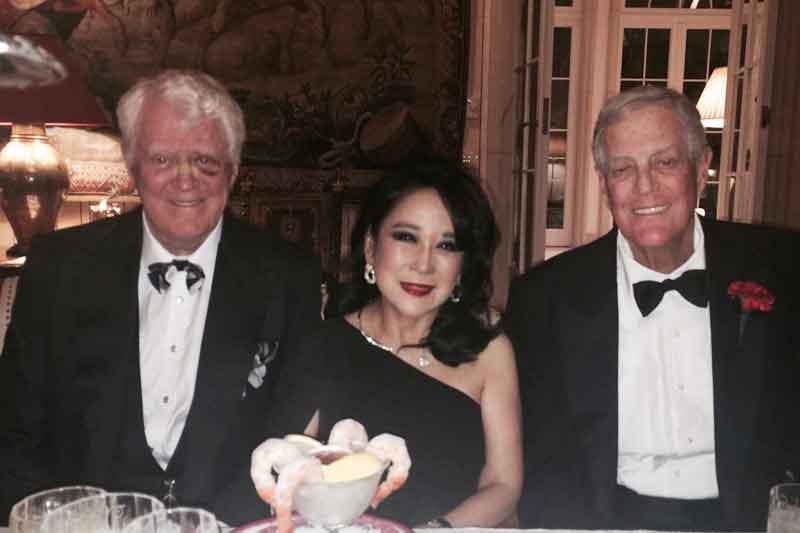 Minnie during New Year's in Palm Beach with host David Koch, Billy Koch
She enthusiastically told me: "My brother, Mayor Tommy Osmeña, has also done so many good projects that have gone viral, such as making a library available 24/7 for students so that they no longer need to spend money in coffee shops to study, which made the students very happy. He also approved the Abellana Sports Complex for longer hours and developed 300 hectares for the City of Cebu, which is now called the S.R.P., one of the reasons why the city is booming!"
In a nutshell, Minnie loves to go back to her roots to see the people that she grew up with and helped since the time of her father Senator Serging Osmeña.
Her two children live on opposite sides of the world. Stephanie lives in Virginia and is a cybersecurity analyst for Booz Allen. Her son, Paulo, and his wife, Angela, live in Makati.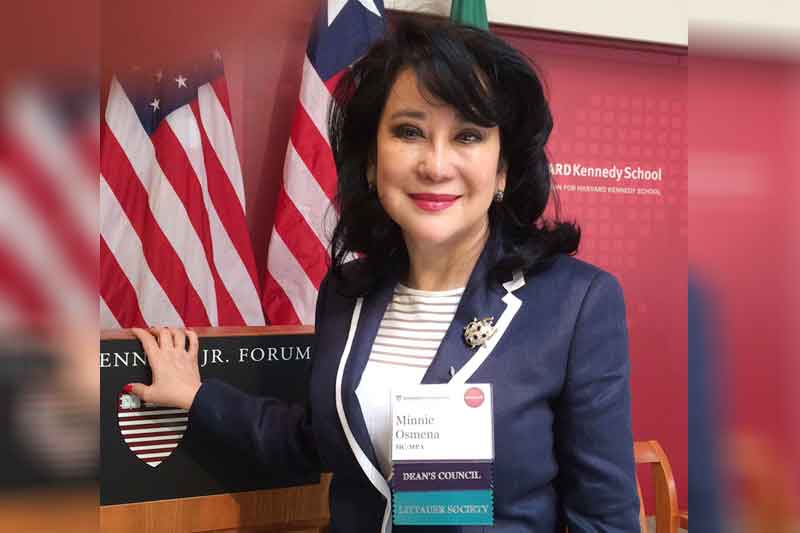 At the Dean's Council meeting, Harvard Kennedy School of Government, Cambridge, Massachusetts
Among her marriages, the most significant was with the late Dwight Stuart, president of Carnation Company and third-generation heir. The couple shuttled between Beverly Hills Palm Spring and New York. In the summers they flew in their own jet to the south of France and Italy, before she became a widow — after 12 years of marriage with Dwight.
Minnie Dela Rama Osmeña is one Filipina we can all be proud of, dahlings.
Home is where the heart is and her heart is in the Philippines.
Sweet and #AweSM at 60!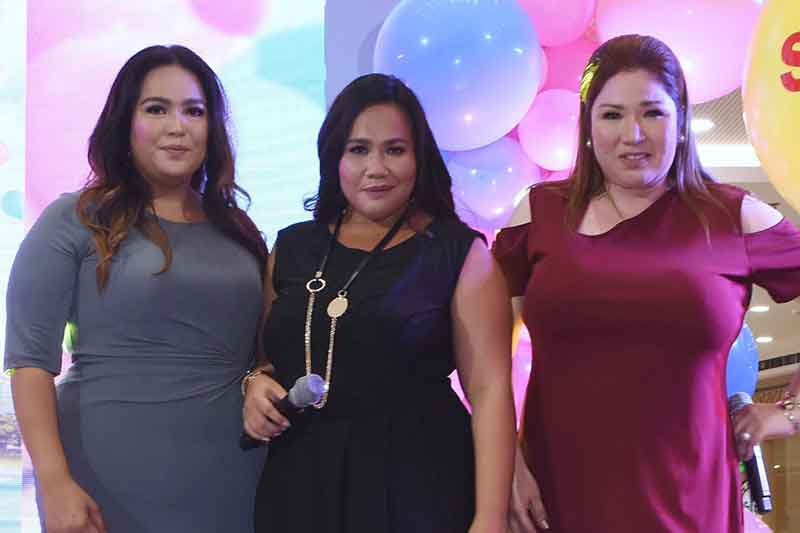 SM Woman Plus' celebrity endorsers Radha, Bituin Escalante and Frenchie Dy
It was a night of visual feasts, colorful desserts, fun games and amazing performances as SM celebrated the "Sweet 60" weekend bash held at SM Mega Fashion Hall as part of its 60th anniversary.
The "Sweet 60" activity area featured interactive play experiences, palanggas, where shoppers immersed themselves in a fantastic wonderland of colors and desserts. In partnership with Boysen, Fruits in Ice Cream, The Dessert Museum, and The Lost Bread, SM Megamall's #AweSM Weekend Party was an Instagram wonderland where everyone splurged on dessert treats and freebies, and snapped photos at the different activity stations.
Welcoming everyone to the event were SM Supermalls COO young good-looking Steven Tan, SVP for marketing Jonjon San Agustin, and SM Megamall AVP for operations Christian Mathay.
The event also featured a giant logo projection mapping at SM Megamall's façade along EDSA to celebrate SM's 60th grand anniversary. SM shoppers can look forward to a six-month-long celebration and #AweSM deals and surprises in all 70 SM malls nationwide.
For info about SM #AweSM 60 years, visit SM Supermalls Facebook page or www.smsupermalls.com.