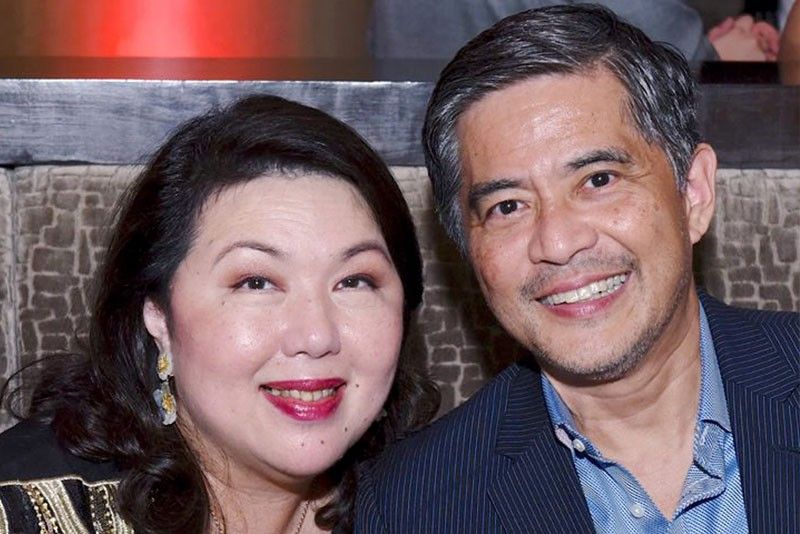 Philippine Tatler managing director Irene Martel Francisco and husband top Cardiologist Dr. Randy Francisco
Photos by Alex Van Hagen, Powered by MAC Center
Philippine Tatler presents its top 50
Would you believe, the Philippine Tatler's Generation T Top 50, the benchmark for young, high achievers in the country, is already on its third year? It recently presented the top 50 for 2018.
The trés exclusive by-invitation only soirée, dahlings, which was held at Shangri-La's at the Fort's High Street Lounge, was in fantastic partnership with Security Bank, Bulgari, Hermès, and that ultra high, high end Maserati car.
Generation T Listers and alumni breezed in style, palanggas, in the latest Maserati and Ferrari models. While the hot arrivals turned heads, the eye-catching Maserati Levante and a 488 GTB Ferrari were parked along the hotel's lobby entrance no less, palanggas.
Those dynamic hosting duo, Marc Nelson and Rovilson Fernandez presided over the special awarding of the Generation T Top 50, together with unmatchable woman of tature and substance Irene Martel-Francisco, Philippine Tatler managing director, and Gigi Montinola, WWF Philippines chairman. This year's awarded were given "a certificate of recognition and a donation, in their name, from Philippine Tatler towards WWF Philippines' environmental conservation efforts," explained Irene M.F.
The cocktails had tequila and negroni bar absolutely enjoyed by the more than 300 guests as well as the five variants of Engkanto craft beer by Generation T Lister's, Ian Paradies. Canapes were created by Philippine Tatler T.Dining Best New Chef for 2018 Josh Boutwood (who opened his new restaurant, Savage, two days prior) and with Shangri-La's executive chef especially for the affair. Naturellement, everyone flocked to the vibrant and colourful live photo booth, a nod to the diversity of the country's most talented movers, shakers and achievers, palanggas.
Octavio at 80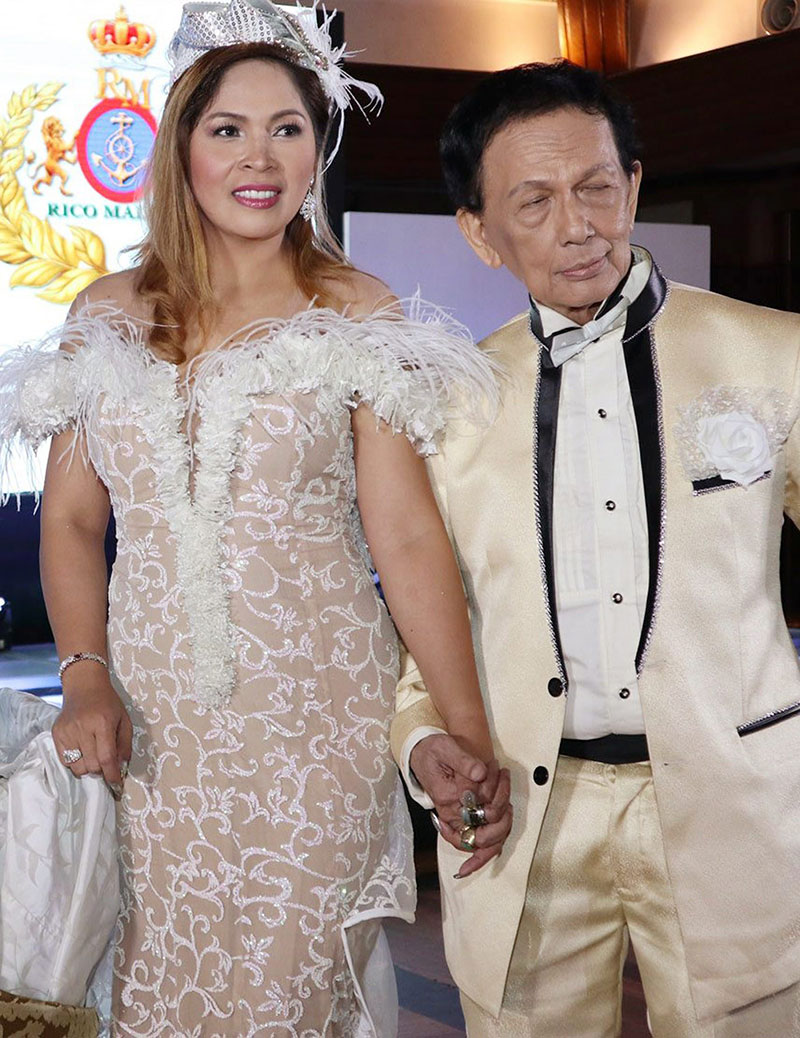 Man of the hour Octavio "Rico" De Santos Maloles II with his wife Jessie
Octavio "Rico" De Santos Maloles II celebrated his 80th birthday with a blast and book launching at the posh Main Lounge of Manila Polo Club. His immediate family, Jessie his wife, sons MacMac and EJ and daughters Rico Jessie (RJ), Jessie Rico (JR) and Mary were in attendance together with relatives and close friends from the business circle.
The celebrator is the only son of former Ambassador Octavio L. Maloles, Jr. and Carnival Queen Alicia Cabarus De Santos Rico, finished his elementary and secondary education in San Beda, Manila but he also went to different educational institutions in abroad such as New York University, Universidad De Mexico, Universidad Catolica Rio De Janiero among others, on top of finishing Law, Business Administration and Fine Arts.
Rico, his wife Jessie, together with their famillie and business friend Anthony Nelson Mendoza put up a company named Bless Amare Group of Companies, which comprises of chain of restaurants in Manille, like Bless Las Paellas, Bless Okiniiri, and hotels.
The highlight of the event was the grand fashion show with the creations of Rye Bayle and Marlo Javier.
It was an unforgettable evening especially for Don Rico Maloles, a true gentleman in the eyes of everyone, a loving husband to his wife, and a good father to his children, a genuine man of destiny, dahlings. Bravo!
Cinderella and MovED supply school kits to students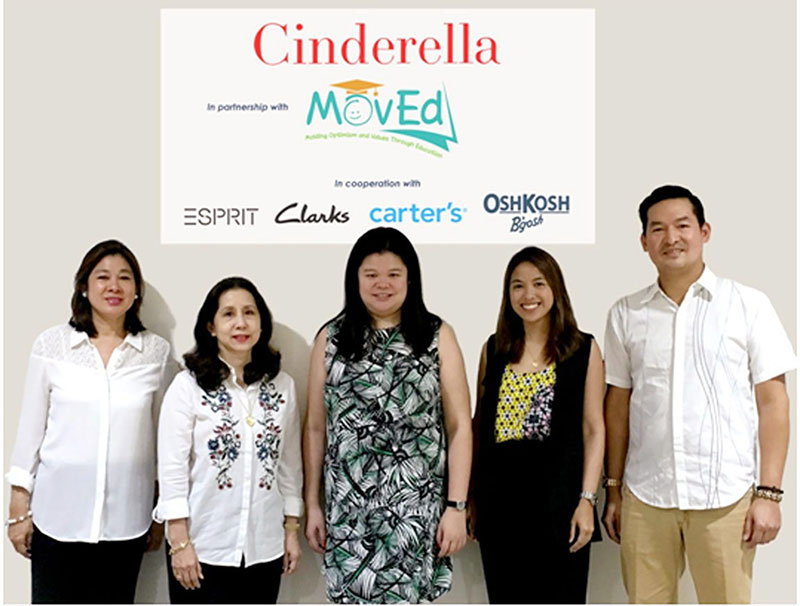 Malou Coronel-De Venecia, Cinderella director for marketing and communication, Janet Litton-Coronel, marketing mead, Alexandra Eduque, founder and chairperson of Move.org Foundation, Inc. (MovEd Foundation), Christin Coronel-De Venecia, Oshkosh B'gosh brand manager, and Richie Coronel-Santos, vice president for international merchandising
Retail magnate Cinderella teams up with MovEd, a non-stock, non-profit organization founded in 2012 by Alex Madrigal Eduque, "to provide students in underserved areas with a school kit, by adding P50 to the total Cinderella bill." This is Cinderella's Corporate Social Responsibility Project, dahlings, for back to school 2018 together with MovED. The school kit will equip students with tons of school supplies. Participating stores include Cinderella, Esprit, Clarks, Oshkosh B'gosh and Carter's. MovEd's mission has always been to bring education and development programs to children and their families in underserved communities. As of now, MovEd has put up 25 preschools, and hopes to enroll about 1,300 students for the school year 2018-2019. Their schools are located at Pasig, Paranaque, Binan and Camarines Sur. With the help of Cinderella, MovEd hopes the children enter the classrooms this year better equipped for learning. The tie-up runs from until June 30 in all Cinderella and shop in – shop stores.
Go dahlings and check what the iconic Cinderella has to offer for our deserving young students, palanggas.