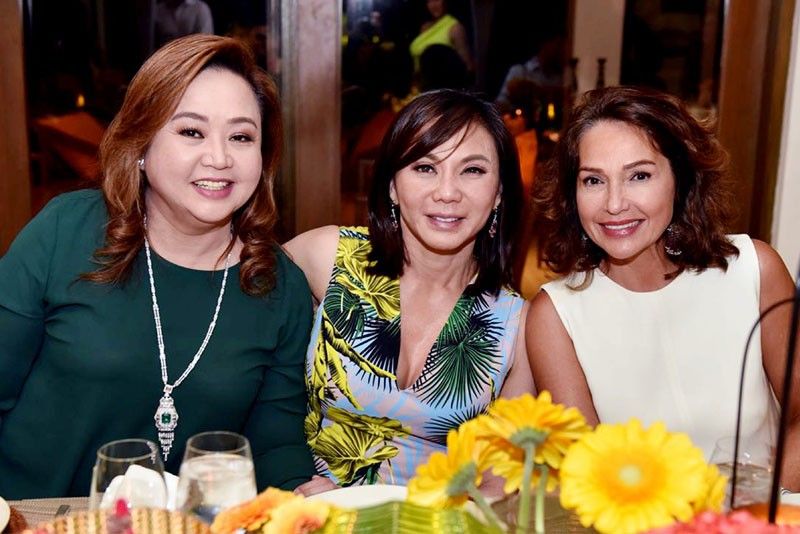 The celebrators and the host: Construction magnate Alice Eduardo and Maricris Zobel (right) with Dr. Vicki Belo-Kho
Photos by Alex Van Hagen Powered by MAC Center
Generous, Gorgeous Hearts Unite
The rhythmic and colorful Cuban vibe was just the right mood to get the guests on the roll, dahlings, at a sit-down dinner hosted by one of our hostesses with the moistest, Dr. Vicki Belo-Kho, with co-host/ daughter, the gorgeous Cristalle Belo-Pitt, an event organized by Belo's PR extraordinaire southern gent Jojie Dingcong — but who else, n'est ce pas? True to form, the Belos' sprawling home was superbly transformed with fabulous colorful flowers and foliage to complete the Cuban feel. Styled by none other than southern whiz Robert Blancaflor, the brilliant dinner was catered by Asia's top chef Margarita Fores no less, palanggas.
All this for the double celebration in honor of construction magnate Alice Eduardo and the hard-to-beat beauty and brains combo Maricris Zobel, who were not only charming and equally beloved by everyone, but also share the same birth date: March 20. Surrounded by chosen friends and en famille, the music played as the room filled with laughter and juicy catch-ups on comings and goings.
The Eduardo sisters Alice and Melba Solidum were trés visible with other pals, like sultry looker Pops Fernandez, Philippine Tatler's editor in chief Anton San Diego, the dazzling Korina Sanchez, and international businesswoman Karen Santos, gourmet master Nicole Ortega, international designer and art collector Jonathan Matti, banker and extraordinaire Andrew Gan — et moi, of course.
The evening was also to honor Fr. Didoy Albano, who has made the Annual Christmas concert at UST a humungous success, along with Dr. Tots Aguila from UST. The women of power discussed how to pull together and help their alma mater. All for a good cause from generous hearts, palanggas! A plan for this year's mega concert was put into shape, dahlings.
Otsirave takes a bow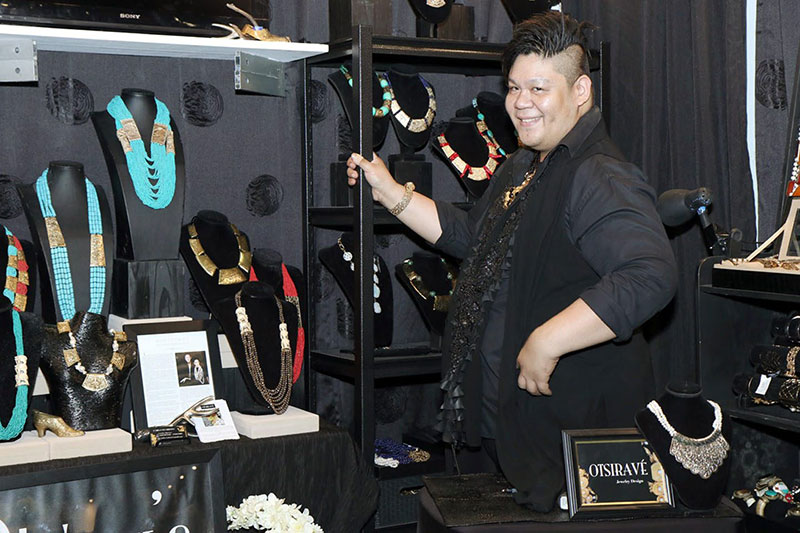 Carlo Evaristo and his art jewelry pieces
The brand to remember, palanggas, is Otsirave, featuring jewelry pieces by designer Carlo Evaristo that are handmade and one-of-a-kind, using semi-precious stones with a lavish and elegant twist. The craftsman's expertise is shown in the ways the metal is shaped into intricate patterns and in how the stones — such as amethyst, onyx, crystal quartz and pearls — are cut to form elaborate silhouettes.
Carlo E. trained at the prestigious FIT (Fashion Institute of Technology) in New York, "where I honed my skill in design and discovered a passion for painting. I incorporated both art and fashion into my jewelry pieces for Otsirave — from the first sketch to choosing the stones and setting, and molding each piece carefully and creatively to create each memorable, statement, one-of-a-kind piece," he said.
Otsirave pieces were handpicked and showcased at the Hall of Trends at the Premiere Classe trade show in Paris last September 2017 and have been featured in high-end heritage boutiques in Europe and Asia.
Take your well-deserved bow, Carlo.