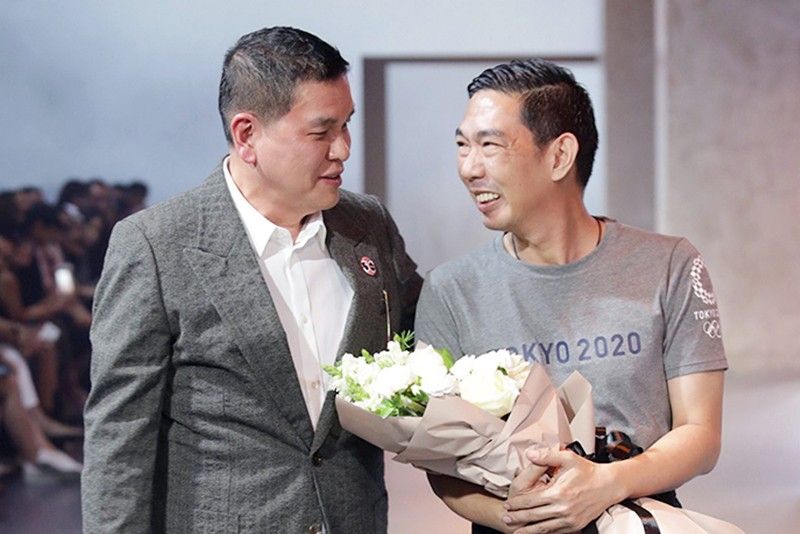 When two brilliant minds meet: Ben Chan with designer Joey Samson
Photos by Alex Van Hagen Powered by MAC Center
Star-studded Bench Fashion Week
International retail giant Bench staged the "Bench Fashion Week S/S 2018" at The Playground of the eye-catching Bench Tower, palanggas.
The first day was all for women as it featured the latest collections of local brand Kashieca, foreign brands Vero Moda and Karen Millen, plus designer Vania Romoff.
The second day was a display of vibrance and youth, dahlings, as the Bench Fashion Week runway became the platform for brands Human and American Eagle, and the new masterpieces of last year's Bench Design Awards winners Jennifer Contreras (Problem), RJ Santos (Randolf), and Jaggy Glarino (Jaggy).
The last day of super successful Bench Fashion Week gave everyone a little bit of everything as it featured Suyen Corp.'s very own multi-brand venture, Assembly, with designer Joey Samson, and naturellement Bench, dahlings. A number of fashion and showbiz clients attended and participated in the three-day event, including Kashieca gals Liza Soberano, Carla Abellana, Kelsey Merritt, and Bea Alonzo, who all walked for the brand; gorgeous Lovi Poe, Paulo Avelino, Marco Gumabao were among those fashion watchers, while Gabbi Garcia, Maxine Medina, Albie Casino, LA Aguinaldo, and Juliana Gomez were among the endorsers who walked for Bench.
That super eye-catching, and Miss World 2013 titleholder Megan Young, no less, was also revealed as Bench's newest endorser.
Needless to say, when Bench comes out with a fashion show or breathtaking extravaganza, you can be sure it's always a platinum winner, palanggas.
The ties that bind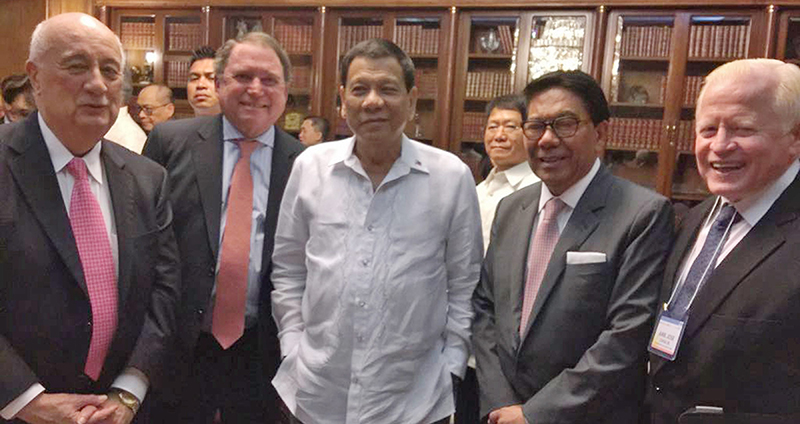 President Rodrigo Duterte with (from left) John Maisto, Ambassador Thomas Hubbard, the President's Special Envoy to the US and Century Properties Group chairman Jose "Joey" Antonio, Ambassador Joey Cuisia Jr.
Century Properties Group brilliant chairman Jose "Joey" Antonio, the President's Special Envoy to the United States, hosted a one-of-a-kind dinner at the well-manicured and well-designed residence of the US-Philippines Society.
Accompanied by his vivacious wife and hostess Hilda Reyes, Joey raised the glass to the group's fruitful meeting earlier that day, palanggas, at the Malacañang Palace, in his bid "to continue strengthening Filipino-American relations."
Joey serves as one of the directors of the society, an alliance of powerhouse names in business, including the late Washington SyCip, its co-chairman; and whiz Manny Pangilinan, mega power, namedroppables like Doris Magsaysay-Ho, Ricky Razon, Tessie Sy-Coson and Jaime Zobel de Ayala, among others, as well as former ambassadors who have expertly handled the ties between the Philippines and the US, naturellement.
The US Philippine Society is "an independent, non-partisan, combined Filipino-American organization. The society is a private sector initiative organized to broaden and expand interaction and understanding between the United States and the Philippines," that, Joey says, "will remain deeply connected because of its shared history."
"The US-Philippines Society remains dedicated to promoting sound business and investment ties, strengthening the strategic relationship, encouraging improved understanding of Philippine culture and innovation, and preserving knowledge of a shared history linking the Philippines and America," said society president, Ambassador John F. Maisto.
Present at the high-powered gathering were US Ambassador to the Philippines Sung Kim, Philippine Ambassador to the United States Jose Manuel "Babe" Romualdez and society co-chairman Ambassador John Negroponte. Society directors Ambassador Roberto Romulo, Ambassador Jose Cuisia Jr., Doris Ho, Robert Panlilio, Atty. Leonardo Canseco, Henry Howard and Ambassador Thomas Hubbard were also in attendance, as well as the society's executive director, Hank Hendrickson.
Pizza Express' party of the year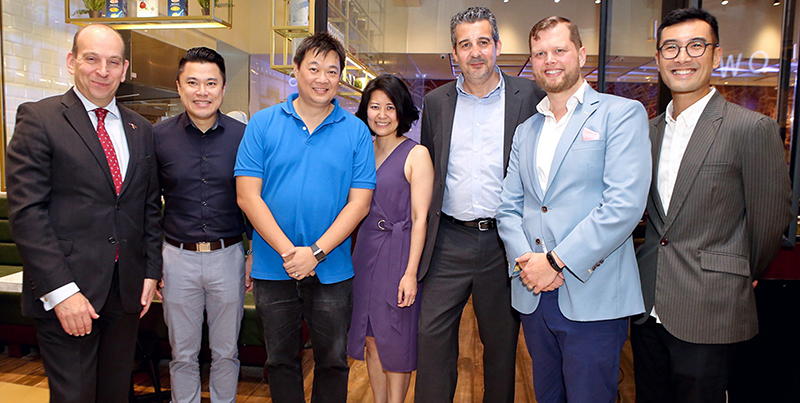 British Ambassador to the Philippines Daniel Pruce, Megaworld Commercial SVP Kevin Tan, Tasteless Food Group CEO Charles Paw, Tasteless Food Group CFO Anna Paw, PizzaExpress international business development head Hakim Haouchine, general manager for Hong Kong, UAE, Singapore and franchises of PizzaExpress Liam Collette and PizzaExpress international brand and marketing director John Lui
Pizza lovers from all over town attended the opening of PizzaExpress Philippines at Uptown Mall, Bonifacio Global City.
The grand launch, dubbed "Pizza Party of the Year," was hosted by Stephanie Zubiri-Crespi, TV host, entrepreneur and author.
A ribbon-snipping ceremony took place and was attended by PizzaExpress International general manager Liam Collette; head of international business development Hakim Haouchine; and international brand and marketing director John Lui. They were joined by British Ambassador to the Philippines Daniel Pruce, British Chamber of Commerce chairman Christopher Nelson, Megaworld Commercial SVP Kevin Tan; Tasteless Food Group CEO Charles Paw; and CFO Anna Paw.
Yes, it certainly was a PizzaExpress grand famillie affair, as representatives from Hong Kong, Singapore, and the UAE jetted in to mark its first branch in the Philippines.
All PizzaExpress restaurants are known for their open kitchens where diners can watch pizzaiolos (pizza chef who makes Italian pizzas) knead and toss the dough, so it was only right that the launch had a pizza-making show for the chosen invitees. Led by Hakim Haouchine, the display highlighted the brand's signature dough, exclusively made Passata tomato sauce, and fresh ingredients.
The pizzaiolo tossed and flared the pizza dough, dazzling the audience, as Haouchine sprinkled facts and tidbits about what makes PizzaExpress' pizzas mouthwatering and sought-after. In this fun presentation, they made from scratch the American Hottest, a spicy pepperoni pizza with peppers and jalapeños.
Bea Lorenzo entertained guests with her soulful rendition of pop classics.
Check it out, dahlings, and indulge the pizza lover in you with PizzaExpress' world-famous pizzas and Baked Dough Balls at the upper ground floor, Uptown Mall, Bonifacio Global City, Taguig.
* * *
For inquiries, like PizzaExpress Philippines on Facebook and follow @pizzaexpressph on Instagram.