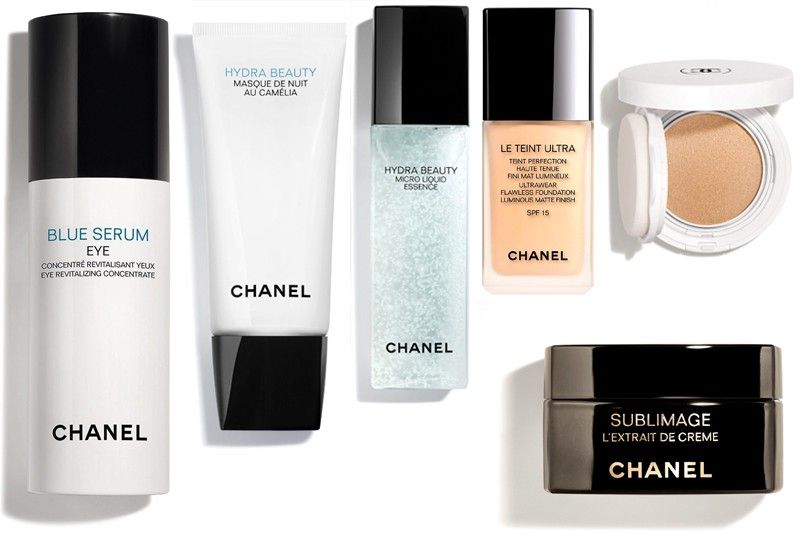 Wellness over anti-aging: Chanel's skincare and makeup offerings are all about soothing, cooling comfort, deep, nourishing moisture complemented by application techniques.
MANILA, Philippines — From being the buzziest of beauty marketing buzzwords, anti-aging has been demoted to being ageist—even inaccurate. At least that's what Chanel beauty's summer lineup reveals. It's not about being politically correct either. Aging is as inevitable as seasonal changes--you can slow down its appearance, but that is only an illusion. It's not a disease to be prevented and cured. Whatever your age and perspective on aging may be, it's always best to care for our bodies, not for how it looks but for the life it has allowed us to live thus far--and the possibilities that lie ahead. Like how a good night's sleep does wonders to our overall health, it's also important to create ideal conditions for our skin to allow itself to regenerate.
In the heat of summer, Chanel's skincare and makeup offerings are all about soothing, cooling comfort and deep moisture. It's not about combating aging, but rather about wellness. They come with new application techniques to upgrade your regimen, too.
The favorite flower of Mademoiselle Chanel, the camellia is not only a beautiful accent to all Chanel fashion and beauty products but also in the ingredients of the Hydra Beauty Line itself. They demonstrate a particular affinity with the skin owing to their membrane that is similar to our skin cells. The Hydra Beauty Micro Liquid Essence is truly refreshing and soothing as the first step to your regimen post-cleansing. It holds about 3,000 micro-droplets that protect cold-extracted 50 percent fresh camellia cell actives, suspended in a jellified liquid solution in their purest form until the moment of application on skin. This mechanism allows it to be free from irritating alcohol and surfactants.
Its highest concentration is in the Hydra Beauty Masque de Nuit au Camélia, which is a masque like nothing else in the market. Inspired by dewdrops that bead up on camellia petals at dawn to detoxify and oxygenate the flower, it feels as lightweight as a serum. Combined with Camellia Alba PFA and Blue Ginger PFA, the mask is endowed with zinc, copper and magnesium and reactivates cellular oxygenation mechanisms by capturing the oxygen circulating in the blood vessels and stimulates the synthesis of ATP, the cellular fuel. Apply a thin layer to face and neck with the curved part of the camellia petal-shaped applicator. Turn the applicator over and apply a small amount of product to the lips. Leave on for two minutes, then massage gently. In seconds, fine droplets appear, like morning dew; a poetic sign that the active ingredients are diffusing into skin. There is no need to get up and rinse off because it is meant to infuse into your skin all night.
Inspired by the vanilla in the Coco Mademoiselle eau de parfum intense is the Sublimage L'Extrait de Crème which concentrates all of the active fractions of Vanilla Planifolia, selected from 117 varieties of vanilla from around the world. Each part of the plant at each step of the life cycle, from growth, flowering, birth of the fruits, to maturation, has yielded active ingredients. It's an aqueous phase containing hygroscopic agents and hyaluronic acid, as well as two oily phases. The first contains camellia, jojoba and canola, which act in perfect affinity with skin. The second contains vanilla flower enfleurage oil to strengthen skin's natural defenses. Take the product with the spatula--important in keeping products in a jar container clean--and dab a small amount onto each cheek, the forehead, neck and décolleté. With both hands, smooth facial features, from the center of the face outwards. For the décolleté, smooth from the chin towards the clavicles. With hands closed into fists, massage the different areas with the phalanges, using circular motions.
Similar in its wellness-inspired approach is the Blue Serum line, inspired by ecosystems called Blue Zones, characterized by populations with exceptional longevity. The Blue Serum Line contains nutritious plants endemic to these zones: Costa Rican green coffee, renowned for its antioxidant properties; Sardinian olive oleoactive rich in essential fatty acids and olive leaf highly concentrated with polyphenols; Greek lentisk gum extract for anti-puffiness and anti-dark circle complex. In time for summer, the line expands with a product for the eye contour. Massage it on by placing the phalanxes of your bent thumbs on the inner corners of the eyes. Exhale while pressing, and let the weight of your head fall against your thumbs. Still using your thumbs' phalanxes, gently perform soft smoothing movements on the upper and lower eyelids while breathing slowly and deliberately. For a relaxing finish, perform three circular movements on the temples with fingertips, then move behind the ears and finish at the collarbone.
The makeup has skincare benefits, too. Le Teint Ultra Tenue combines the immediate mattifying action of absorbent powders with the long-wearing matte finish of a blend of zinc and polysaccharide powders. Hydrophobic pigments, treated with amino acids, enable the formula to adhere ideally to the skin, while a resin allows the foundation to resist sebum for perfect coverage and a radiant skin tone from morning to night.
Fusing brightening skincare power is Le Blanc Oil-in-Cream Compact Foundation, packed with ume ?ower oil and the glycerin associated to hyaluronic acid and Smart Thermal Complex, which acts like a veil on the skin. In hot weather, pores remain closed. In cold weather, redness is rebalanced. Brightening pigments smooth out ?aws with soft-focus iridescence in a shade range made for Asian skin tones. SPF 40/PA++ protects the skin.
In line with Chanel's ageless philosophy, the latest shades for the lips, cheeks, and nails are all electrifying and fun, providing a pop of color in a variety of finishes and textures. The iconic Rouge Coco lipstick is all about vivid color, whether in raspberry red (484 Rouge Intimiste), an intense, luminous pink (482 Rouge Malicieux), or in a bright pink (480 Corail Vibrant). Rouge Coco Shine has the moisture of a balm thanks to the Hydratender complex, giving impertinent raspberry (144 Rouge Irrésistible), a bluish pink (142 Rose Émotif) and a bright, radiant orange (138 Poppy Orange) a natural, wet shine. The more intense pigmentation and luminosity of Rouge Coco Stylo comes in an intense bluish red (234 Framboise Sensuelle), a sorbet pink (232 Rose Mutin), and radiant pink (230 Rose Éclatant). The Rouge Coco Gloss, steeped in the instantly moisturizing Hydraboost complex of jojoba, mimosa, and sunflower oils, comes in an intense pink touched with fuchsia (806 Rose Tentation), a mischievous pink (804 Rose Naïf), and a crystalline mandarin jelly (802 Living Orange).
Also dreamed up by global creative make-up and color director Lucia Pica is the new Rouge Coco Lip Blush, a lip-and-cheek gel that also cares for the skin with the Hydra-boost complex, a softening coconut derivative, and a trace peptide for a plumping effect. When applied, the ultimate red (418 Rouge Captivant), a chocolate purple (420 Burning Berry), an intense pink touched with fuchsia (416 Teasing Pink), a universal rosy nude (414 Tender Rose), a radiant and vibrant orange (412 Orange Explosif), and a peachy pink (410 Corail Naturel) tinge the lips and cheeks with a wash of luminous matte color. Simply pat the gel formula with your fingertips.
Nails are just as adventurous. Le Vernis Longue Tenue's summer colors are a deep and intense violet plum (628 Prune Dramatique), a dazzling fuchsia pink (626 Exquisite Pink),a couture denim blue (624 Bleu Trompeur), a neon pink flash (596 Rose Néon), a vibrant violet-blue (622 Violet Piquant), and an intense chocolate (618 Brun Contraste). The colors don't immediately appear wearable, but trust in Pica's color sensibilities, transforming the way we perceive and wear color — remember how she moved red from the lips to the lids? With its mirror shine, the unconventional nail colors are so eye-catching and will have you fielding rather invigorating compliments.
* * *
Chanel is available at Rustan's The Beauty Source.