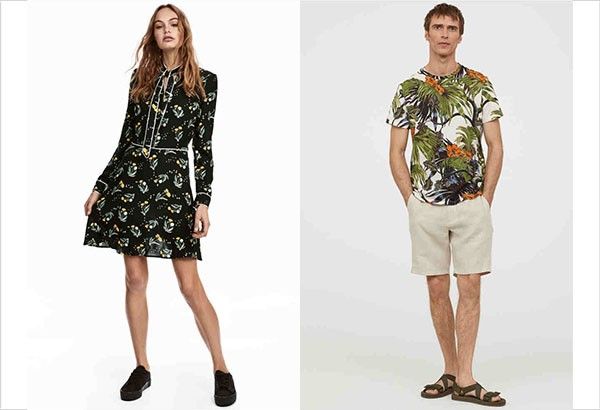 Pieces from H&M's latest collections.
H&M/Released
H&M breaks silence on $4.3-billion unsold inventories
MANILA, Philippines — The March 27 New York Times story titled, "H&M, a Fashion Giant, Has a Problem: $4.3 Billion in Unsold Clothes," sent shock waves across an industry still reeling from a "retail apocalypse," when one known fashion label after another is filing for bankruptcy.
In response to the New York Times article, the Philippine office of Swedish fashion brand H&M has released a statement to Philstar.com.
Dan Mejia, H&M Philippines head of communications and press, explained in the report what the company has been doing to get its inventories moving.
"Most of our range is sold in our stores or online, sometimes at a very beneficial price through our sale and other commercial campaigns. Other examples of sale activities include temporary pop up-outlets in certain markets where we sell garments at reduced prices. We also actively move garments to stores where we see a greater demand, or even to other countries where we have too few of the garments. If garments remain unsold at the end of the commercial season we evaluate storage until the next season," he narrated.
He assured that overstock garments are not sent to destruction. "Even if we would not be able to find a buyer for overstock, destruction of these items is not an option. We follow a waste hierarchy in this scenario – the first option is to send those items for donation so they can be worn again, next one is to reuse as something else, then recycling."
According to him, "Only garments with mold or products not complying with our chemical restrictions are destroyed as part of quality procedures in our production process. Such products are stopped before they reach our warehouses and stores."
He ensured that "under no circumstances do we destroy clothes that are safe to use."
"It is, however, our responsibility to ensure that everything we sell in our stores is safe, and that any garments that are deemed as potentially harmful to the health of our customers are destroyed. We will continue to take that responsibility."
H&M has 32 stores in the Philippines. Since its entry to the local retail scene, consumers have flocked to its stores especially during its frequent sales.
Climate change affects sales
Mejia's assertions followed that of the company's chief executive officer, Karl Johan Persson.
On the company report titled, "H&M Hennes & Mauritz AB Three-month report for the First quarter (1 December 2017 –28 February2018), Persson explained that the weak sales in the fourth quarter, partly caused by imbalances in the assortment for the H&M brand, resulted in the need for substantial clearance sales in the first quarter.
"The high level of clearance sales combined with unusually cold winter weather had a negative impact on the sales of the spring garments. In the first quarter the H&M group's sales were unchanged in local currencies," he said.
The New York Times article said that H&M outlined the buildup in its latest quarterly report on Tuesday, prompting questions of whether the company is able to adapt to the fierce competition and changing consumer demands in reshaping the global apparel market.
"Signs of the brand's expanding unsold inventory began emerging last year, when it reported an unexpected quarterly drop in sales. The decline was the first in two decades, a period in which H&M expanded from a lone women's wear store west of Stockholm to a gargantuan network of 4,700 stores around the world," The New York Times added.
Although the company is struggling, Persson assured that many of the company's ongoing initiatives are giving good indications and results, even though they have not yet been implemented at a large enough scale to have a decisive effect on the overall results. The weak sales development combined with substantial markdowns had a significant negative impact on results in the first quarter.
"The rapid transformation of the fashion retail sector continues," he declared.
"As communicated previously, the start of the year has been tough. 2018 is a transitional year for the H&M group, as we accelerate our transformation so that we can take advantage of the opportunities generated by rapid digitalization."
Meanwhile, this means good news for many shoppers. A netizen's post on Wednesday about paying only P2,000 for H&M clothes worth around P20,000 went viral, sending shoppers on a frenzy at the brand's SM Megamall branch.