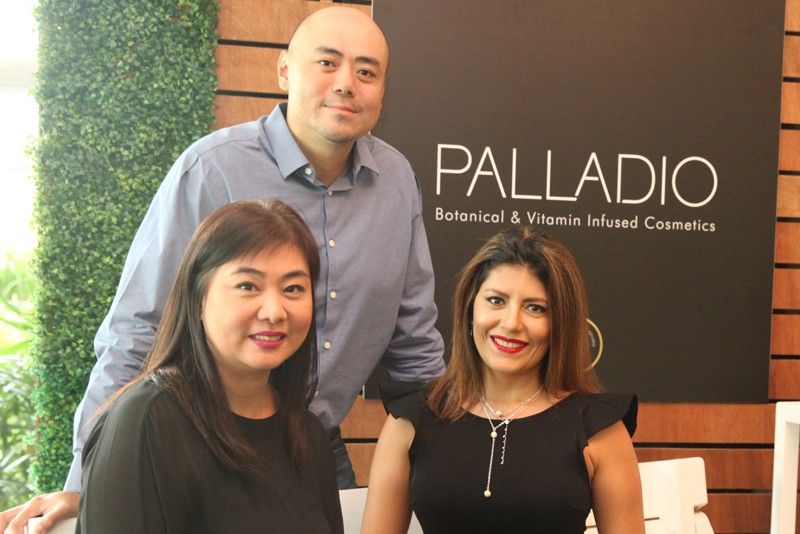 John See, president of Glam Brands, Jocelyn See of Glam Brands, and Monica Richardson-Morley, Palladio SVP for international business development Photos by Joey Viduya
No #NMM here, just bold, vibrant, affordable makeup
A new makeup brand is in town, whose quality is professional enough for makeup artists but so gently priced and good for your skin that consumers will love it, too.
American brand Palladio boasts the colorful vibe of its home base, Miami, as well as Best in Beauty awards for its primers and rice powders.
Brother-and-sister team John and Jocelyn See of Glam Brands discovered Palladio at a cosmetic fair abroad. "It's a professional makeup line for makeup artists, but good for consumers as well," John says. "The colors are bold, vibrant — it's something that everyone can use — and it works well for shoots."
Palladio isn't for those who favor the NMM look. "This is the 'I'm made up' look," notes John.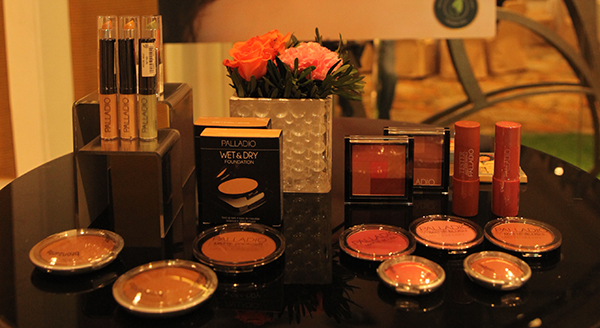 Makeup artist favorites: Palladio's foundations, primers and rice powders are Palladio's bestsellers.
I love that everything is priced under P500, which is cheaper than most drugstore brands "but the quality of the tint is very comparable to Urban Decay — that's how strong the pigment is and how vibrant the colors are," John says.
Palladio's SVP for international business development Monica Richardson-Morley came to Manila to launch the brand, and as a mom whose young daughter likes to use her makeup, she loves the fact that Palladio is safe, non-toxic, and actually good for the skin.
"It has green tea, ginseng, aloe vera, argan oil, coconut oil — all botanical, organic and natural ingredients — no chemicals, no parabens," she says.
Since the hottest makeup trends right now are still illumination, highlighting and contouring, you'll be glad to know that Palladio has all the products to achieve that coveted look.
Celebrity makeup artist Eman De Leon loves the brightening cream and matte blush, which he used liberally on TV host Angelique Manto to get a naturally chiseled, radiant look.
Since Palladio in the US has over 500 SKUs to meet the needs of professional makeup artists, the Sees made sure to choose products and colors that are most flattering to Filipinos.
Personally I'm loving the face products. The primer, aside from the usual clear variant, also comes in a matte version with rice powder and an on-trend highlighter version I can't wait to buy. Another fave is the oil-free foundation, which is vitamin-infused, comes in a portable tube and dries to a powder finish.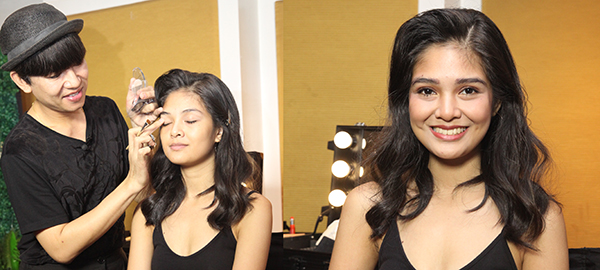 Makeup artist Eman de Leon gives TV host Angelique Manto a healthy, glowing look with Palladio's contour palette, Mosaic compact, matte blush, Crushed eyeshadows and brightening cream.
As for the iconic loose rice powder, I know many makeup artists who rely on the translucent shade to set their clients' makeup, but Palladio features a number of shades to suit different skin tones and — since the current square box isn't exactly designed for travel — I'm glad Palladio will be featuring a rice-powder compact in the next collection.
Other standouts include the Mosaic compacts, which "are great for travel because you can use it as an eyeshadow, bronzer, blush or highlighter," Monica says; the Velvet Matte cream lip colors, which aren't drying but moisturize your lips with aloe vera, ginseng and argan oil; the multi-tasking I'm Blushing! 2-in-1 Cheek and Lip Tint sticks; and the Crushed cream-to-powder eyeshadows, which will literally make your eyes glitter in a number of trendy shades.
* * *
In the Philippines, Palladio is exclusively available at Watsons and SM Stores.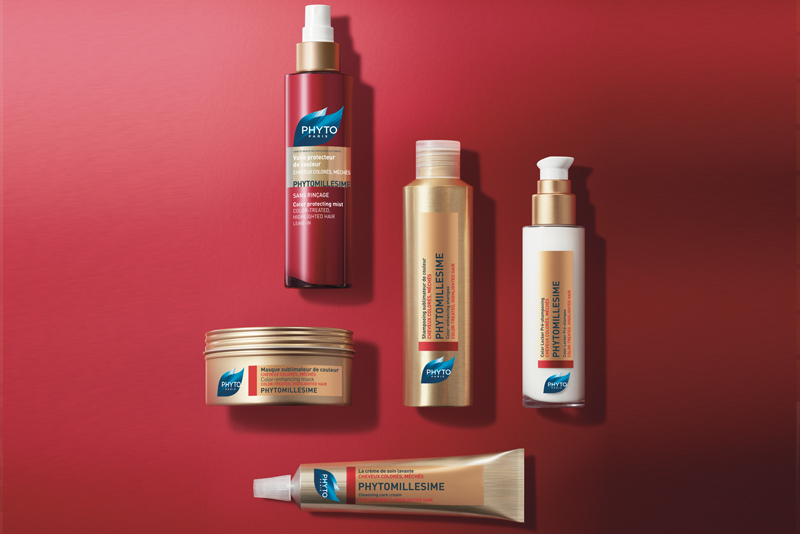 Lock down your hair color: The Phytomillesime range is designed specifically to care for colored and highlighted hair. Photos by Walter Bollozos
5 steps to extend your hair color
Do you ombre, highlight, or balayage, like I do? Unless you DIY, hair coloring isn't exactly cheap or convenient. So, whether we're putting rainbow streaks in our hair or just covering stray grays, we want to preserve our dye jobs for as long as possible.
French haircare brand Phyto, which provides natural, botanical solutions to all your hair problems, has come up with a range designed specifically to care for colored, highlighted hair.
"It's a five-step ritual," said Myriam Welsh, Phyto's regional brand and marketing director, at Rustan's launch in La Provence salon, Central Square. "And you have to use all of them to have the perfect result because each product has a specific purpose."
Let's take a look at each one.
Step 1: Phytomillesime Color Locker Pre-Shampoo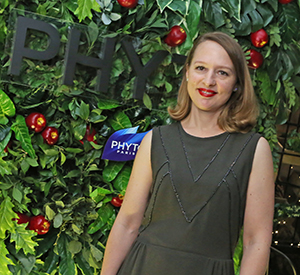 Myriam Welsh, Phyto regional brand and marketing director
The star of the line, this innovative gel-in-oil will lock the color into your hair before you shampoo. While the gel smoothes down the scales of your hair, the oil adds a protective film. Together they form a mesh that traps and keeps pigments in. Apply on dry hair from roots to tips and leave on one to two minutes before shampooing.
Steps 2 & 3: Phytomillesime Color-Enhancing Shampoo and Cleansing Care Cream
Regular shampoos will fade your hair color. These two products are so gentle they won't. "Those who like to wash their hair every day can alternate between the two," advises Welsh. The gentler one is the cleansing cream, which contains antioxidant-rich edelweiss extract. Since both are sulfate-free, don't expect a foamy lather, just a high concentration of caring ingredients and a cooling effect on the scalp.
Step 4: Phytomillesime Color-Enhancing Mask
This mask acts as the conditioner of the range, but since it's rich in fatty argan butter, Welsh recommends using it just once a week. Let's face it: coloring may look good but it damages the hair (note: if you use Phyto hair color the damage is minimized). This mask repairs the damage and brings back shine and softness.
Step 5: Phytomillesime Beauty Concentrate
This no-rinse color-enhancing mist acts as your conditioner the other six days of the week. It multiplies the hair-strengthening and protective benefits of the Phytomillesime range and, better yet, prepares your hair for styling. It also prevents static, frizz, and gives your hair that shiny, silky look we all crave. You can spray it on wet or dry hair.
"Our motto is we do not harm the scalp and the hair," notes Welsh. "Beautiful hair is healthy hair, so we avoid all the bad ingredients like preservatives and our products are 100-percent-natural and botanical so they give incredible results but are also very good and gentle to the hair."
* * *
Phyto is available at Rustan's The Beauty Source.