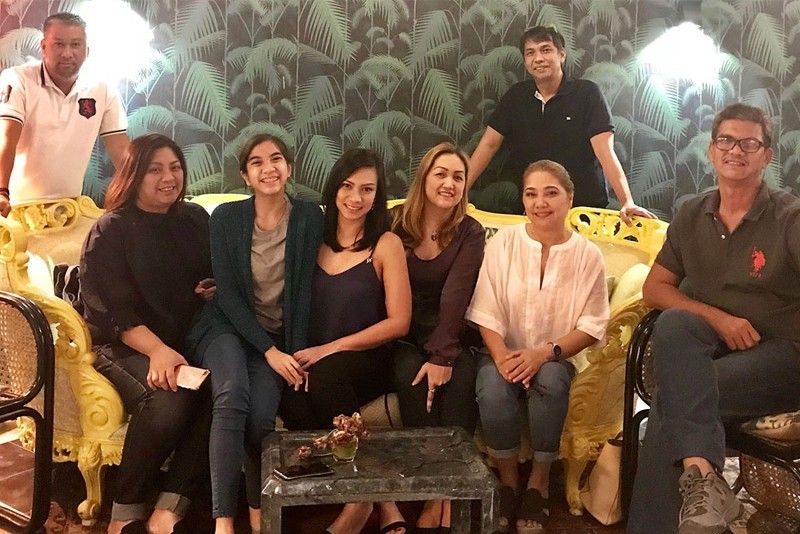 Jomel and Tanya Cruz, Ysabella Gonzalez, the celebrator Malou Yambao, Marion & Jovi Yambao, Joan & Rico Yambao Photos by Alex Van Hagen, powered by MAC Center
Love, laughter and cheers for Malou Yambao
Hey! Do any of you remember the gal behind the fun nights at Nuvo in Greenbelt 2? If you don't, maybe you were not there when this woman pulled in Manille's party pack in endless events that had the place packed like a tin of sardines. Yes, it was Malou Yambao who was the magnet that had Nuvo (then) the place to really party, dahlings.
Malou hosted a night of fun and heartwarming reunions from familles to old time pals bringing back memories of "the good old days of wine and roses," palanggas. She celebrated her birthday in an intimate affair at the exclusive Manila House Private Club in BGC. The night was filled with love, laughter and cheers, while everyone wined and dined to their heart's content.
Friends Frances Espinosa, Rey Cometa, Elmer Ngo, Tony Boy Cojuangco, Louie Y, Jasmine Vergara, Chito Melo, Dona Chu, Maebelle Sinjian, Josh Canonizado, Denis Pineda and myself stayed on till daybreak. Would you believe?
Partners Girlie Timbal and Noriel Lopez and close friends from media Mina Paderna, Weng Ofemia, Joel Reyes Zobel and Orly Trinidad joined in the party as well.
The namedropping, palanggas, will not be complete without family. Siblings Rico, Jovi and Tanya together with Malou's unica hija Ysabella were there, of course, to make her birthday quite an affair to remember. And remember it was way past Cinderella's bed time, naturalmente, dahlings.
Dr. Vicki Belo introduces the newest Belo Babies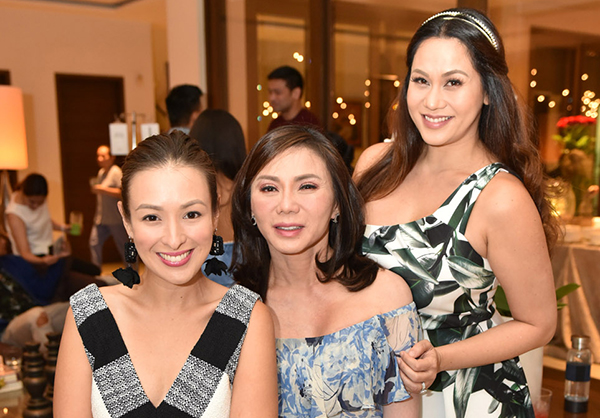 Social media influencer Nicole Hernandez with Dr. Vicki Belo and daughter Cristalle Belo-Pitt.
Dr. Vicki Belo-Kho turned her mansion's backyard into a "Coachella-themed" bash to welcome today's newest faces and top social media influencers to the "Belo Beautiful world."
Among those who were invited, dahlings, were Asia's Next Top Model fifth cycle winner Maureen Wroblewitz, handsome model Mauri Loosli, 2017 MMFF Best Supporting Actor Edgar Allan Guzman, Miss Universe Philippines 2013 Ariella Arida, teen sensation Heaven Peralejo, actor Ruru Madrid, model/actress Kelley Day, actress Sarah Carlos, singer Kianna Valenciano, Ateneo Blue Eagles' Thirdy Ravena, YouTube sensation Michelle Dy, social media Influencers Nicole Hernandez, Kimi Yap, Christiana Collings and Nicky Daez.
These newest "Belo Babies," dahlings, were treated to a night of beauty treatments, good food and music, fun games and amazing company of beautiful faces and amazing bodies, the Belo way, palanggas.
Entertainment was provided by another Belo Baby, Bugoy Drilon. Bugoy and the band, led by Lloyd Zaragosa, made guests dance to their favorite beat. EA Guzman, Heaven Peralejo, and Ruru Madrid serenaded the guests.
But the biggest surprise of the night was the performance of the original Belo Baby, the unbeatable Scarlet Snow Belo. Scarlet sang Somewhere Out There making everyone's heart melt with her cuteness.
Dr. Vicki Belo said she invited her special guests not just to have small talk but most importantly, to welcome them to her Belo famillie and make beautiful and lasting relationships, dahlings.