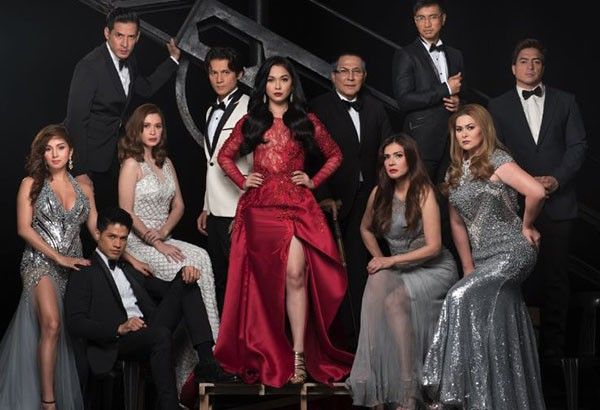 WATCH: Maja Salvador's top 3 'Wildflower' #OoTDs
MANILA, Philippines — Now that hit ABS-CBN soap opera "Wildflower" is nearing its end, the show's star, Maja Salvador, looks back at the top looks that made her a fashion icon.
1. Bride in black
All eyes were on Maja last August 9 when she walked down the aisle as the "bride in black" in the highly anticipated and talked about wildest wedding of ABS-CBN's hit primetime series "Wildflower."
"This is indeed the wildest wedding on television!" teased Maja. The black wedding is Ivy Aguas' "biggest moment."
The black, Val Taguba-design gown elevated her into a style icon. Maja said she worked with stylists and directors to come up with the look, and they chose black because her character in the series, Ivy, was in mourning.
"Dahil 2018 na, ngayon, kahit anong gusto mong isuot, basta ang importante may love sa inyo," she told those who also want to don black in their wedding.
But will she also wear black at her own marriage?
"Malabo po akong mag-itim kasi gusto ko 'yun iwan kay Ivy Aguas!"
It is no surprise that netizens instantly went abuzz about her unconventional bridal look in the show's promo teaser.
"Nawindang ako sa Bride in Black! OMG!" said @Crissadorable10.
"Bride in black! Iba ka Ivy! Wildest wedding talaga! I am super excited for the wedding episode!" added @charmaine1785.
"I wonder if that black wedding gown that Maja is wearing is a Michael Cinco creation? Ang taray ng bride in black!" quipped @ryanbratinelo.
"You don't want to miss this bride!" tweeted @EmceeMey.
According to Kantar Media, the show hit its highest national TV rating as viewers watched the intense confrontation between the "bride in black" Ivy and Arnaldo Ardiente Torillo (RK Bagatsing) after the latter finally confessed to the murder of Ivy's second mother Nay Carlota.
2. 'Golden Lily'
Maja's personal favorite was the gold gown with a long cape and a revealing décolleté, because it was the one she wore when she said her iconic line, "I am indestructible!"
Viewers nationwide tuned in to what could be one of the grandest and most show stopping comeback on Philippine television as Maja Salvador finally came out as Lily Cruz last October 10.
Maja's scene-stealing entrance wearing a gold gown instantly set social media ablaze as the show trended on Twitter worldwide. Netizens were also quick to share funny memes about the talked about episode.
From a national TV rating of 33.8 percent on October 9, nationwide viewership got even stronger and the series hit its new all-time high national TV rating of 35.2 percent, based on data from Kantar Media. This is the highest TV rating a program airing in the 6 p.m. slot has reached in recent years.
"Thank you Lord! We give back the glory to you. I am so proud of my 'Wildflower' family, to the whole cast, writers, creative team, directors, staff and crew. I salute everyone for a job well done. All the tiring and sleepless nights paid off!" said Maja.
Despite all the successes the show has achieved, Maja admitted that she still feels the pressure each time she does a scene.
"Pressure will always be there and must always be there because that's what challenges us to do better. Never ever be complacent. Always give your best," she explained.
3. 'White flower'
Lily (Maja) and Diego (Joseph Marco) finally took their relationship to the next level and tied the knot last Monday (Jan 22) in ABS-CBN's hit primetime series "Wildflower."
A simple yet classy Lily, wearing a white wedding gown, walked down the aisle, which is very different from her supposed wedding to Arnaldo (RK Bagatsing) where she created a scene as the bride in black.
The couple emotionally recalled their past and how they both helped each other's lives; and in the presence of the Lord, they exchanged heartfelt vows.
Little did they know, however, that Arnaldo was lurking around, keeping a very watchful eye on them.
Now that Ivy is dead and Lily is about to continue the fight, Maja gave viewers an idea on what to expect from Lily.
"She is braver and fiercer than Ivy Aguas! "Lily will definitely step up her game since she is now free to be her true self. Feisty, but with a heart especially for her family and the people of Ardiente," she shared.
She also avowed that while "Wildflower" has been known for violence, the ending will be less on physical but more on emotional warfare. This, she said, is because she pleaded the directors to preserve her energy and voice for her global concert tour that introduces her new career track after "Wildflower": as a recording star.
Maja admitted that she is now having a "separation anxiety" from letting go of Ivy and Lily, the biggest characters she has played so far that has opened doors for her.
She, however, has been proud that though "Wildflower" has been known for its guns, goons, girls, gold and glory, her #OoTDs (outfits of the day) have added another "G" to the show that makes it iconic: glamour. — Video by Kat Leandicho