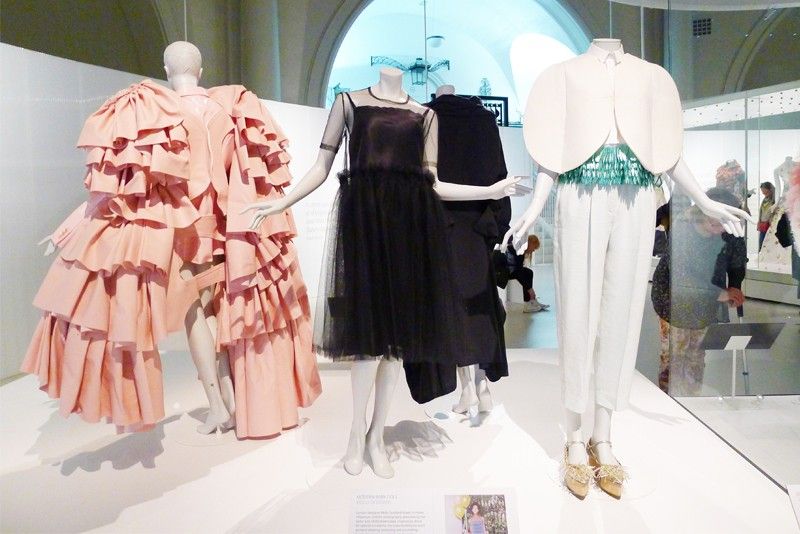 Cape and dress by Rei Kawakubo for Comme des Garçons (1983), modern baby doll dress by Molly Goddard (2016) and ensemble by Josep Font for Delpozo (2017)
Photos by Ricky Toledo.
After 50 years, Balenciaga's works appear modern, even futuristic
(The Philippine Star) - February 7, 2018 - 12:00am
Countess Mona von Bismarck locked herself in her bedroom for three days upon learning that her couturier, Cristóbal Balenciaga, had closed his fashion house. Vogue's Diana Vreeland, who was visiting her at that time, could totally understand the reaction of her dear friend: "I mean, it was the end of a certain part of her life!" Von Bismarck, after all, ordered no less than 150 Balenciaga garments when a train carrying a good portion of her wardrobe was derailed, aside from the average 80 she would get every season. Even her gardening outfit, a silk top and trousers, was by the esteemed designer.
Other clients who may have been just as bereft were style icons Gloria Guinness, Pauline de Rothschild, Jackie Kennedy and Grace Kelly. One of the most exclusive and expensive couture houses in Paris for 31 years, Balenciaga commanded particular reverence in the fashion world. He actually changed the way women dressed with his revolutionary designs like the sack and shift dresses, the tunic, the balloon hem and the baby doll dress, all of which remain style staples. "For 20 years, Balenciaga was the prophet of nearly every major change in silhouette," said Vreeland. Even today, after over five decades, his creations appear modern, sometimes even futuristic. "It's incredible to think that a woman from his era would wear something like this," Josep Font, creative director of Delpozo, said about a multi-balloon dress at the opening of the ongoing exhibit, "Balenciaga: Shaping Fashion" at the Victoria & Albert Museum.
Concentrating on the '50s and '60s, the couturier's most creative period, the exhibit displays over 100 garments and 20 hats, many of which are being displayed for the first time together with archive sketches, patterns, photographs, fabric samples and catwalk footage. Of particular interest to fashion students and professionals are X-rays, animated patterns and short films on the couture-making processes that made his work legendary. The X-rays solve fashion mysteries and bring to light many surprises by revealing the inner workings of some complex couture gowns. The ties at the hem of a fuchsia ball gown, for example, were found to tie around the legs to create a harem-pant look at the front with a 19th century bustle at the back. In another piece, dress weights were strategically placed to determine the exact hang of the skirt. Digitized and animated patterns show how the main body of a garment has been crafted from one single piece of fabric, demonstrating the designer's mastery of material and his genius in cutting.
Many of Balenciaga's pioneering designs were actually first met with hostility. When Dior's hourglass "New Look" was all the rage, Balenciaga's semi-fit look — fitted at the front but loose at the back — was hated by the audience at the show, reported Carmel Snow of Harper's Bazaar: "Why should a woman look like a house?" Despite the vehement resistance, however, the silhouette became one of the couturier's most enduring and most imitated looks. It is a most forgiving shape, after all, flattering all body types and fitting women of all ages. In any case, Balenciaga never wanted to infantilize women or make them look like sex kittens and whereas other designers would favor younger, prettier girls as models, he would choose the more mature and sophisticated types with lots of character. His models were even referred to as "monsters," specialized in the "disagreeable air" that the designer said a truly distinguished woman always has. They did not even have to be thin. "Mr. Balenciaga likes a little stomach," said one of his fitters. Insisting on using his models for magazine shoots, exasperated editors would just end up featuring the back of the clothes or resort to decapitating the models' heads.
He actually shunned publicity and was rarely seen, prompting some journalists to ask if he actually existed. He only showed his clothes to the media right before they would be available at the stores instead of the usual months before, prompting editors to make an extra trip to Paris just to see his collection. But it was always a show worth seeing: "One fainted," said Vreeland once. "It was possible to blow up and die. I remember a show in the early '60s when Audrey Hepburn turned to me and asked why I wasn't frothing at the mouth at what I was seeing. I said I was trying to act calm and detached because after all I was a member of the press. Across the way Gloria Guinness was sliding out of her chair on to the floor!"
But the clothes weren't just stunning. "They were marvelous to wear," according to Celia Bertin. "Women who wear his suits seem to have them molded on to their bodies while leaving them complete freedom of movement. Balenciaga was always first a master tailor. His silhouettes may have been faultless but were made for a living, moving, avid body." The evening dresses, on the other hand, had a sense of grandeur. Whether they were simple sheaths offset with beaded boleros or sumptuous gowns swelling from the waist in a float of taffeta, the women would move "as swans across a pond," according to Vreeland. A signature cut adapted from the flamenco dress of Balenciaga's native Spain with a front- raised hem swooping to the back gave the wearer a feeling of ebbing and flowing "like sails, hung from a precise point in order to give with the pressure of the air " said Pauline de Rothschild. "Legs moved easily, the front of the long skirts running a little faster ahead than one's walk."
Balenciaga's lasting influence in fashion is explored in the exhibit's "Legacy" section, which features the work of over 30 designers for the last 50 years. His minimalist aesthetic is exemplified by his former apprentices Andre Courrèges and Emanuel Ungaro who championed space-age minimalist trends in the '60s. Later designers continued to draw on this aesthetic: Yohji Yamamoto, whose minimalist design relies on a profound knowledge of fabrics and how they hang and Céline's Phoebe Philo who promotes a pared-back, sophisticated chic for confident women.
Balenciaga's innovative pattern-cutting made its mark on designers like Alexander McQueen whose tailoring skills and confidence in experimenting with shapes produced avant-garde designs like a raffia dress with disconcerting asymmetry achieved through skillful cut and construction. Issey Miyake who apprenticed with Balenciaga's disciple, Givenchy, made his starting point "one piece of cloth," creating garments cut from a single piece of fabric. The current Balenciaga designer, Demna Gvasalia, pays tribute to the master's work with a jacket that has an off-the-shoulder appearance and stand-away collar achieved entirely through pattern-cutting.
The unusual shapes and volumes of Balenciaga found radical interpretations among the Japanese designers like Rei Kawakobo of Comme des Garçons who explored the idea of the void or volume around the body — a concept known as ma in Japan. Her architectural pieces are as much about the space around the body as the body itself. A laser-cut tulle dress by Hussein Chalayan, similar to a 1957 Balenciaga, suggests parallels in the two designers' approaches to the body, creating shapes that obscure the natural form.
Nicolas Ghesquière who was a designer for Balenciaga (1997-2012) also paid tribute to many of the shapes of the house's founder and continued the master's important legacy of experimenting with new materials and technology. Balenciaga's understanding of materials and how they behaved encouraged him to experiment, instigating his creative collaborations with manufacturers such as Abraham and Ascher who both produced fabrics exclusive for his use. This opened the doors to even greater experimentation in the late 20th century with designers like Ghesquière who explored unusual materials, new technologies and unorthodox manufacturing techniques.
But perhaps Balenciaga's greatest legacy is perfectionism and attention to detail which his foremost disciple, Hubert de Givenchy, inherited. After the two met in 1953, Balenciaga became a mentor who taught him honesty in his work and how to treat clients. The master even helped his disciple financially to establish his own atelier across the road and met regularly to discuss their work. There was a monastic air to the workshops of Balenciaga, the silence only broken when he would shout "La manga, la manga!" upon detecting how a sleeve was not being done right. The sleeve, among other details, was one of his obsessions, corollary to the neckline and shoulders, which is where it all begins in constructing the perfect dress. The two couturiers were such aesthetic soulmates to the point that Balenciaga referred all his valued clients to his protégé when he closed his house in 1968. A lace evening dress on exhibit shows how Givenchy followed the master in the precision of his work. The layers of lace, embroidery, coral and glass beading are built up meticulously to form a cohesive design where each embellishment is deliberate. "If you use flowers," Balenciaga advised him, "then place the flowers in an intellectual manner." This cerebral approach to couture is what made a Balenciaga so special. "One begins to see how addictive his clothes must have been, with the attunement to the slightest needs of the body, their secret eroticism, their endowing of confidence and distinction," according to Celia Bertin. "All this the wearer enjoyed on the inside while on the outside she was bodied forth by legendary tailoring which sculpts and remodels the body of the wearer, rendering her at once completely herself and ever so slightly transfigured."
* * *
Log on to www.vam.ac.uk for details. Follow the authors on Instagram @rickytchitov; Twitter @RickyToledo23 and Ricky Toledo Chito Vijandre on Facebook.