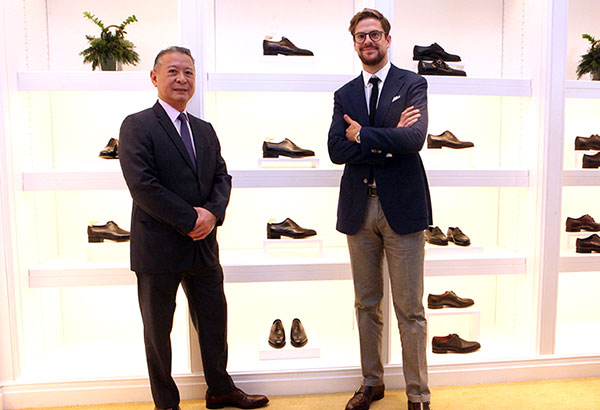 Hermès country manager Mario Katigbak and Nicholas Holt, regional director for John Lobb Asia Pacific and China Photos by Bening Batuigas
Royalty-approved John Lobb is now in Manila
Any man who knows his suits must know enough to wear them with an equally sharp pair of shoes. Britain, home of Savile Row, Jermyn Street and all of the internet's stylish British boyfriends (Beckham, Cumberbatch, Hiddleston, Fassbender, Pattinson, Redmayne, Styles — should I go on?) is also home to John Lobb, a low-key brand that's been dressing the feet of the men in the royal family.
John Lobb has quite the rock 'n' roll history. Lobb was born in Cornwall in 1829. Nicholas Holt, regional director of John Lobb Asia Pacific and China, shares, "He was from a very humble background, his father was a farmer, and he walked a very long way through the English countryside." This was in 1951, when Lobb (literally) walked 255 miles from Cornwall to London to be an apprentice bootmaker. Google Maps says if we tried that today, it would take us 84 hours via the fastest route.
Eventually he found himself in Australia making boots for gold rush miners with a rather controversial design: boots with hollowed-out heels that allowed miners to conceal gold nuggets in their shoes. Soon, he became bootmaker to the Prince of Wales, received a Royal Warrant from Edward VII — after reportedly sending a pair of new riding boots, unsolicited, to the royal family. "This enabled him to grow his profile and put up a shop in London and Paris," says Holt.
He returned to London in 1866 to put up the first John Lobb shop in Regent Street, providing a bespoke service to the aristocracy, and the political and business elite. The business got so big that he opened another shop in Paris in 1902, and it catered to an array of international clients — including Frank Sinatra and Roald Dahl, no big deal. In 1976, John Lobb was acquired by the Hermès Group, but the London workshop, John Lobb Ltd, remained with the family and continues independent operations from 9 St. James's Street. The Paris atelier, By Request service, ready-to-wear collection and other John Lobb boutiques are part of the Hermès-owned company.
Today, Lobb holds Royal Warrants for Prince Philip and Prince Charles. And, although John Lobb is known to run a discreet business, Prince Harry was also seen wearing a personalized, well-worn John Lobb pair at an event. It's a very understated pair with an "H" on each sole.
In case John Lobb has escaped your radar, don't worry — it has only recently made its debut in Manila via a pop-up store adjacent to its parent brand, Hermès, in Greenbelt 3. The minimally designed store showcases one pair per shelf, as you should with John Lobb's museum-worthy craftsmanship. Featured in the boutique are classic designs, such as the William shoe, designed by and named after Lobb's son, which eventually became known as the "double buckle" or "monk strap."
Holt adds, "The selection of welted shoes we have here is quite original, then our bestsellers, particularly the sneakers, are more contemporary. I wouldn't say it's for a younger audience, because it's not necessarily about age. But definitely it has enabled us to reach out to a new clientele regardless of age, which I think is a nice balance between the two."
It takes about 190 steps to create a pair of John Lobb shoes, and the process more or less remains the same to this day. In the age of disposable fashion, John Lobb carries with it brand values worth looking up to. "What's really important is that we've maintained the instrinsic value of craftsmanship. The processes that we use today, even with the ready-to-wear, are the same as they were 150 years ago. The value of using your hands and tools — love and leather — all of these things create a beautiful product and it's so important that that's maintained. Our goal is to maintain that, but to be relevant and contemporary. For us, it's not about fast fashion, it's about timeless quality and luxury, but with contemporary elements. But maintaining at the root of everything that we do is that creative driving force, because John Lobb was a pioneer of his time," says Holt.
* * *
John Lobb is part of the Hermès Group. In the Philippines, John Lobb is located at Greenbelt 3, along Makati Avenue, beside the Hermès boutique.