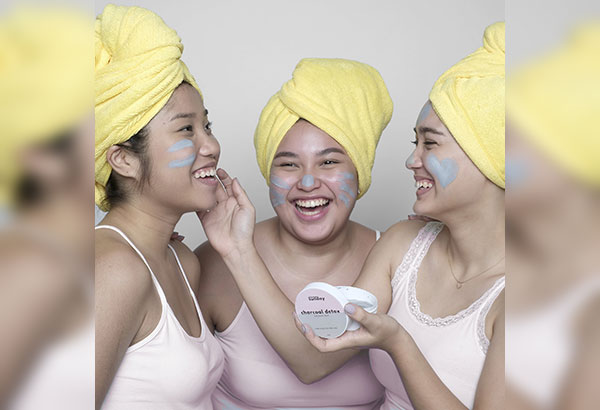 Mask-have: Always Sunday's Charcoal Detox Wet Facial Mask is effective but safe on skin. This facial mask is a blend of activated charcoal, kaolin clay, bentonite clay, and papaya enzymes. Shop for this at shopalwayssunday.com and follow them on Instagram at @shopalwayssunday.
Trendspotting 2018: Fun, glam, easy dressing
(The Philippine Star) - December 19, 2017 - 4:00pm
Dear Lucy,
The year is almost ending and before we know it, 2018 is here! With the new year, I want to refresh my staid wardrobe. I want to be fashionable. What will the fashion trends be for 2018?
Freya
Oh, 2081 promises to be wonderful! And dressing up will be so much fun! I asked Randy Ortiz and he says it will be a lot of the '80s coming back in full force. High-waist pants, print on print, florals, embroidery/embellishment, romance, slinky dresses. I asked a bunch of other designers and they were one in saying it will also be a lot about sparkles, feathers, tassels, dresses that move when you do.
Purple is the color for 2018, but who says you only have to embrace purple when there is a rainbow of other beautiful colors out there? I say fashion should be fun, and one should use all its advantages to look and feel good. Easy, languid dressing that is glam is so back and hooray for that!
Makeup will be smudgy and sexy, the kind that makes you look you danced beautifully all night long.
Lucy
* * *
The right face mask for oily skin
Dear rissa,
I have oily skin and I'm curious about face masks. I heard that the clay-type masks are really good for oily skin. What's the best for my skin type?
Sofia
I do not have oily skin, but my friends who do swear by kaolin clay. I tried a kaolin mask recently and I found it to be too strong. When skin becomes dehydrated, it will try to compensate for this and cause even more surface oil to emerge, and this presents the risk of becoming a vicious cycle. I noticed that when I'm in a cold country and my skin gets dry, that's when I break out with pimples because my skin tries to combat the dryness by producing more oil. Som avoid overdrying your skin with harsh toners and soap. It's crucial you keep it hydrated, too, no matter your skin type.
I recommend Always Sunday's Charcoal Detox Wet Facial Mask (visit shopalwayssunday.com). This features a blend of activated charcoal, kaolin clay, bentonite clay, and papaya enzymes. I haven't tried this, but I appreciate that it features a mix of skincare ingredients. I've tried activated charcoal from Pond's products before and I find them mild, safe yet very effective on skin. That's why it's a popular ingredient in blotting sheets, soaps, and face masks. Charcoal is an ingredient so powerful it's proven to easily absorb impurities and excess oil. Also known as activated carbon, it works with a "black attracts black" philosophy where it can lift away "black" dirt and the most stubborn impurities from the skin's surface.
Another reason this charcoal mask intrigues me is it's easy to use. Just apply it on a freshly cleansed face and leave for eight to 10 minutes, then just wash off with warm water. No need to wait for it to dry and flake off because it takes effect immediately. It's a great way to pamper the skin over the busy holidays and makes a great gift to friends, too!
Rissa
* * *
Send e-mail to Lucy Torres-Gomez at ltg@pldtdsl.com. E-mail Rissa Trillo at stylesos_rissa@yahoo.com or follow her on Twitter @RissaMananquil.