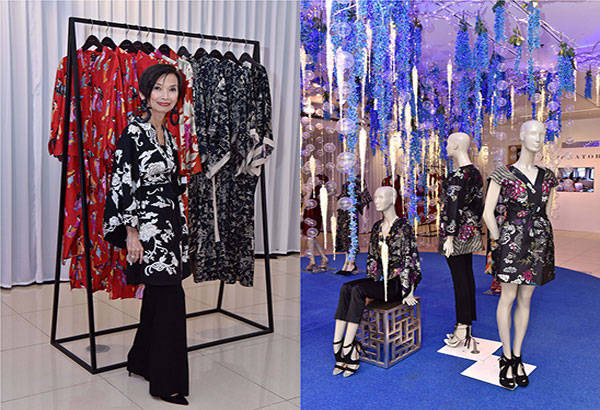 Designer Josie Natori launches Natori's luxurious fall 2017 collection, available at Rustan's.
Kimonos and dragons make the latest Natori look
A feather-print jacquard jacket called to me at the launch of Natori's latest collection. Styled on the mannequin, it looked elegant, much like something the designer herself would wear. In my head, I imagined it dressed down with loose tattered jeans and maybe a masculine, buckled ankle boot. "The feather jacquard, that pattern comes from one of my collections in my archives of obis in Japan. We have a very diverse and rich collection of textiles," designer Josie Natori shares. "It's a soft layering piece and I love it because it finishes your look. There are so many ways you can wear it. Today, what's lingerie, anyway? It's just a way of dressing. It's just soft and feminine. Yes, you can sleep in it if you want, but you can wear it to the ballroom if you like."
Every day we are debunking the myth that rich pieces only belong in ballrooms and jeans, on the street. Fashion has somewhat ditched the rules and become "anything-goes" — and on Natori's 40th year, it champions a piece that can do both: the kimono. Is it sleepwear? Is it a costume? The modern woman would say neither. The kimono just is. Natori's ethos concurs.
Josie Natori explains why she picked the kimono as this season's star: "This 2017 is a very special year marking our 40th anniversary. The spring collection in May was all about the islands, the Philippines. For fall, it's all the iconic things that really say Natori. In terms of shapes, the kimono, the mandarin collar, the caftans, and also in terms of the bold embellishments and themes — the dragons, pagodas, the sceneries and chinoiseries, they really speak of Natori's east-west sensitibilities."
"The kimono has now transcended what it was when it started. It goes from the bedroom to the ballroom. Today, it's a trend. It's a top, it's a jacket, it's a coat, it's a dress. It's nothing but a T-shape with different kinds of sleeves. It's a Natori shape that we've had for 40 years. It's great timing because it's a trend that's not going away — people want to be comfortable," she adds.
In terms of accessories, Natori is keeping its bold statement pieces. The earrings, however large, are always very light and wearable. Natori says it's a technique that she and collaborator, designer Arnel Papa, apply on the pieces. "Arnel Papa is a fantastic designer I've been collaborating with for years. He's been doing our accessories, I'm quite proud of it. They are really iconic designs, and they're so light. It's a technique, it's just brass. But they make a statement. We make it in Bulacan," she says.
Just as she is launching her fall 2017 collection, she is already starting on spring 2019. Her forecast for next year? "Right now we're in the height of people appreciating craftsmanship, the rise of Gucci — all that artisanship, all that richness, all that embroidery and all that culture. That's exactly what we're all about. People appreciate authenticity and that's what Natori is about. We come from a deep understanding of bringing rich cultures into one's life, not just look at it in a museum."
She adds, "We're now in our 41st year and you have to keep evolving the brand. It's exciting for me. You'll see that it's gonna be very different. For spring it's about the peony. Clearly there is an increased focus across all our brands in terms of craftsmanship — not just in the couture line, but you'll see it it Natori, Josie and N Natori. That is definitely the underlying thing this brand is about, to be able to bring happiness and enhance a woman's life, make her feel good, so that when she wears it, it's for her. It's a gift to herself. And it's a gift for other women you care for. Women deserve it."
* * *
Natori is exclusively available at Rustan's Makati and Rustan's Shangri-La.