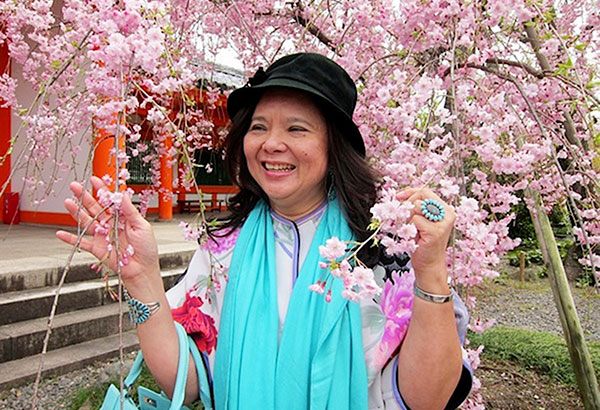 "There are very few people in the world who can walk into a room and change the mood instantly. She radiates an aura that uplifts my spirit, and always reminds me that I am loved," says granddaughter Gabbi Tiangco of Menchu Tantoco-Lopez.
My best friend, Rina, gave me a good piece of advice which I can never forget and which I have adopted. She tells me that she gets bits and pieces of good traits from friends and people she meets and tries to imitate them. I would say 99 percent of the good traits I want to imitate come from my mom. She is the most well-rounded person I know.
They say that you can only choose three aspects in life that you can dedicate your time to; well, I have found someone who can do it all. She manages to make sure that she fulfills all the aspects of her life, from personal to social to spiritual to career and family. There is no one like her! She is my life peg, someone who inspires me to be the best version of myself. She's a tough act to follow!
In celebration of our mom's 70th birthday, we wanted to pay tribute to her for not only taking care of us and raising us, but mostly for making a difference in our lives and the lives of all the people she has touched. She leads by example and it is from her that we have learned to live a life with God as the center, followed by our spouse and family. She treats everyone as family.
Maria Carmencita Tantoco Lopez — better known as "Plangs" (plangga) to my dad, "Menz" or Menchu to her siblings and friends, MTL in the office, "Lola" to the grandkids and "Mom" to us kids or "Mother Nature" to me when she does not listen. The Tantoco women have a reputation for being hardworking, entrepreneurial and very strong in character, so definitely she is a Tantoco.
She is the third child among six siblings and you would think that the energy and entrepreneurial spirit of Lola Glecy (Gliceria Tantoco) would be divided among them, yet they are all full of energy and passion — each with their own strength and individual talent. I would describe my mom to be the most neutral and the shy one among them. She is a good complement to the siblings and, together, they are even stronger.
She is so low-key, she hardly wants to be in the spotlight; but she is behind the Starbucks stores as the director for store development. She is in charge of looking for sites and constructing all 321 stores (as of November 2017). She visits each one of them and goes to all the store blessings. She has been there since the beginning of Starbucks Philippines and this year, Starbucks celebrates 20 years here.
Mom was only 50 years old when they brought in Starbucks and she believed in the brand from day one. She is also the woman behind Rustan's Flower Shop, which has grown so much from when it started. She loves flowers, the color purple, and most of all, she loves food! When my dad (Jun Lopez) started Rustan's Supermarket in 1970, Mom complemented the business by starting the first gourmet and liquor section in a supermarket; after which, he put up Yum Yum Tree and in 1989 opened Bon Appetit Patisserie and Café. She is a pioneer on the gourmet scene in the country and, up to today, she runs a food commissary baking pastries and a catering business called Gourmet Garage, which is so successful.
She is a gourmet at heart and loves to eat. Not only did we learn to appreciate food, it was during our family meals that we would all gather together as a family. She is the perfect wife to our dad. In everything that she does, she always puts Dad in the center. She always makes sure that when she makes a menu for the family, there is something Dad will like, especially since he is very conscious about what he eats; she prepares his daily medicines, she tailors her schedule to his, she packs his things for traveling, and just never fails to think of Dad's needs in all that she does. She was never separated from him except for a few days in their entire 50 years of marriage.
This year also marks their 50th anniversary, which means they got married at a very young age. Mom was only 20 years old and Dad was 22. Immediately, they had four children, one after the other, followed by our youngest brother who came after eight years.
She teaches us about generosity by always helping anyone in need. She always tells us that "money isn't everything" and she shows this not only in words, but also in deeds. She makes sure that she shares what she has with others. My brother, Jun Jun, confirms this: "Mom always makes sure everyone is taken care of, that everyone is comfortable and enjoying themselves. She always shares whatever she has with those around her.
"I admire Mom's generosity and compassion not only for her immediate family but also for the many people around her — from her friends, employees, to various charitable organizations."
Her devotion to the Lord always plays the center role in her life. She prays the Rosary every day, goes to Mass every day, celebrates every occasion with a Mass; each store has to be blessed and each home has an altar and images of the Sacred Heart which the family has a devotion to. She has many friends from the religious community.
Despite all the work that she does, she has the energy to travel. When she was around 65, we noticed that she was traveling more often than usual. She always says, "Travel as much as you can, while you still can." And boy, she has really lived by that motto!
She loves to entertain and organize parties for friends, and each and everyone in the family. It is from her that I learned to celebrate every occasion and you would be surprised at how many things there are to be grateful for.
"She is meticulous in preparing the menu and the details of her parties. She is fun to be with," says her good friends, Joe Mari and Mary Ann Chan.
"I admire her penchant for detail and perfection in her parties," says Maritess Tantoco-Enriquez, her youngest sister.
She is very close to all her grandchildren, all 12 of them, and her eldest granddaughter, Danni, says, "Lola taught me that caring for your appearance was more about self-love and respect because it's only when you learn to love and respect yourself that others will do so as well."
If there is one thing about Lola I would want to emulate, it's her undying desire to live life to the fullest in every second. I can't think of anyone else who knows how to seize the day like Lola," says her eldest grandson Jaime. We all cannot keep up with her energy and we are almost half her age.
"I wish I had Mom's passion for life," adds my sister Maricar. "I am in awe of how Mom is able to do everything that she does, from managing several companies, entertaining family and friends, running an efficient household, exploring the world, to taking care of Dad and the family.
There is only one Menchu in this world and we are so blessed she is our mom. If you know her, I'm sure you will agree with me.