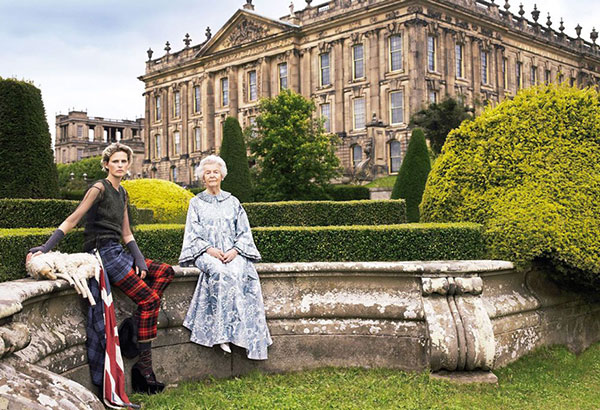 Supermodel Stella Tennant and her grandmother Deborah, the Dowager Duchess of Devonshire in a 2006 Vogue shoot in front of Chatsworth House. The Duchess once said that Chatsworth could contain around 365 average three-bedroom houses. Photo by Mario Testino for Vogue
High fashion and art in a Grand English House
(The Philippine Star) - November 14, 2017 - 4:00pm
A chopper lands in front of the venerable Chatsworth House just as we are about to alight to begin our most anticipated visit of the fabled countryside estate. Could it be the Duke leaving for an appointment in London? We wanted to meet him, particularly after hearing his spirited greeting on the phone when we called for information. (Alas, it was a recording but he is known to always be walking around the grounds since he is hands-on with the business). Whatever, it was a glamorous prelude to the exploration of this illustrious house of the Duke and Duchess of Devonshire, home to the Cavendish family since 1549.
The palatial architecture and interiors alone are a marvel, not to mention the expansive gardens and parkland. Even more astonishing are the beautiful paintings, sculptures and objets d'art spanning 4,000 years that the family has amassed through 16 generations: from ancient Roman and Egyptian sculpture and masterpieces by Rembrandt, Reynolds and Veronese to pieces by modern artists like Lucian Freud, Edmund de Waal and Damien Hirst.
But what really made this trip extraordinary was the fact that there was a once-in-a-lifetime exhibit being curated by Vogue editor-at-large Hamish Bowles, together with Patrick Kinmonth and Antonio Manfredo, the duo behind some of the most memorable fashion exhibitions of recent years. With the cooperation of the Duke and Duchess of Devonshire and their family members who opened their official and personal wardrobes, archives and storage rooms, "House Style: Five Centuries of Fashion at Chatsworth" finally came into glorious fruition after six years of planning and mobilization.
The landmark show actually came about thanks to Lady Laura Burlington's rummaging through old boxes in search of a christening gown for their newborn son, as suggested by her mother-in-law, the Duchess Amanda of Devonshire. Little did she know that there was a treasure trove of fashion and memorabilia, from sartorial gems of the Mitford sisters (Duchess Deborah was the youngest of the celebrated sisters) to coronation robes and livery. Excited about her discoveries, she asked Bowles to come and have a look. The Vogue editor, of course, was just as overwhelmed with what was on hand.
One of the most important finds was made by Bowles, who identified a crumpled, unlabeled dress as Christian Dior's 1953 "Carmel" gown, an iconic piece that became a centerpiece in the exhibit. "Hamish knew right away what it was and started doing a little dance with it," relates Lady Laura. "It's his encyclopedic knowledge of fashion that makes him the ideal curator. He looks at clothes in a very different way from you and I. He's always reading their stories. He examines the seams. He looks at the construction."
Lady Burlington herself learned a lot about seams from her grandmother who was a dressmaker. She eventually embarked on a fashion career, first working with the designer Roland Mouret and later as contributing fashion editor at Harper's Bazaar.
With all the stories of their finds waiting to be told, they needed someone to do the telling through theatrical tableaus showcasing the curated pieces. Enter Kinmonth, the multitalented designer and creative director who is also an opera director. Together with art director Manfredo, they created some unforgettable shows like the Valentino exhibits in Rome and London and Anglomania at The Met in New York. "The size of the exhibition today owes so much to how big Patrick dreamt. And he could completely understand where to put which dress and why," says Lady Burlington. Kinmonth could not be more pleased to use the staterooms of Chatsworth as magnificent backdrop for more than 100 pieces traversing five centuries of fashion: "It is such a fabulous collection of things that goes in both directions, from clothes through to the person who has worn them. But it also oscillates from a collection of books or paintings to the costumes. We were so lucky to be able to do things in both directions. It gave me the cue to do each room differently."
Kinmonth started to conceive dialogues between the people who lived in the house and the different objects around them. And what colorful individuals these residents were, starting with Bess of Hardwick, who married four times (including Sir William Cavendish), becoming the second most powerful woman in Elizabethan England after Queen Elizabeth I. A portrait of the Queen wearing an ornate gown given by her dear friend Bess is in the exhibit together with another version of the gown as reimagined by Alessandro Michele for Gucci, the principal sponsor of the show.
Georgiana Spencer, a celebrated beauty and socialite who married the fifth Duke of Devonshire in 1774, was the acknowledged fashion leader of Georgian England and her influential taste was also celebrated at the French court of her friend Marie Antoinette. Her decadent life and marital arrangement was also much talked about — carrying on a ménage a trois when her friend, Lady Elizabeth Foster, became the mistress of the Duke. When she had an affair with a younger man and was exiled, she sent an impassioned letter to her son, written in her own blood. Her dashing and romantic style is still a source of inspiration today as exemplified by a show-stopping dress by John Galliano for Christian Dior, exhibited in the South Sketch Gallery.
The eighth Duchess of Devonshire, Louisa Federica Augusta Cavendish, was another important fashion figure who was the Queen Bee during the Age of House Parties. Her close friend, King Edward VII, would come to Chatsworth for her legendary parties where politics were discussed and lovers came to have assignations. She herself was having an affair with the Duke of Devonshire for 30 years before marrying him and later orchestrating other people's affairs at her house parties. Formerly Louisa Montagu, the Duchess of Manchester, she was often referred to as the "Double Duchess." She first made headlines in a crinoline fashion-related disaster in 1859 when she caught her hoop while climbing over a stile, throwing her crinoline and skirts over her head to reveal her scarlet drawers to the people around her, which included the French ambassador who exclaimed, "C'etait diabolique!"
But what she is most remembered for is the spectacular Devonshire House Ball of 1897 that she and the Duke hosted at Devonshire House, the family residence in London. Tableaus in the State Drawing Room pay tribute to this fancy costume ball, the high point of a season that celebrated Queen Victoria's Diamond Jubilee, drawing the crème de la crème of British and European royalty and aristocracy. Among the dresses on show is the Duchess' stunning gown, which she wore as Zenobia, Warrior Queen of Palmyra, embroidered in silver thread and lined with diamonds. There are also photographs from an album that documented over 200 guests in their costumes, a precious memento of an extraordinary affair. The ball's fancy dress code actually induced social hysteria, with the British Library overrun by so many women who were researching costumes for the gowns to be worn for the event.
Prominent personalities from America were also part of the history of the House of Style. Kathleen "Kick" Kennedy, favorite sister of the late President John F. Kennedy, married the 10th Duke's eldest son and heir, William, Marquess of Hartington, but just after four months lost her husband who was killed in action in Belgium while serving in his regiment. Four years later, Kathleen died in an airplane accident, together with her boyfriend, the eighth Earl Fitzwilliam, who wanted to marry her but did not pass the approval of Kathleen's mother, Rose Kennedy.
From Hollywood came Adele Astaire, the sister and dance partner of Fred Astaire, who liked wearing manly Mainbocher suits. Although she sensed an initially cold reception from the family when her fiancé Lord Charles Cavendish brought her to Chatsworth, she broke the ice by springing from her feet to her hands and cartwheeling her way to meet them, instantly gaining their affection thereafter.
From the House's more recent history is Deborah Mitford, who married Andrew Cavendish, the 11th Duke. The youngest daughter of Lord Redesdale, Deborah was one of the famous Mitford sisters known for their outlandish behavior and political radicalism. Nancy and Jessica became famous writers while Unity and Diana scandalized British society when they befriended Adolf Hitler.
"Deborah had a quintessentially British approach to fashion," says Bowles. "Her wardrobe was just a remarkable mix of what she bought at agricultural fairs and her wonderful midcentury Christian Dior haute couture ball gowns." Supermodel Stella Tennant, the granddaughter of Deborah, remembers her fondly as "definitely an original who did things just the way she wanted. She definitely had her own style."
Among all the high fashion and fine jewelry and accessories, for example, is a witty rubber chicken bag and shoes printed with the face of her idol, Elvis Presley. Her husband, the Duke, was no less eccentric with his specially made jumpers that had witty sayings like "Never Marry a Mitford," "Bollocks!" and "Stop Talking About Yourself."
Deborah is credited for transforming Chatsworth into one of the most successful and profitable stately homes, even writing many books about the property. She became an expert chicken farmer, a vocation that was immortalized in a Vogue Italia feature shot by Steven Meisel who recalls her suggesting, " I have this really beautiful dress by Jean Patou. I think it would be nice to wear it feeding my chickens." Many of her clothes are by Hubert de Givenchy, with whom she had a lifelong friendship. The designer, who was consulted for the exhibit, gave this advice: "Don't just make it about couture and grand things. Personal things are as important as great craftsmanship."
And nowhere does it get as personal as in the chapel where "The Circle of Life" theme pays tribute to the family christenings, weddings and funerals in a haunting tableaux of brides with a sculpture of babies presented on a pedestal. By the altar is Damien Hirst's "Exquisite Pain," a sinuous gold sculpture of St. Bartholomew, positioned below Antonio Verrio's 17th-century ceiling painting, "The Incredulity of Saint Thomas."
But perhaps the most spectacular setting would have to be the Grand Dining Room where the opulence of red silk-lined walls and coffered ceilings gleaming with gold leaf and dripping with crystal chandeliers is matched by dinner guests wearing the most astounding couture gowns by the who's who of fashion, from Chanel to Balmain and Dior. The scene could very well be one of those events where the wealthiest and most powerful came to decide the fate of the nation. It could also have been just another quiet evening at the home of the previous Duke and Duchess. "My parents used to always wear black tie in the evening because it makes the occasion more special," reminisces the present Duke, who relaxed the dress code for the present generation. "This is essentially a palace in the country so you really have to dress up to it and for it," says Bowles. "It very much encourages you to dress up to exacting standards," added the Duke.
But those expecting Chatsworth to be stuffy and fusty will discover that it is far from it. "The Duke is absolutely fascinated by the present and the future," says Kinmonth. "The wonders of today are as welcome as the splendors of the past in the house." He even dismisses talks of ghosts: "Ghosts need a bit of damp, the odd leaky roof. But Chatsworth is so un-dusty. It is beautifully looked after. It's the most pulled-together establishment on the planet."
* * *
Visit www.chatsworth.org for details. Follow the authors on Instagram @ rickytchitov; Twitter @RickyToledo23 Facebook - Ricky Toledo Chito Vijandre.