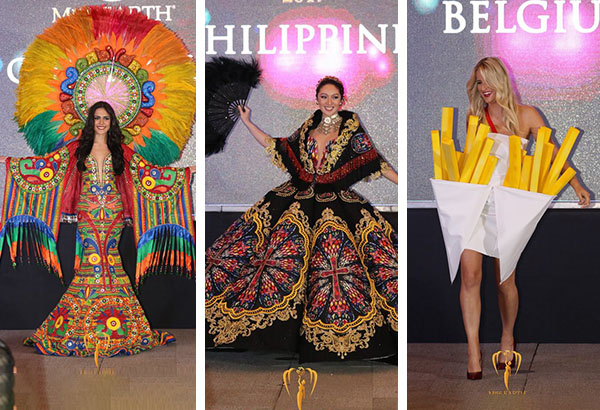 Check out these national costumes by Miss Earth 2017 candidates. Photos from Miss Earth 2017's Facebook page
Miss Earth 2017 national costumes: Filipino designers give their verdict
MANILA, Philippines — It was like a United Nations summit, but with awesome women from 86 countries wearing their indigenous garbs. The event was the national costume competition of the Miss Earth 2017 pageant.
Most candidates took the contest seriously, bringing tons of costumes (imagine their excess luggage!) and parading them with grace at the Century Park Sheraton Hotel in Pasay City on October 30. But some just wore evening gowns, put on a headdress and were good to go onstage.
"Time was when National Costume meant traditional garments, worn by the people of a particular country, which help to preserve its heritage and educate people about its history. (Today, it is) not quite anymore. With today's pluralistic society and its penchant for fierce, highly competitive, and lavish beauty pageants, National Costumes can be anything and everything but tradition, heritage, or history," observed Barge Ramos, our foremost proponent of the barong Tagalog.
The venue was packed and candidates were allowed to mingle with guests at the ballroom after their presentation onstage, so you could scrutinize their costumes up close and they could explain their garments' origins.
Miss Belarus Polli Cannabis from Minsk was particularly charming, carrying a doll she called Yanina that she was auctioning off for charity. Miss Ukraine Diana Mironenko from Odessa, a personal favorite, is dazzling.
If there is an award called "Best in Humor," this could go to Miss Belgium Lauralyn Vermeersch, who wore a costume made of French fries.
A stunner is Miss Switzerland Sarah Laura Peyrel from Bern, enticing everyone with a giant Lindt chocolate. Another beauty is Miss Netherlands Faith Landman from Gouda, who is of Asian, African and European descent.
The Latinas, of course, were outrageously sexy in their birds-of-paradise costumes that Victoria's Secret Angels have shamelessly appropriated in their annual spectacles.
Miss Venezuela Ninoska Vásquez from Barquisimeto, a front runner, brandished her Carlos Perez-designed bodysuit like an earth goddess. (She won second place to Miss Bolivia Giancarla Fernandez in the South America category of the National Costume contest.)
African costumes are always fascinating. Miss Ghana Maud Fadi from Accra was in a striking Kente cloth pattern, mermaid bejeweled gown and Ghana coat of arms headdress. This was adjudged as the best from the continent.
A gorgeous candidate, though, is Miss Angola Ermelinda De Matos from Luanda. She enjoys strong support from fans and I would not be surprised if she runs away with the Ramona Haar crown.
From the continental groupings, the Asians are the most sensational in their national costumes: Miss Japan Yasuyo Saito (third place), Miss Indonesia Michelle Alriani, Miss Mongolia Tugs-Amgalan Batjargal, Miss Myanmar Tin Sandar Myo, Miss Nepal Rojina Shrestha and Miss Sri Lanka Shyama Dahanayaka.
I was drawn to the costume of Miss Cambodia Em Kun Thong. From a fan, I got this tidbit: Her national costume was made by La Chhouk, a group of young, inspiring and hardworking fashion designers. It is almost entirely made of recycled materials such as discs, sacks and bottle caps. It depicts the bull, which symbolizes modern Cambodia and the image of the perfect Cambodian woman, Neang Ousaphy (Queen of Kouprey) represents the heritage and culture of the Khmer people.
There was no overall winner for Best in National Costume as three winners each from six geographical groupings were chosen: South America, North America, Asia-Pacific, Africa, Western Europe and Eastern Europe. So I asked four of the judges, all fashion luminaries, who they would have picked as the best national costume among the best. Here are their answers.
Albert Andrada: "Thailand because of its components used, intricacy of details and its craftsmanship."
Barge Ramos: "It's difficult to choose one winner. Thailand and Myanmar are my personal choices. But then Philippines and Guatemala were spectacular, too."
Gerry Ereñeta Sunga: "If I get to choose, I'll wear the Miss Philippines costume and go up the stage as Miss Philippines!"
Ito Curata: "In my opinion, it's a toss-up between Philippines and Guatemala. I was impressed with the overall look of both costumes, the attention to detail and the impeccable craftsmanship and design that went into both costumes."
Miss Guatemala Maria José Castañeda from Guatemala City was in an eye-catching, colorful pre-Columbian creation by Cesar Alejandro Portillo.
Miss Thailand Paweensuda Drouin from Bangkok, another Miss Earth most likely, wore an extraordinary silver headdress and skirt and blouse inspired by the Hmong Thai tribe. She placed second in the Asia group.
The deserving winner for Asia was Miss Philippines Karen Ibasco, an early standout and favorite for the crown. She wore a Louis Pangilinan baro't saya ballgown with stupendous detailing.
"It's a stained glass of our old churches," Pangilinan explained. "I want to show how Filipinos embody our religion and our patriotism at the same time."