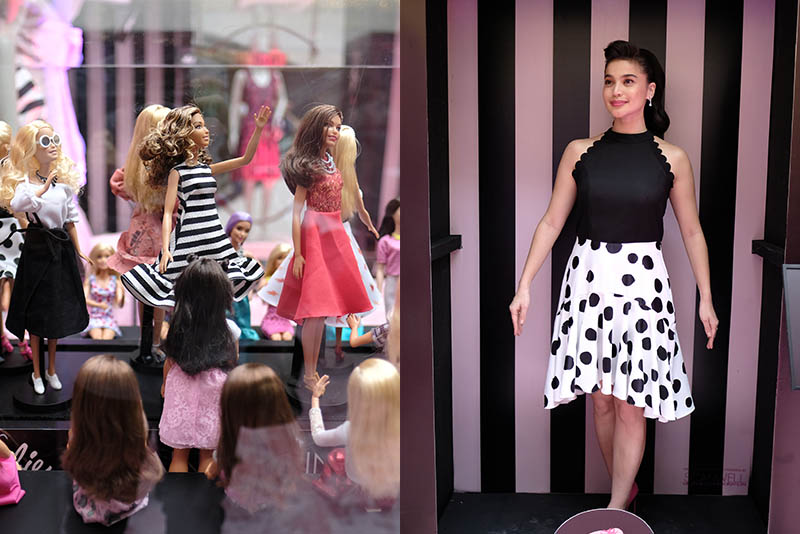 Actress and TV host Anne Curtis (right) poses like Barbie during the launch of Plains & Prints' new Barbie-inspired collection, with matching Barbie dolls (left). Photo release
Anne Curtis turns into human Barbie doll
MANILA, Philippines — Beautiful, sexy, rich and famous – that is Barbie to many girls from across generations, and the same could be said of Filipina actress and TV host Anne Curtis.
Not to mention that Anne is also getting married to a real-life "Ken," Erwan Heussaff.
Anne can still recall having Barbie dolls when she was a kid. Though none of these dolls from her childhood survived, she continues to hold a special place in her house for a collector's Audrey Hepburn Barbie that is still in the box – and she has no plans of opening it.
Like Barbie and Audrey Hepburn, Anne hopes she can become an icon in her own way.
"Barbie is the ultimate #girlygoals. I mean, from when you were a kid until you were an adult, she's so iconic," Anne shared in an interview with Philstar.com.
"What's great now about Barbie is she comes in different sizes na. Then, women were just idolizing the perfect-sized Barbie. Now, there's so many Barbies that you can get. So I think, that's how Barbie has grown with women and has given them such an open mind, which is what I love about Barbie!"
For those looking for an effortless costume that one can wear even beyond Halloween or Christmas, Anne models Plains & Prints' new limited-edition Barbie collection.
The brand's founder and owner, Roxanne Ang-Farillas, told Philstar.com that the clothing label is arguably the first Filipino brand licensed by Barbie creator Mattel to create a full collection for the iconic doll. The collection was overseen by Plains & Prints Creative Director Rhett Eala.
The doll is known for its special collections by internationally renowned designers like Kate Spade and Vera Wang.
Anne describes the collection as festive. Her favorite from the range is a black halter top paired with a black-and-white, polka-dot skirt. If she were to design her own collection for Barbie, she said it will be all black because the color is timeless, classic and elegant.
For holidays, however, her advice is to go for red, maroons or deeper colors. She swore that she repeats clothes, especially A-line dresses because they are "very classy, feminine and girly."
"Always find the perfect piece for you," she advised those who also want to look great in their holiday #OoTDs (outfit of the day).
"You should be doing it for yourself naman. It doesn't matter how many likes you get for your OoTDs. It's a matter of liking your dress or fashion and style. That's how I think whenever I'm taking my OoTD!"
The actress once launched her own self-titled doll. Will she revive it soon?
"Maybe!" she giggled.