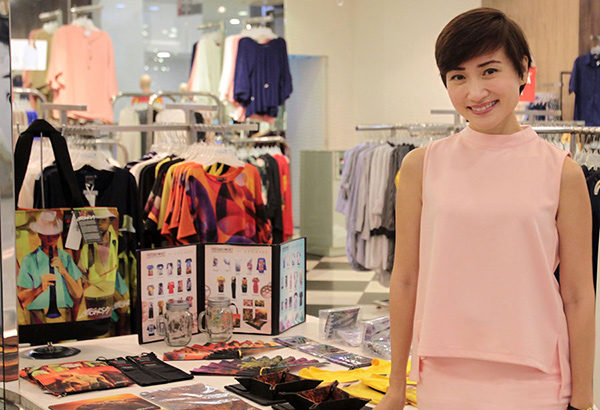 Sheree Roxas-Chua Gotuaco, CEO of Stylist in Pocket, Freeway, Ensembles, Solo, and The Row, with Freeway's National Artist Collector's series fashion and accessory line currently featuring Cesar Legaspi and Nick Joaquin. Photo by JUN MENDOZA
How i got my own personal stylist for a day
You'd think that only celebrities or VIPs would have personal stylists, but did you know that mere mortals like you and me can also have access to this valuable service?
As a lifestyle journalist I have to cover a lot of events, but don't have the time, money or inclination to shop for a lot of "event wear." There's the traffic to contend with, not to mention how tiring it is scouring different stores to find a few pieces that actually fit. What's a girl who needs some wardrobe refreshment to do?
Enter Sheree Roxas-Chua Gotuaco, CEO of Freeway, Ensembles, Solo, and The Row. She saw the needs of individuals like me, and decided to answer it with Stylist in Pocket, a website that provides online or home styling, and delivers curated pieces directly to your doorstep.
"After being in the retail industry for some time, I am aware of all the pain points that a lot of customers have," says Gotuaco, who has a business degree from the University of Southern California and a Fashion Design degree from the Fashion Institute of Design and Merchandising, graduating magna and summa cum laude, respectively. "Only about seven percent of the population is really fashion savvy; the rest of the 90-plus percent really are not so comfortable about how to put things together, or how to choose. Plus nowadays with the traffic and how busy everyone is, it's very difficult to get a lot of these things done."
How right she is. I decided to give Stylist in Pocket a try.
I went to the website (https://stylistinpocket.com/) and took a fun quiz on my clothing preferences, measurements, and budget limit. Then I had to choose between online styling and a home visit.
Online is how Stylist in Pocket is able to serve clients nationwide, from as far north as Ilocos to as far south as Zamboanga.
"We create looks for our customers, the looks are sent in the portal, they can choose what looks they like and we ship curated pieces based on their needs to them for free, with a minimum of P2,000," Gotaco says. "With just a few clicks, they get their shopping done."
As tempting as that sounds, I live in the Greater Metro Manila area and wanted to be able to try on different looks and choose pieces I liked on the spot, and not have to return the ones I didn't. So I scheduled a home visit.
Stylist in Pocket is super-efficient. Once you choose a date and time, they send a number of texts to confirm, and arrive 15 minutes early, bringing you an iced tea as a welcome drink (and giving new meaning to their acronym, "SiP").
My stylist AJ Reyes is the head fashion stylist, and I could instantly see why. Though I was nervous since it was my first time to try something like this, he immediately put me at ease with his warmth, friendliness, and enthusiasm. He brought a team of two female assistants, who set up clothing racks and a full-length mirror in my living room.
Taking into account the info I had given them, AJ had pulled clothes from SiP's warehouse and the stores of their partner brands. Stylist in Pocket works with about 25 to 30 partner brands, a number of them well-known imported brands (like Topshop, Miss Selfridge and Warehouse), local premium brands (like Freeway, Ensembles and Gingersnaps), but also brands you can only find online (Cauros and La Vida Moda), and a couple exclusive to SiP (work-wear label Fine Line and Plus Philosophy, which offers larger sizes).
"We choose which brands we feel would best suit the client's taste and needs, so we create a complete selection," Gotuaco says.
SiP can style not only women but also the whole family, including dads, teens and kids — they recently dressed up Cherie Gil's whole family for a photo shoot.
"We get a lot of adult women booking themselves and their mom, sisters or friends, because it's a bonding activity," Gotuaco explains. "We also have corporate accounts where we either dress up employees or teach mid- to upper-level executives how to dress up."
Stylist in Pocket has also found a surprisingly large client base in doctors.
"They love our service because they don't have time to shop," Gotuaco says. "Our clients are 80-90 percent female, but we've been serving males also. Some of the needs we also address are plus size, people who are recovering from sickness and older people in wheelchairs who can't go out."
Though my needs weren't quite that specific, I'd requested a wardrobe refresher, so AJ created five looks based on separates I could mix and match, as well as dresses I could wear to events. The first look was built around on-trend high-waisted, wide-legged striped pants that I could wear with four different tops he'd picked out.
Every time I came out of the dressing room AJ was ready to offer assistance and tips on accessorizing, like what footwear and jewelry would go best with the look, down to whether a shirt should be tucked, un-tucked or half-tucked. Having worked for years as a fashion stylist in Dubai, AJ was a fount of fashion information, and his passion for his work was infectious. "Less is more," he advised, noting that for most outfits, a pair of classic pearl or diamond earrings would suffice as jewelry.
Putting art on fashion
Another look I loved involved tops from Freeway's National Artist Collector's series. In 2010, Gotuaco started putting National Artists' poetry, paintings, and sculpture on clothing and accessories, and the popularity of the line has made Freeway a balikbayan destination for Pinoys and expats looking for unique, reasonably priced souvenirs. After all, what better way to wear your pride on your sleeve?
"We wanted to see and pay tribute to different forms of art, so the idea came up: what if we pay tribute to our National Artists and their works? Because a lot of them have passed away already and the younger generations really don't know them," Gotuaco explains. "So we've tried to make all of these wonderful pieces of our culture available to everyone."
AJ had brought tops from the Cesar Legaspi collection currently in-store, and I loved both so much it was hard to pick just one. (At present, Freeway is also featuring Nick Joaquin — the very first National Artist they showcased in 2010 — for the second time.)
After I'd tried everything on, AJ said they'd also brought extra pieces I could browse on the racks. Even if you OD on shopping like I did, there's no reason to feel guilty because Stylist in Pocket also has a Donate & Declutter program to which you can donate your old clothes (of any brand). During a home visit they will collect them from you and donate it to disaster relief — from victims of the latest typhoon to the soldiers in Marawi.
"We've donated 1,600 pieces of clothes already," Gotuaco notes.
I liked the looks Stylist in Pocket created for me so much I ended up buying nine pieces, discovered cool new brands I'd never encountered before, like The Florence Fling, La Vida Moda and Cauros, and felt like a celebrity for a day with my own personal stylist.
Gotuaco says that Ensembles is collaborating with young Filipino designer Maureen Disini on a collection coming out mid-November, right in time for the holidays. "There will be beautiful prints, beautiful silhouettes," she says. "Some can be corporate, some can be evening or holiday… we even have a few dressy-casual pieces." And SiP clients might get a special preview.
Now that Christmas is coming up, with all its attendant parties, if you need to look chic but don't want to deal with the crazy traffic, you know where to go.
* * *
For online or home styling within the Greater Metro Manila area (up to Subic) and Cebu, visit https://stylistinpocket.com/. STAR readers will get a P500 gift certificate for a minimum purchase of P2,000 worth of clothes with the promo code STAR500.