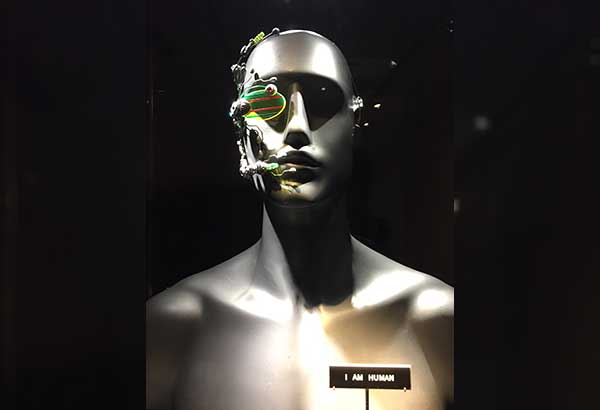 "Fluorotec Cybernetic Head System" futuristic jewelry by Dominic Elvin, 2017.
Medusa: Jewelry and Taboos
(The Philippine Star) - October 17, 2017 - 4:00pm
One of the three Gorgon sisters, Medusa was originally a compellingly beautiful maiden but because Poseidon had raped her in Athena's temple, the enraged
Athena transformed Medusa's silky hair into serpents and made her face so deadly to behold that even the slightest glance toward it would turn the onlooker to stone.
The mixed feelings of desire, fear and bewilderment elicited by this mythological icon seem to very well sum up the reactions of visitors to the ongoing exhibit named after her, with more than 400 pieces of jewelry on show, at the Musée d'Art Moderne de la Ville de Paris. From the sublime to the outré, from ancient times to the digital present, from top contemporary jewelers and luxury brands of Place Vendome to anonymous, ethnic or costume jewelry, a good sampling from the history of jewelry can be found here.
It will require the better part of a day to finish everything if you had to closely examine each piece and description, not to mention related art installations, various photographs, documents and videos.
"Jewelry is one of the oldest and most universal forms of artistic expression and like the face of Medusa, it attracts and disturbs those who design, wear or gaze upon it," according to exhibit curator Anne Dressen. But she says it's not always readily recognized as a true art form, maybe because of its being at the intersection of ornament and sculpture and because of its connotations as "too feminine, too precious, too ornamental or too primitive."
The exhibit seeks to unveil the taboos surrounding jewelry, building on themes of identity, value, the body and ritual. "It takes as point of departure the preconceptions that hover around it, to better deconstruct them and reveal its underlying subversive and performative power: the forces that jewelry embodies and invokes above and beyond its visible form," says Dressen.
Rituals and Functions
Although jewelry is largely ornamental and aesthetic as we know it, it also has social, economic, magical and ritual functions. As a fetish object, amulets, talismans and charms (which can also take the form of crosses, rosaries and healing gewgaws) are used to ward off the evil eye. One cannot separate jewelry from the magical beliefs it carries and attracts, even if we want to dismiss these uses as esoteric or "primitive." If you think about it, jewelry actually plays a part in the milestones of our ritualized lives — from birth to weddings to death. There are memories and meanings attached to special pieces that we acquire or that are given to us, materializing the important stages of life and sealing various relationships among members of society, from the religious and secular to the societal and familial.
In contrast to "magical" jewelry is "functional" jewelry, portable versions of a wide range of instruments for domestic and personal care or pleasure like the 18th c. chatelaines hung from the waist with perfume flasks, sewing kits and watches with keys; pendants with smelling salts during the Victorian era; and a Buccellati cocktail ring that opens its dome to reveal a clock. More recently, jewelry has come to adorn the gadgets we treat as extensions of our bodies like smartphones, headphones and smart watches. We imbue them with the very human desire for beautification. Other pieces like those of Dominic Elvin are created out of cyborg fantasies that use the human as project and the body as worksite.
The curator notes that jewelry today plays a role in the mutations and constant monitoring of our connected bodies: "As a technological accessory, it forges a new relationship as an active, almost embedded partner, augmenting the body and becoming a sign of its programmed obsolescence."
Bodies and Sculptures
Jewelry's relationship to the body has always been a source of endless debate and an inspiration for creation. Considered wearable "mini-sculpture," it becomes like a subcategory in art or "little art" consisting of the art of objects on the body or appended to the body, limiting its scale and defining its range. This subordinate relationship to the body is what jewelers and artists use as a starting point in their explorations, eventually accentuating it or contradicting it. In many cases, jewelry can dispense of the body and be appreciated on its own like sculpture. Dressen qualifies, though, that we have to distinguish "the instrumentalized autonomy of jewelry associated with power --- like a crown on display, which stands for the king in his absence --- from the willful emancipation of contemporary jewelry." In the exhibit were examples of some unwearable, room-sized rather than body-shaped pieces, which were obviously imagined outside, or beyond the body. These pieces, in fact, were meant to break away from the human body to instead "shoulder their way into the museum."
But some types of jewelry, on the other hand, can maintain a co-dependent relationship with the body, being activated when the body moves as in the case of kinetic jewelry. An exquisite brooch from Boucheron exemplifies the 17th century trembleuse technique of mounting stones on springs to make them dance with every movement of the body, enlivening the sparkle of the diamonds. This technique all but disappeared around the turn of the 20th century as evolutions in the art of stonecutting took over as the sole source of a diamond's sparkle. Jewelry can also be co-dependent when it is imagined as emanating from a body in the form of a fragment or cast — acting as its double or redundant imprint.
Values and Counter-Values
The notion of value is part and parcel of what jewelry is, bound with the materials that it is made of. This is why it is often perceived as "too precious" and its aesthetic value, allegedly timeless, is used to underwrite fluctuating market prices.
From "coin jewelry" to "wearable inheritance," qualities specific to fine jewelry such as rarity, durability and technical virtuosity are associated with verification and authentication procedures (hallmarks, certificates and criteria governing purity, weight, brilliance, etc.). Public validation also counts, through high society affairs that arouse admiration and envy as well as media reports on who was wearing what.
But realizing that such pieces only make up a small percentage of all jewelry, this mystique of exclusivity has provoked a lot of dissidence through costume jewelry and contemporary jewelry in the forms of studio jewelry and author jewelry which uphold alternative values.
They challenge the criteria used for traditional jewelry and even turn their backs on the rationale of hallmarking by deliberately using affordable or even poor materials like in the Arte Povera pieces made of discarded tin cans, rocks and the like.
They adopt their own agenda of defiant gestures, from scavenging, upcycling and using ephemeral pieces to the deconstruction of the artisan-author figure through DIY (Do-It-Yourself) or collective creations. Other values are also given, inspired by current events, relaying advocacies and convictions of a political or social nature. Many times, the sentimental value of a piece is given more importance than the monetary value of its materials. This contemporary philosophy is based on "an iconoclastic desire to rebel against a system of values and aesthetics perceived as reactionary and restrictive," according to Dressen. Based on deconstruction, the repertoire of these designers is unlimited, ranging from the blithely humorous to the highly conceptual.
Identities and Subversions
Calling into play a maker, a wearer and a viewer, a piece of jewelry can have many different meanings depending on who wears it, where it is worn and in which historical period.
Although it has evolved into an object of self-expression by artists and designers in the 20th century, jewelry actually had its beginnings as a sign of gratitude and a codified expression of identity that revealed a society's main roles and their transformations.
In the West, jewelry to this day is characterized as overtly feminine. "Associated with women's bodies from childhood, it is supposed to discretely accentuate beauty and sensuality, exemplifying a form of pointless frivolity," Dressen points out.
But as an enhancer of sensuality, it must follow certain rules of etiquette or risks becoming a symbol of immorality. Pearls, for example, have connotations of virginity, knowledge and hetero-normative femininity which the contemporary designer Manon van Kouswijk subverts with her necklace, "Pearls for Girls," an homage to cabaret singer Suzie Solidor, the androgynous icon of '20s Paris nightlife who was a self-proclaimed sexual predator.
The double necklace of ceramic beads deploys the traditional connotations of pearls together with the cross (normally for piety and morality) on behalf of lesbian love via a twinned symbol, both feminine and feminist, in effect "countering the male gaze to which the pearl necklace traditionally measures itself."
As a prefiguration of "sexual deflowering" jewelry often links or binds a woman to the giver, assigning the body to a role in which seduction is central. A solitaire diamond engagement ring is a prelude to the consummation in the conjugal bed.
To guarantee this bond, the chastity belt with a lock was even created as an assurance that the bride remains chaste when the groom was not around.
Jewelry, however, was not always "feminine." Like clothing, it was an essential attribute of masculine power before the Industrial Revolution. Its size and rarity served to make manifest one's superiority over others, as in the case of chieftains and kings.
A towering gold conical hat from the Bronze Age has symbols used to make astronomical predictions that would help with agricultural and other important decisions. It no doubt inspired awe, signified authority and commanded submission. Louis XV was known to have wanted only the biggest and finest diamonds for jewelry that he commissioned, affirming his divine right to rule.
A huge armband of diamonds by Cartier is just one of the many pieces that the maharajahs of India would pile on from head to toe to as symbols of sovereignty over their subjects.
Today, only discreet, mostly functional pieces of jewelry are acceptable for men, like cufflinks, a wedding band and a wristwatch — a bias that distinguishes the active, serious man from the frivolous, vain woman. Of course there are exceptions, like hip-hop rappers, goths, punks and dandies who are rebels against the established order.
This "dominant" form of adornment is also not just within the purview of men, with femmes fatales and women of power piling on the big rocks as well. María Félix, a Mexican actress commissioned a huge, spectacular serpent necklace from Cartier, reflecting a new generation of women who were strong and exuded a certain virility. Whereas the traditional clichés of femininity were that of being fatal and venomous like serpents, the new woman is "dangerously independent, her provocative jewels an emblem of her transformation."
* * *
Visit www.mam.paris.fr for details. Follow the authors on Instagram @ rickytchitov; Twitter @RickyToledo23 Facebook - Ricky Toledo Chito Vijandre.