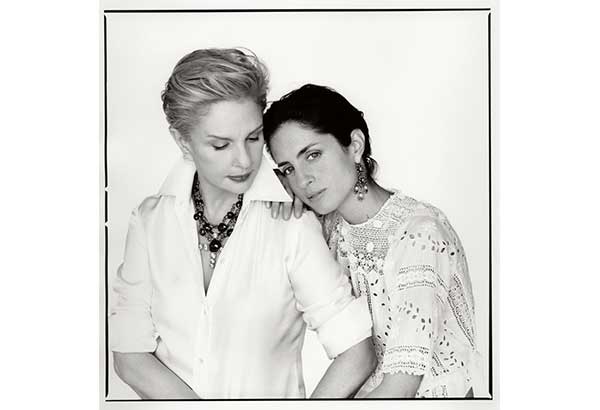 White album: Designer Carolina Herrera in one of her iconic white shirts with daughter Carolina Herrera-De Baez, creative director at Herrera's House of Fragrances
Carolina Herrera: 'Style is the personal touch you give to everything'
Philstar Lifestyle Exclusive
For 35 years, stylish women of all ages — from First Ladies Melania Trump and Michelle Obama, to Duchess of Cambridge Kate Middleton, supermodel Karlie Kloss, to Hollywood It girls Olivia Palermo, Camilla Belle and Jessica Alba — have sought out Carolina Herrera's brand of timeless elegance.
In the fickle world of fashion, 35 years is an era, and Herrera's longevity speaks volumes about the success and continued relevance of her house. After all, what wardrobe doesn't need her classic white shirt as a foundation piece?
Across Asia, Herrera's modern lifestyle brand CH Carolina Herrera continues to grow, with 15 boutiques. Her big (180 square meters), beautiful Philippine flagship store will have its grand opening tonight at Greenbelt 5, Makati, finally unveiling the designer's refined yet statement-making aesthetic.
To mark the occasion we had an exclusive email interview with Herrera herself about style (she's a Hall of Famer among the best-dressed women in the world), essential wardrobe pieces, and one of her most iconic products… aside from the white shirt.
THE PHILIPPINE STAR: Congratulations on your 35th anniversary! To you, what is the most meaningful way of celebrating this milestone?
CAROLINA HERRERA: I feel proud when I see what I have achieved in 35 years and see where the company is standing now.
How would you describe Carolina Herrera — the woman and her brand — in three words?
Chic, opulent and feminine.
I find your style, energy, and creativity inspiring. What keeps you inspired and so dynamic year after year?
You must always keep your eyes open; great things have a way of finding you if you do. Inspiration comes from anything and everything — a book you've read, a piece of art, or even a beautiful landscape.
You are known for your impeccable taste. Do you think taste is inborn or acquired?
It's difficult to define style. It's not what you are wearing, but how you wear it. It's a personal thing and reflected in the way you live, arrange your house, your taste in books and art... the personal touch you give to everything.
Have you ever regretted anything you've worn?
Many things, and I think that happens to everyone!
You've dressed First Ladies and many celebrities. Which 21st-century personality/personalities would you like to design for and why?
I'm happy with every woman who wears Carolina Herrera, no matter who she is. I want women to feel beautiful.
Aside from your iconic white shirt, what are the five pieces a stylish woman should have in her wardrobe?
A flattering little black dress is something every woman should own! Also a polished pair of pants, a well-cut skirt of excellent fabric, a pretty cocktail dress and a stunning evening gown. A wonderful pair of heels is a must as well!
For you, what are the highlights of each decade — the '80s, '90s, 2000s, and this current one — fashion-wise?
'80s: Power suits and big sleeves.
'90s: The decade of the supermodels.
2000s: Everything goes in fashion.
What do you think of this age of social media and fashion influencers who post their OOTDs? Is it hard to fight for the attention of millennials?
Fashion has become big news. We didn't have that before. We had newspapers. We had Women's Wear and The New York Times. Now we have television, Instagram, Facebook, and the whole digital world that I find so fascinating. I love it because it's a way to get the women who follow Herrera involved in what we are doing. They can get inspiration.
How does the Insignia bag capture the spirit of Carolina Herrera?
Reinventing the signature monogram, this collection embraces the spirit of CH Carolina Herrera with clean lines and uncomplicated designs. By blending the letters C and H, a reimagined emblem is born, embodying the designer's appreciation for effortless style.
What inspired its concept and shape?
The CH bracelet, made to celebrate the 35th anniversary of the House, inspired the creation of the Insignia bag.
Which color is your favorite?
I love every color, but my favorite is the yellow one. I like that there are so many options for every personality, because fashion is about color.
What is the secret of your success — and to staying relevant in these rapidly
changing times?
Consistency. It's very important to have a definitive style as a designer. I don't want the collections to look like a potpourri. It has to have a cohesive idea, and it has to be glamorous and beautiful and fit well.
* * *
The CH Carolina Herrera boutique is located on the ground floor of Greenbelt 5, Ayala Center, Makati.
* * *
Follow me on Facebook (Therese Jamora-Garceau), Twitter @tjgarceau and Instagram @theresejamoragarceau.