Blue jeans for a blue planet: How fashion addresses textile waste, one jeans at a time
September 5, 2017 | 8:41am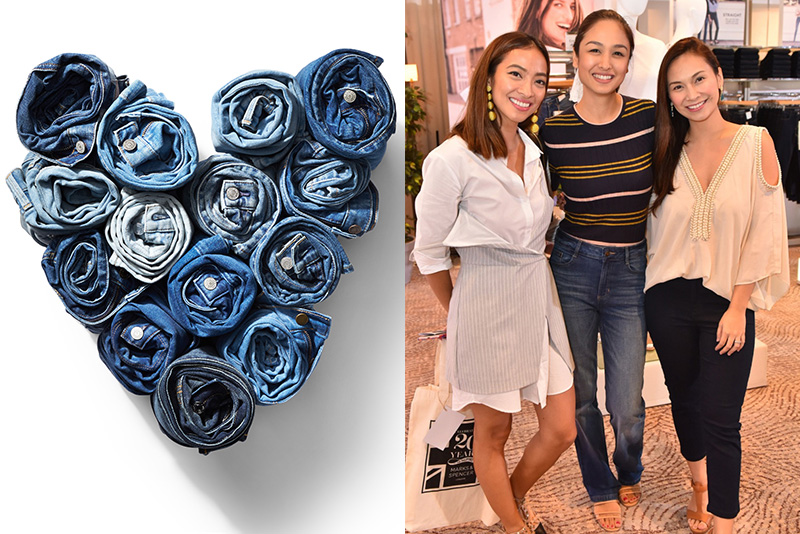 MANILA, Philippines — Ever since American Vogue released the documentary "The September Issue," September has become the biggest month in the fashion calendar, with all major fashion weeks from New York to Paris showing their trend forecasts for the following year.
But in recent years, one fashion trend stands out and is here to stay for years to come: sustainability. Indeed, sustainability has become fashion's biggest issue after "The September Issue."
From two seasons, spring/summer and fall/winter, ready-to-wear companies have expanded the fashion season from bi-annual to weekly. New collections are docked in stores every week, making customers feel that what they bought last week is already out of fashion, so therefore, their clothes are disposable and should be replaced every week.
As a result, the United States Environmental Protection Agency estimates that textile wastes account to 3.8 billion pounds annually in the US alone. Of all the clothes bought in the US, only 15 percent are reportedly recycled, while about 85 percent end up in landfills.
Not only is fast fashion filling dumpsites. Harmful chemicals from clothes, such as plastics and synthetic dyes, add toxins and pollution to the environment.
Due to its flexibility and timelessness, jeans have become a staple in many people's wardrobes all over the world, and as such, many textile wastes come from denim.
To help alleviate the world's problems in sustainability and eco wastes, some major fashion and clothing retailers have been introducing measures that aim to encourage customers to be part of the movement to love and preserve Mother Earth, starting with their favorite fashion staple, jeans.
From Europe, to North America and Europe, here are some of the best practices in fashion sustainability that hopefully, would rid the world of textile wastes and would create positive impact in generations to come.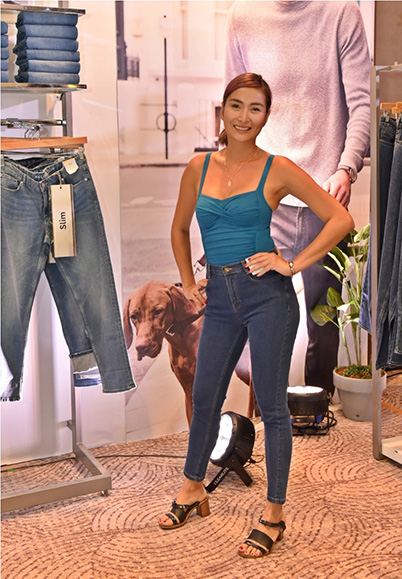 Model and TV host Phoemela Baranda joins M&S as it marks its 20th anniversary in the Philippines. Photo release
Great Britain
British brand Marks & Spencer (M&S) marks its 20th anniversary in the Philippines with the "In(JEAN)ius" campaign, which, apart from the brand's signature power stretch fabric for a smoother silhouette, focuses on eco-friendly fabrics like Ozone Wash Denim that allegedly uses less water and improves textile quality and finish.
"We decided to go with this fun, jeans-inspired event, because what is more enduring and basic than denim? It is in every closet, it is a staple in every wardrobe, and it finds itself loved no matter what generation," Lucille Tolentino, M&S Philippines Head of Merchandising and Marketing, explains in a statement.
In an exclusive e-mail interview with Philstar.com, a brand representative narrated how the brand's road to sustainability began decades ago, moving from philanthropy to community investment and subsequently corporate social responsibility.
"For example, in 1999, we were one of the first companies to publish global sourcing principles, outlining standards in ethical issues from protecting workers' unions to working hours, wages and safety," the rep said.
"Ten years ago, we launched Plan A, called (as such) because we think there is no Plan B for our one planet. Plan A is our ground-breaking eco/ethical plan with the aim to tackle five big issues – climate change, waste, resources, fair partnerships and health. Plan A has since helped redefine the role of business in society. It has delivered 296 stretching eco and ethical commitments, won 240 awards and saved over £750 million in costs through efficiencies such as using less energy, fewer transport miles and reducing packaging."
According to the rep, among their achievements over the last decade include over 27million items of clothing recycled; one billion coat hangers saved; and 890,000 people in the supply chain benefitted from training on subjects such as employee rights, health care, numeracy and literacy.
"We recently updated our plan (Plan A 2025) with 100 new commitments to tackle the big issues facing retailers, consumer businesses and society today. It spans customer and colleague wellbeing, transforming lives and communities and caring for the planet."
According to the rep, sustainability is not only good for people and the environment; it is also profitable for businesses.
"Firstly, as one of our key raw materials, our aim is to ensure that 70 percent of the cotton we obtain globally is from sustainable sources by 2020. To help us deliver this, we have an innovative partnership with WWF (World Wildlife Fund) and the Better Cotton Initiative (BCI) in India. Working together with over 20,000 farmers, we've been successful in reducing the use of synthetic fertilizers and pesticides up to 37 percent and 15 percent reduction in the use of water. The farmers have also benefited by earning almost 114 percent higher net income, 44 pecent higher profits and have reaped 18 percent higher yield."
The rep added: "Secondly, it makes sense to be a fair partner by ensuring good working conditions for everyone. All our suppliers, wherever they are in the world and whatever size they are, must adhere to our strict ethical standards as a condition of working with us. These include providing good working conditions, freedom of association, treading workers with respect, limits on overtime and paying fair rates of pay. We've found that when we have a very good factory on ethics, they also deliver outstanding quality and they have less returns."
Likewise, the company urges fashion lovers to also be involved in "sustainable style."
"When talking about sustainable fashion, its more than just a one-off capsule collection or single product. You need to take into account the many social and environmental issues associated with clothing such as raw material sourcing, ethical and eco-model factories and the use of dyes and finishes," the rep reminded.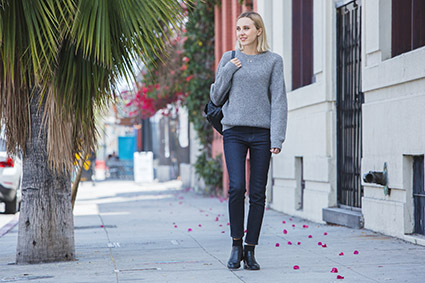 Uniqlo established its Jeans Innovation Center in Los Angeles and partners with Philippine NGOs to recycle denim. Photo release
Japan
Evolving from its utilitarian workwear origins, denim has embedded itself into the cultural landscape, including the fields of music, art, and film.
Since jeans have become an important element of its LifeWear collection, Japanese clothing giant Uniqlo established its Jeans Innovation Center in Los Angeles in 2016, where the company aims to create the best jeans for everyone, everywhere.
Katsumi Kubota, Uniqlo Philippines Chief Operating Officer, told Philstar.com in an interview that through their Reycle program, they have made sure that their company has churned out no "unnecessary" wastes.
According to him, the campaign works by setting up chutes in their stores, where customers can dock their scraps and old clothes to be recycled by the brand.
He said the company works with Bayan ni Juan partner communities to recycle the denim scraps and turn these into reusable tote bags.
The brand claims to be the first clothing retailer in the Philippines, and the first in Uniqlo all over the world, to employ senior citizens and persons with disabilities "to make Filipino lives better," said Kubota.
The brand continues to pursue new potentials for clothing by collaborating with fashion designers, top models, and other notable personalities that complement the LifeWear concept of "simple made better."
British heritage meets LifeWear through the newest collaboration with designer JW Anderson. The new collection includes men's and women's items for the Fall/Winter 2017 season. The range will bring together the British heritage of JW Anderson and the everyday comfort and perfection that the Japanese brand pursues in terms of fit, fabric, and functionality through its LifeWear concept.
Also this season, the brand debuts the long-anticipated men's line and releases the eighth edition of its collaboration with French fashion icon Inès de la Fressange. The men's pieces feature design elements like classic stand-up collars, tweed jackets, and cashmere knits. The women's line, on the other hand, is a celebration of the enduring elegance of a monochrome palette. New to the range are sports knits in vintage styles and classic Nordic sweaters. Other items include military style mod coats, duffle coats, and fleece blousons.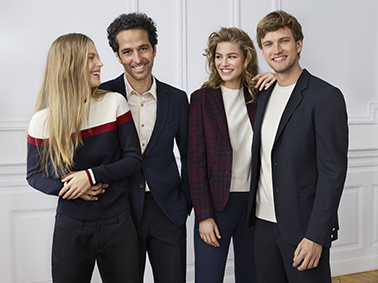 The new Inès de la Fressange x Uniqlo collection now includes men's wear.
USA
American apparel brand Gap believes that one pair of denim jeans can do a world of good to someone in need, thus it recently introduced Recycle Your Blues, a denim drive campaign that invites everyone to donate any old pair of denim jeans at their nearest store. Upon donation, participants receive a discount for their next denim purchase.
All donations will benefit Hands On Manila, a volunteering organization committed to empowering individuals to act as citizens and realize their ability to contribute to the community. Hands On Manila will not only be using the denim for donations, but also in creating a livelihood program, which aims to teach the urban poor to recycle old jeans.
Hands On Manila, introduced and developed by the Hands On Network, was established in August 2001 as the pioneering Hands On Network affiliate in the Asia Pacific Region. Founded in 1992, the Hands on Network is an innovative alliance of volunteer organizations and has successfully implemented their method in various American cities. Their flexibility model for volunteer service allows its members to incorporate volunteering into their day-to-day schedules.
Beneficiaries of Hands On Manila include Pangarap Foundation, which provides an all-boys' shelter for former street children and works to address their mental development, physiological, emotional, psycho-social and spiritual needs. It provides three major intervention services: Caring Services (shelter, food, clothing, advocacy, legal, medical and dental); Healing Services (social, psychological, psychiatric and spiritual); and Teach Services (formal and non-formal education). Pangarap Foundation also has an outreach community in Paliparan, Dasmarinas, Cavite.
Another beneficiary is FCED (Families & Children for Empowerment & Development) Foundation that provides assistance to poor urban families through livelihood projects, micro-finance training, education, and values reorientation in the communities where they live.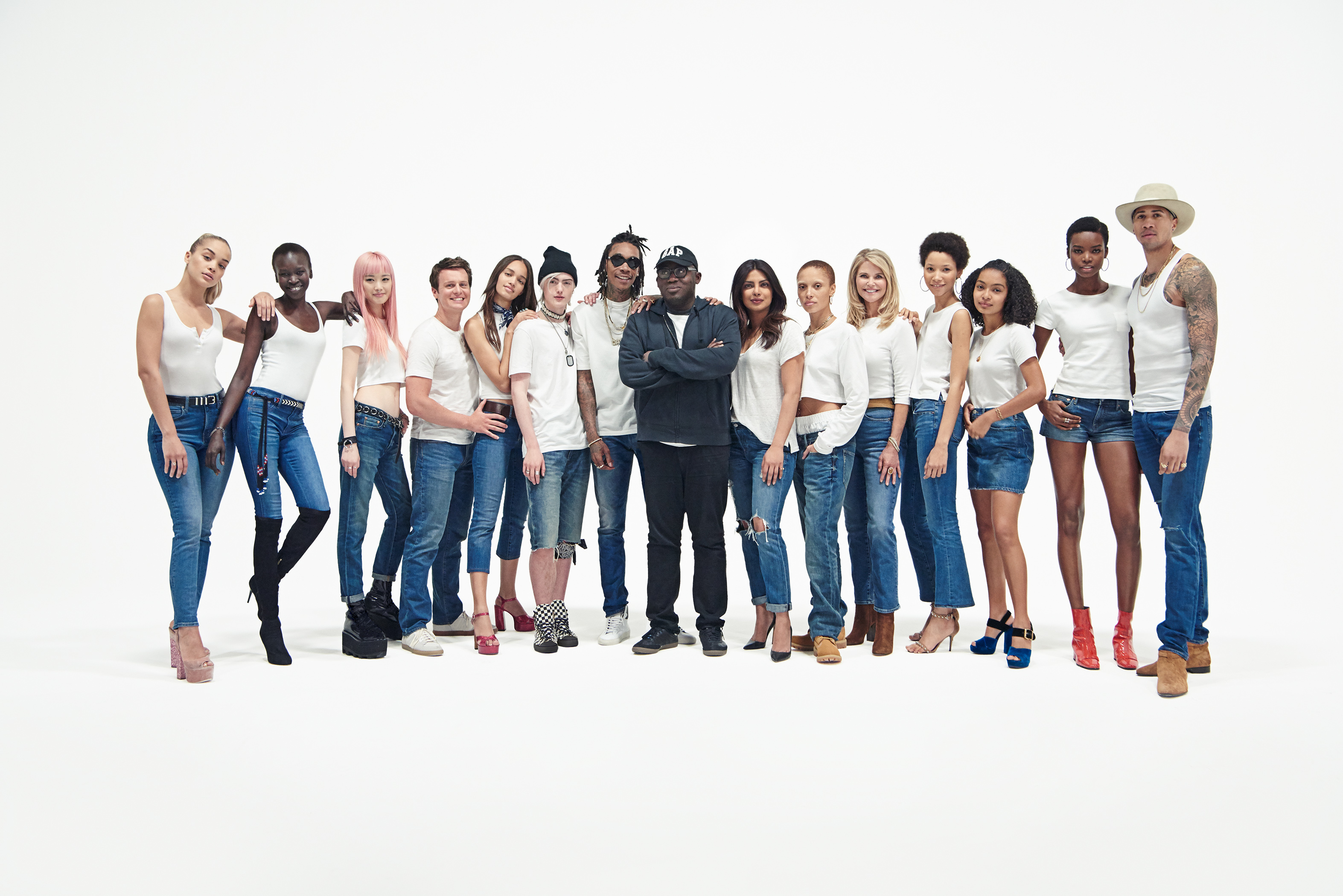 Gap partners with NGOs to encourage consumers to recycle their blues. Photo release