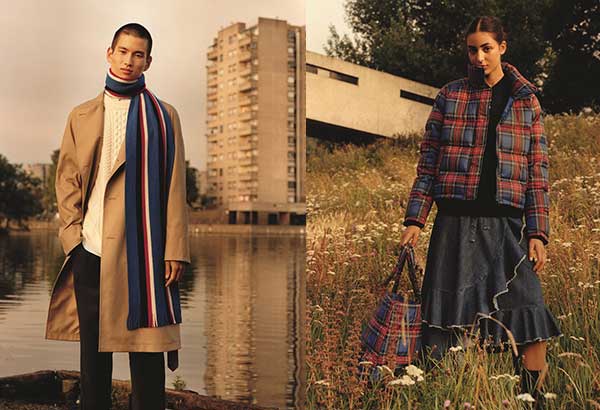 Long-awaited collaboration: Cool Britannia meets high-tech Japan in Uniqlo's JW Anderson collection, available Sept. 22 at Uniqlo SM Megamall.
Uniqlo gets a dose of British cool
JW Anderson is one of the British fashion designers who exemplify Cool Britannia. Add his young, playful take on British heritage to Uniqlo's democratic, carefully crafted LifeWear and you get "Uniqlo and JW Anderson," one of the Japanese brand's most-awaited collaborations in recent memory.
"Working with Uniqlo is probably the most incredible template of democracy in fashion, and it's really nice to be able to do this, that my own product can be accessible to anyone on all different levels," says Anderson, who also designs for his eponymous label as well as being creative director of Loewe. "When I think of Uniqlo I think of things that are perfectly made. They are reduced, they are something that people have spent a lot of time considering. It's a very difficult job and I think Uniqlo does it very well."
Uniqlo and JW Anderson will be available Sept. 22 at Uniqlo SM Megamall but we previewed it, along with the rest of Uniqlo's fall/winter 2017 collection, recently at One Canvas in Makati.
"We don't dictate style because style should come from our customer," says Fast Retailing Philippines' chief operating officer Katsumi Kubota, "so we focus on creating truly great clothing that individuals can mix and match, based on the Japanese values of simplicity, quality and longevity."
Personally I can't wait to mix and match JW Anderson's pieces with my Uniqlo jeans and basics. He turns a blue-and-red British tartan into ultra-light quilted jackets and bags, long scarves and sweaters are colorfully rainbow-striped, and trench coats and pea coats have been reimagined in striking colors and modern shapes. These are clothes that Harry Potter and his crew would wear after graduating from Hogwarts: undeniably British, young, hip and cool, and so irresistible as to be magical.
"Each piece is carefully crafted to transcend time," notes Kubota. "Uniqlo wants to create clothes that make life better, and we're excited to make Filipinos' lives better."
Another highlight in Uniqlo's FW17 collection is Ines de la Fressange for men. Yes, the French style icon has brought her chic, tailored aesthetic to menswear.
"Maybe I'm going to steal them because they're so nice," De la Fressange laughs. "But it's quite classical: there's sweaters and coats, jackets, and now even your boyfriends are going to look great."
It's the eighth season of De la Fressange's collaboration with Uniqlo, and, in addition to menswear, the French designer is incorporating black and white pieces into her women's collection, as well as sports knits in vintage styles and classic Nordic sweaters.
Another exciting line is Uniqlo U, Christophe Lemaire's baby. Uniqlo hired the former Hermes designer to be its artistic director last year, and he now oversees the brand's new Paris R&D center, the goal of which is to really push the limits of LifeWear. "We propose to create pieces that are functional, utilitarian, made for all, made for everyday, but with as much style and detail (as possible)," Lemaire says.
Consequently, from Uniqlo U you'll get menswear and womenswear in high-tech fabrics, solid colors, and more grownup silhouettes — basics that would be perfect for a workplace, whether corporate or creative.
"We're proposing new volumes, new colors, to try and find this balance between something that you need and something that you want," says Lemaire.
In addition to the Paris R&D center Uniqlo also has a Jeans Innovation Center in Los Angeles, which produces denim in every possible color, wash and fit you can think of. This season women can choose from Wide Fit and Boyfriend styles in addition to the still-popular Cigarette and Ultra Stretch, while men enjoy more ease in Ezy jeans, though Regular Fit, Ultra Stretch, Slim Fit Straight, and Selvedge jeans are more forgiving than ever before. While Uniqlo's famous Kaihara denim dominates, those who want an even more affordable price point can get jeans for only P990. Hard to find a better jeans deal anywhere.
Seasonal highlights include Ultra-Light Down (ULD), flannel, and denim pieces for outdoor activities like trekking, hiking and camping, while leisure travelers can snuggle into ULD and wool outerwear in monochromatic tones of black, white, dark olive, and beige.
Truly, whether you're a man, woman, teen, or child, Uniqlo will have something for you to wear no matter what climate you live in or activity you're engaged in. I guess that's what they mean by "LifeWear."
* * *
Uniqlo's latest LifeWear collection is available at a store near you. Uniqlo and JW Anderson and Ines de la Fressange for men will be available in September. Check www.uniqlo.com/ph/ for details.
* * *
Follow me on Facebook (Therese Jamora-Garceau), Twitter @tjgarceau and Instagram @theresejamoragarceau.