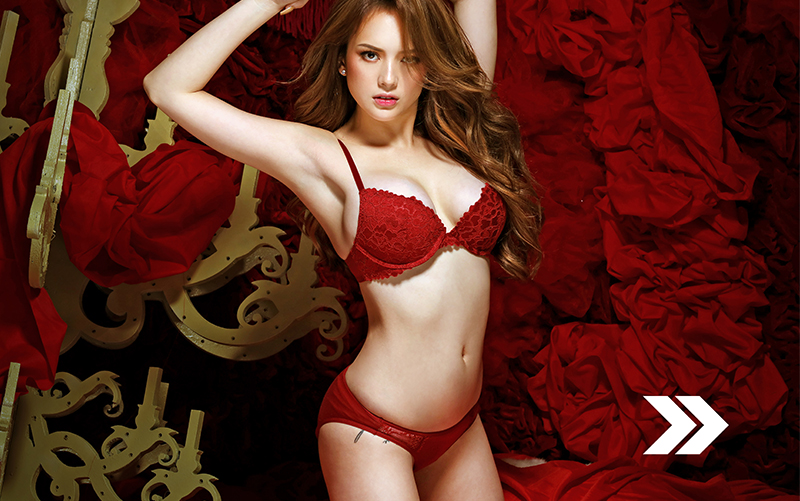 Actress Ellen Adarna. Photo release
Ellen Adarna a 'virgin' when it comes to skincare
MANILA, Philippines — From TV series to men's magazine covers, actress Ellen Adarna is not afraid to bare it all, thanks to her flawless, white skin.
What does she do to keep herself spotless? "Honestly, wala. I just really drink a lot of water and scrub. I scrub a lot for some reason. Every day, like twice a day. 'Yun lang! That's all!" she revealed in an interview Tuesday night.
"But it's really water. Nakakaubos ako ng two liters of water a day since I was young. When I'm working at nakakalimutan kong uminom ng tubig, malaking difference sa skin."
But since she is turning 30 next year, the actress has noticed that wrinkles have been starting to appear, which made her exclaim, "OMG, tumatanda na 'ko!"
"I'm aging! Of course, magkaka-wrinkles talaga ako. 'Yun nga raw, one of the reasons why I'm having wrinkles is because I don't wear sunscreen and I don't moisturize."
Though she never experienced having a breakout, she easily gets scars. "Because I'm clumsy and my skin's very thin, sensitive. Even if it's not deep, it turns brown or blue."
Thus, although she has always been naturally fair, she acknowledges that as she ages, she now needs to use a skincare product to help alleviate wrinkles and scars. She said she usually uses concealer to cover her scars, but now, she has given up on merely hiding them. She wants a permanent solution.
Her fellow actor, Raymond "RS" Francisco, whom she worked with in "Pasion de Amor," seems to have the answer for her skincare woes. RS, who co-owns multi-level marketing brand Frontrow International together with Samuel Verzosa, asked Ellen to try out their new product, Instabright Body Crème, a glutathione-infused body cream reportedly infused with 18 antioxidants and a patented Smart White Technology.
Upon seeing how effective the product is, Ellen agreed to become its official endorser and for the first time ever, include a skincare product in her beauty regimen. RS said they have no one else in mind to become the product's face.
"Nakapag-decide na rin ako kasi may SPF s'ya and my wrinkles are starting to show kasi parati akong nag-sa-sunbathe. So 'yun, ginagamit ko s'ya 'pag taping, 'pag may ilaw. But I don't wear it every day sa face. But everyday sa scars and knees and elbows. Kasi puputi na talaga ako," Ellen expounded.
As part of aging, Ellen also noticed her metabolism has not been as fast as before.
"Tumaba ako," she said. "'Pag nag-soap ka, wala kang time sa sarili mo, kain ka lang."
To get back in shape, she hit the gym as soon as her last soap opera, "Langit, Lupa," ended.
She also went on a two-month alcohol detox and had to cut back on drinking. "For more than two years, I've been drinking two bottles of wine four times a week. I was always drinking. I gained so much weight while doing soaps. When the show ended, that's it, 180 degrees change. And na-notice ng lahat ng tao that I lost weight and my aura is different. Parang ibang tao ka na. And the way I think also is now crystal clear. All the wrong, bad decisions that I made over the past two years is because of alcohol. Kasi tuluy-tuloy, walang pahinga."
Because of her lifestyle changes, she believes she is maturing not only by age but also in her career. "I started doing sexy projects. I still do it, pero 'yung roles ngayon na na-ooffer sa'kin it's going toward heavy drama, which is good."
Although it will be months before she hits 30, she already has a simple birthday wish, and it is not about having a love life: "Basta maganda lang ako!"