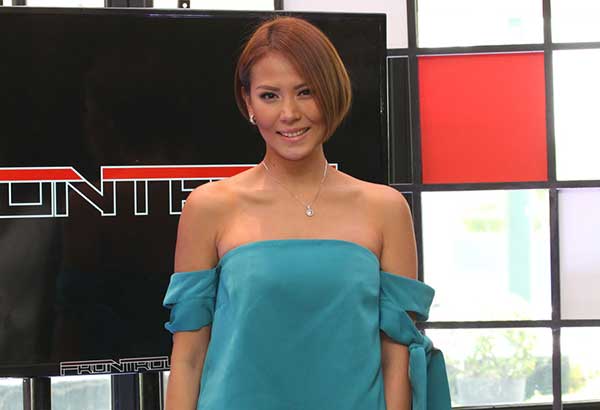 FrontRow celebrity ambassador: Model and actress Bianca Manalo
Sitting In The FrontRow Of Beauty
Actor RS Francisco says he's the type of Asian who wants his skin to be fair, so he started taking glutathione. "Especially when I was in advertising I'd be under the sun, so I needed something to lighten my skin," he says.
Along with glutathione, he also took L-Carnitine for slimming and goji berries and mangosteen for their antioxidant benefits. That was how he and business partner Sam Verzosa came up with the idea for FrontRow International, a multilevel marketing company that specializes in beauty, health and wellness products.
"In 2010, we thought of a product that would actually carry the whole company — a product that's very well accepted in the Philippines," Francisco says. "So we said, 'What does the Pinoy want?' They want to be whiter; they want the antioxidant effect of glutathione. So that was our initial product."
They launched Luxxe White Enhanced Glutathione Health Supplement, followed by a whole range of supplements based on other Pinoy concerns: Luxxe Slim L-Carnitine & Green Tea extract, which was recognized as the "Most Effective Weight Loss Supplement" at the Consumers Choice Global Awards; Luxxe Renew 8 Berry Extract, which combines the antioxidant benefits of "super fruits" pomegranate, noni fruit, blackberry, cranberry, acai berry, mangosteen, goji berry and blueberry into one capsule; and Luxxe Protect Pure Grapeseed Extract, another powerful antioxidant with skin, heart and anti-cancer benefits.
They also offer three soaps with glutathione, skin vitamins and kojic acid — 01 Skin Whitening Bar, 02 Oatmeal Exfoliant Bar and 03 Orange Papaya Bar — and signature scents Bling and Glitz.
"We were surprised," says Francisco, FrontRow's president. "We didn't have to expand, because just those products — we're always sold out."
Over seven years, he and FrontRow CEO Verzosa accrued a membership of 800,000 direct sellers at FrontRow, enticing them with value-for-money packages and incentives like glamorous trips abroad.
"We are on a multilevel marketing system so we try to make it as fair as possible to everybody," Francisco says. "We don't sell in retail stores because they will be our competitor. So it's all through direct selling, and we give a good margin to our members. They get a 50 percent lifetime discount. And if you buy a package, we give you your money's worth right away."
"Once you buy a package you're automatically a member, so they all buy the package to get the 50 percent discount," Verzosa adds.
They also have a concept they liken to Starbucks' planner promotion: "If you buy coffee, you get a stamp, and if you buy many coffees, you get a planner," continues Francisco. "At FrontRow, if you buy a product, you get a stamp, and if you buy many products, you get to tour with us. Last month we went to the Maldives with our top sellers. We've also gone to Dubai, Singapore, and next we're going on a cruise."
The company also has a roster of celebrity ambassadors — all of them friends who use and believe in the products — like eventologist and host Tim Yap, who relies on Luxxe Renew for its detoxifying properties.
"I usually do the glutathione detox, but this one I don't need to be pricked," Yap reveals. "It's something that, with the nightlife and that kind of lifestyle, we always need to take."
Binibining Pilipinas-Universe Bianca Manalo takes Luxxe Slim to stay svelte for her modeling and acting career. Dayanara Torres prefers Luxxe Renew for the anti-aging benefits of its eight berries. FrontRow's other celebrity ambassadors include actor, model and teen idol James Reid; actor, host and international model Fabio Ide; actress and model Cristine Reyes; and host and model Phoemela Barranda.
Even non-celebrities testify to the efficacy of FrontRow's products. Francisco shows me photos of Dave Villanueva, whose startling physical transformation was recently featured on 24 Oras. Turns out Luxxe White was one of the products Villanueva was using to make himself fairer, as well as FrontRow's soaps with glutathione and kojic acid.
"I called him to thank him and sent him products," Francisco says.
So sought-after are the supplements that the company has a hard time keeping them in stock; the two FrontRow honchos even went to California to badger their US manufacturer, which is currently upgrading to cope with demand. "They're adding a lot more machines that can make the capsules," notes Verzosa.
Since the products are made in America, they're FDA-approved and halal as well, since the company has branches in Dubai, Abu Dhabi, Singapore, and will open this year in Oman, Kuwait, Bahrain, Korea, and Italy.
"The last time we were in Dubai, we met Emiratis who want to be fair, and locals that want to be thin," observes Francisco.
"Even people in Nigeria want to be fairer," adds Verzosa.
FrontRow is definitely tapping into markets avid for its wares, but Francisco, the creative in charge of the brand's look, feel, and advertising, and Verzosa, who takes care of business development, expansion and marketing, aren't resting on their laurels but continue to push forward and innovate. Next month they plan to launch two new products they're really excited about (hint: they're made in Korea this time) but you'll have to wait till Aug. 8 to get a front-row seat to that event.
* * *
For more information, visit FrontRow International's official websites: www.frontrowofficial.com and www.luxxereveal.com.
* * *
Follow me on Facebook (Therese Jamora-Garceau), Twitter @tjgarceau and Instagram @theresejamoragarceau.