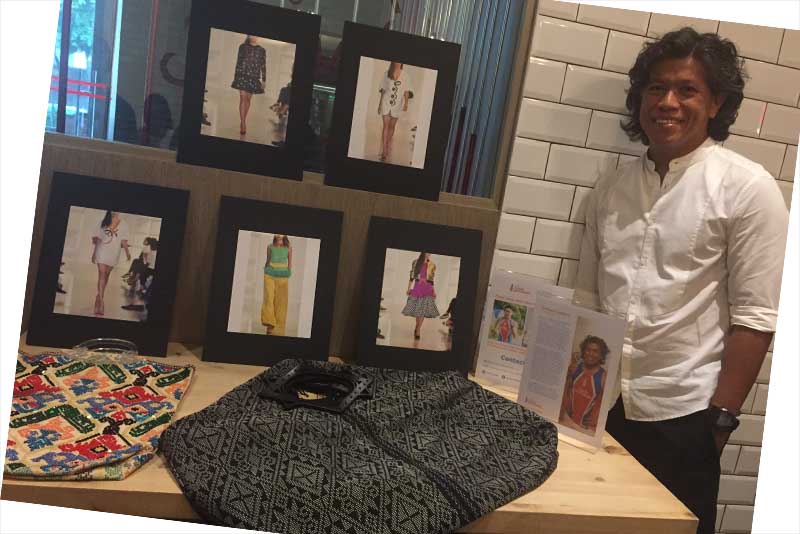 Filipino designer Dennis Lustico is partnering with Smile Train, a cleft charity that provides free surgeries for patients with cleft lip and palate. Globally regarded as Smile Train Team Empower, the charity is partnering with the IronMan franchise as well as different marathons to raise funds and participate in their races in Berlin, Paris, and London Marathon. Philstar.com/Ana Jacinta Olabre
Filipino designer to join Paris Fashion Week again
(philstar.com) - July 12, 2017 - 9:35am
MANILA, Philippines — Now on his third season at Paris Fashion Week, an international fashion designer will be showcasing his Filipino designs for Paris Fashion Week once again and his works will be made available for global purchasing.
Registered nurse, triathlete and fashion designer Dennis Lustico will be flaunting his Filipino designs in Paris, France for the Fall/Winter Fashion Week in September in partnership with Fashion Exchange International (FEI) brought about by renowned fashion experts Robby Carmona and Carmina Sanchez-Jacob.
Alongside junior designers from all around the world, Lustico said in a recent interview with Philstar.com that he exhibits his designs in a showroom consisting of fixed shoppers commonly from Middle East, Europe, and North America.
"They get to order our samples and then we manufacture it in Jakarta and we'll send it to them once it's done," the fashion designer explained.
He indicated that the reception was very "promising" but disclosed that purchasers, at first, are hesitant at buying from newbies in the industry, and then they examine the designer's works for the next season before ordering.
He, however, was fortunate to receive a good amount of orders from his first season in Paris Fashion Week. The clothes he designed went far across nine countries, mainly in Middle East and Spain where the customers are eyeing for the same aesthetics.
He pointed out that another Filipino, Carl Jan Cruz, as one of the rising designers in the fashion industry.
He then also mentioned fellow Filipino fashion designer Marc Rancy, who joins the Paris Fashion Week and eventually desires to have a label of his own.
Asked if these young designers threaten him at any rate, Dennis immediately opposed the idea and explained the fashion industry welcomes young and assertive designers who want to reveal their work not only in the local market but likewise in a global setting.
Among the illustrious Filipino fashion designers who also displayed their designs in Paris from the first season were Rajo Laurel, Francis Libiran, and Ivarluski Aseron. During the Winter collection, Dennis was with John Herrera and Cherry Veric. For Spring/Summer 2018, Lustico will be exhibiting with Laurel, Libiran, Veric and Aseron. He shared he is currently working on an upcoming collection to be displayed in September and Spring/Summer 2018.
"Right now I'm working with a lot of gold for Spring/Summer 2018. A lot of gold, and then accent with color such as pomelo, there was aubergine and turquoise," he stated.
As for types, he admitted he is presently inclined to Ready-to-Wear (RTW) fashion than couture. "I like the business side of fashion. I like RTW right now," he explained.
Since he liked the business part of the industry, he said that this should be the chief objective of a fashion week.
Dennis is very much open to a proposal of having a Philippine Fashion Week since its absence is apparent in the country.
"What should happen is we should have our own fashion week in which the department store should buy from the designers in the fashion week," he said.
He mentioned that the set up overseas for their own fashion weeks is that the department store would order from the designers. For him, the legitimate emotions would come when buyers approach designers like him, asking for custom-made clothes.
There should only be a single fashion week for the Philippines if there is to be one, Dennis suggested.
"Whoever should organize that Philippine Fashion Week should have… this direction which he should invite, have meeting with department store owners and then pursue a collaboration with the designer and the mall owners or the boutique owners to… get the design of the designers," he advised.
In the succeeding modes of fashion, he anticipated that street style and couture are to remain. But whatever the trend may be, Lustico stressed: "You make your own trend."