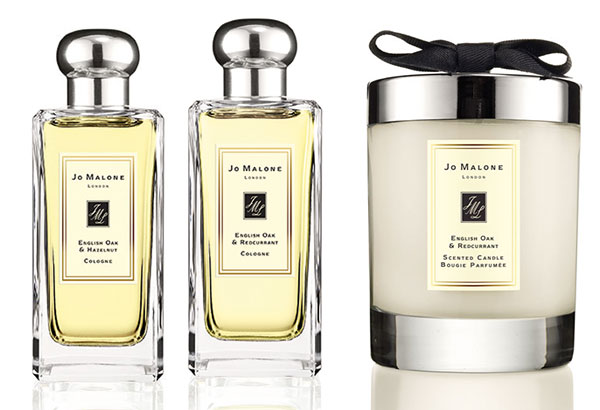 Jo Malone English Oak & Redcurrant and English Oak & Hazelnut perfumes and English Oak & Redcurrant candle are inspired by the noble and iconic oak tree. Redcurrant is bright, crisp, and spicy. Hazelnut is green, deep and fresh, suitable for men but also wearable for women, available in September at Jo Malone boutiques.
Are you a perfume monogamist? Neither am I. I will always have a base scent — it's been Jo Malone Earl Grey & Cucumber for quite some time — but every now and then it will be layered with something else. Lately, my base layer of choice has been Jo Malone Red Roses body lotion. I'd like to think layering it with a tea scent creates something that could've been made for royalty in the Victorian Era. Sophisticated and bespoke. I may not like to look old, but I like to smell old — as in 1800s-ancient.
This is why I'm particularly drawn to the brand's two latest scents, Jo Malone English Oak & Redcurrant and English Oak & Hazelnut, which come from a centuries-old English Oak tree. The scents were launched at Spices in the Peninsula Manila, which Jo Malone transformed into an autumn forest, complete with leaves on the floor and forest sounds. Upon entering, we were greeted with the scent of Redcurrant, which is at once fresh and warm.
Literally cut from the same bark, these two English Oak scents were always a dream for Celine Roux-Alezais, who is vice president for fragrance development. Global lifestyle director Debbie Wild says, "Celine always wanted to create this kind of scent. She actually took master perfumer Yann Vasnier to the area of inspiration, the Sherwood Forest, which is very famous in the UK. It's beautifully scented and it's got a carpet of emerald green moss. They became very inspired by that. One thing that was very evocative to them was the dry, roasted smell of the oak wood. So they made a Roasted Oak Absolute scent, for both the fragrances. They washed the oak chips for a long time, almost until they become smoky, creating this one not that's exclusive to Jo Malone. This note is exclusive for five years; no one else can use it."
Vasnier says: "In perfumery, you often find sandalwood and cedarwood, but oak is something unique. Oak exists as an ingredient, but for this project, we created an exclusive variant of the wood, a roasted oak, which has an addictive quality and sweetness."
In the Sherwood Forest they also found redcurrants and hazelnuts, two very English plants and the stars of each scent. "Nature often grows beautiful things next to each other that complement, and redcurrants were growing next to the noble oak tree and it's a sweetness that would go very well with it. We put a little bit of pink pepper, a little bit of mandarin. Hazelnut probably resonates more with the male because you've got vetiver, cedarwood, amber in the base notes, but we used the crunchy hazelnut on the top, which makes it quite green," Wild shares. Jo Malone also launched an English Oak & Redcurrant Candle, which Wild recommends burning while eating.
Sillage & Synthesis
The Jo Malone philosophy of layering is not difficult to adapt — there's just that part about getting over the misconception that layering scents is overkill. The scent stylists at Jo Malone boutiques ease new customers into the practice by asking them which scents they are drawn to, and demonstrating what they are best layered with. Of course, it's all up to your nose. A lot of scent stylists have told me they've never thought of mixing Earl Grey and Red Roses. It's all about what works for your body chemistry.
Wild shares her favorite combinations: "I love that English Oak & Hazelnut is masculine. But Redcurrant makes me feel brighter; when jetlagged it just wakes you up. I like Oud & Bergamot with English Oak & Hazelnut. I really like Blackberry & Bay with Oud & Bergamot, so I quite like it with Redcurrant also. That's really nice. It's not overpowering — it's like you've got accessories on. That's how you wear fragrance combining. Don't worry that's it's going to be overpowering." She also suggests spraying the scent on the body instead of clothes to make it last longer, since the body acts as a natural diffuser for the rest of the day.
Aside from layering, Jo Malone is also about that "trail." "Both perfumes leave a beautiful trail. If you've noticed, when you wear a Jo Malone London scent, when you walk past somebody, it's like it's mingling. It's called the sillage, the French word for trail. Jo Malone is very renowned for how they finish their scent. Not only do they layer beautifully, what's left isn't jarring. Ones that are poorly put together jar in your throat, but the bespoke and tailored leave a beautiful trail," Wild says.
Jo Malone's two new scents definitely leave a trail — one that's mysteriously English, woodsy and enchanted.
* * *
Jo Malone English Oak & Redcurrant and English Oak & Hazelnut will be available in September at Jo Malone boutiques in Greenbelt 5, SM Megamall, SM Aura, Rustan's Shangri-La, Rustan's Cebu, amd S Maison.