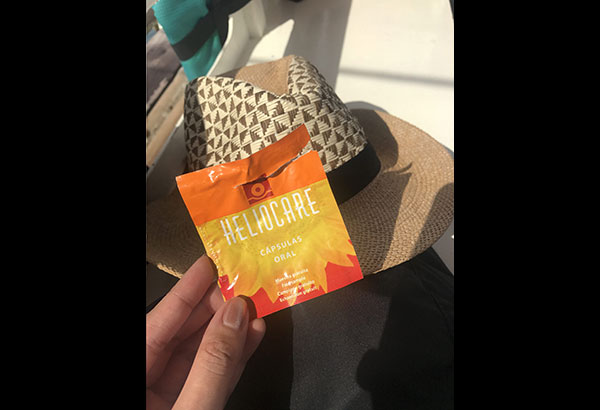 Say goodbye to tan lines and darkening: Get extra protection by pairing your topical sunscreen with oral Heliocare sunblock capsules. Available at Skin Dermatology and Laser Center located at The Spa, Bonifacio High Street, Fort. For inquiries, call 403-8000.
Avoid darkening with oral sunblock
(The Philippine Star) - July 11, 2017 - 4:00pm
Dear Rissa,
I'm getting married this year, but I still have some planned family beach trips for the upcoming long weekends. What sunblock do I use to avoid getting tan lines?
Tin
When using sunblock, always make sure that aside from a high SPF rating, the sunscreen should have a PA+ rating — the more plus signs indicate a higher protection against UVA rays, which cause aging (wrinkles, fine lines, sun spots, etc.). SPF rating indicates protection from UVB rays, which cause burning and darkening. Also be diligent in reapplication every two hours.
My morena skin is the type that darkens easily even if I don't sunbathe. No matter how much sunblock and how often I apply it, I never fail to get tan lines. What I discovered recently is oral sunblock. Yup, capsules that you take once a day to get all-day protection. It was recommended to me by PDS dermatologist Dr. Raissa Pasion of Skin Dermatology and Laser Center at The Spa on Bonifacio High Street, Fort. After my last trip to El Nido Palawan, that was the first time I never got tan lines and hardly darkened — all despite swimming on the beach, going on an island tour, and kayaking at noon. Dr. Pasion recommended taking two capsules if I planned to be on the beach. But for everyday city life, a capsule a day is good. She cautions though not to solely rely on oral Heliocare sunblock. It should always be coupled with topical sunscreen for the skin. Hope it works the same way for you. Good luck!
Rissa
Concealing Undereye Circles
Dear Lucy,
My undereye circles really bother me, but I can't seem to find the right product. The ones I have tried so far do not work — they highlight the darkness instead of concealing it, and the products crease, making me look old and tired.
Also, I have huge boobs and they make me look fat and heavy. What are your thoughts on breast reduction?
Zoe
Try Eye Am The One concealer from Happy Skin. The formula provides good coverage, it does not crease, and the product blends very seamlessly into the skin, making it look so natural. It does what makeup should do — make you look good in an effortless way. Oh, and it doubles wonderfully as a zit concealer, too!
Re your boobs, breast surgery (whether to increase or reduce size) is a decision you must make for yourself. To each his own. If you do go the way of surgery though, I would caution you to be very particular about your choice of doctor and be sure to discuss with him/her all the pros and cons. Whatever route you take, an informed choice is imperative, no shortcuts there.
Lucy
* * *
Send e-mail to Lucy Torres-Gomez at ltg@pldtdsl.com. E-mail Rissa Trillo at stylesos_rissa@yahoo.com or follow her on Twitter @RissaMananquil.