Rei Kawakubo poses riddles at the met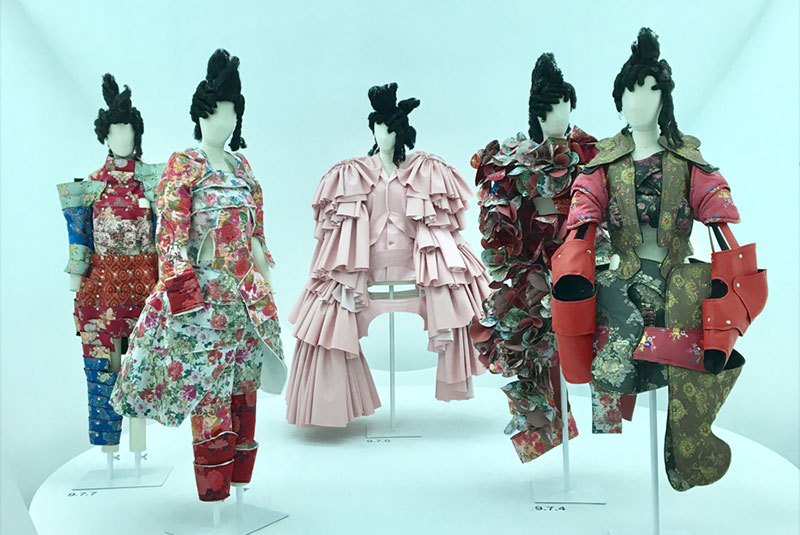 Distorted? Upsetting? Surreal? No, not when it comes from the creative mind of Rei Kawakubo as she expresses her philosophy of "in-between-ness" in an impressive fashion collection at New York's Metropolitan Museum. Since 1969, when she founded Comme des Garçons in Tokyo, Rei Kawakubo has always defied accepted norms of fashion — creating looks that are disturbing to the traditional, visionary to those who see things her way.
Finally receiving the recognition she so deserves, the exhibit showcases her rebel attitudes and approaches to her clothes, which have influenced today's definition of "fashion." With the spirit of "Zen koans or riddles devised to baffle, bemuse, bewilder," the exhibit flows from nine (seemingly opposite) expressions: "Absence/Presence"; "Design/Not Design"; "Fashion/Antifashion"; "Model/Multiple", "High/Low";
"Then/Now"; "Self/Other"; "Object/Subject"; and "Clothes/Not Clothes."
Her clothes stay in the spaces between these dualities. Actually, her clothes defy definition and convention; the show reflects her holistic approach to art.
Kawakubo did not receive any formal training in making clothes; instead she approaches her designs with an intuitive spontaneity. She defines a body shape — rather, defies the feminine definition, outside of the traditional well-shaped breasts, small waist, flat tummy, slim hips — making her clothes quite wearable for those whose figures are not exactly ideal. She has fused the male/female types — trousers and skirts — and today, both men and women are comfortable with pants that look like skirts and vice versa.
Some critics have described her work as "ugly aesthetic," but her eyes redefine the limits of beauty. In 1982, she came out with a black sweater with random holes and called it her "lace" sweater. She said: "To me, they're not tears. Those are openings that give the fabric another dimension. The cutout might be considered another form of lace." And 35 years later, people pay good money for holes in shirts and jeans!
Sometimes, Kawakubo creates from feelings of anger and indignation, not being satisfied with what already exists, and uses these as themes for her collections. "I work around the figure, but I am never limited by what the figure has to be." Truly, in her hands, the body is unbound and can freely exist in spaces "in between."
Rei Kawakubo prefers to call herself a "worker," and not an "artist," and maintains that "fashion is not art. You sell art to one person. Fashion comes in a series and it is more a social phenomenon." She understands this concept fully: her talent for duality has built a thriving business of wearable clothes and accessories, proving that her art can be worn by those who are willing to dare. - Photos by Maxine Alindogan
* * *
Please tell me where to walk the talk: [email protected].
Follow me on Instagram: cecilialicauco2.