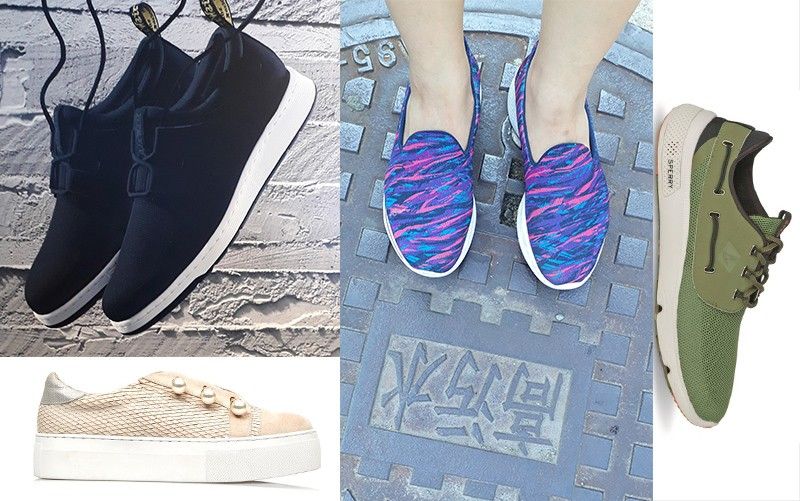 Summer sneakers: 4 shoefie-worthy sole mates
File photo
Summer sneakers: 4 shoefie-worthy sole mates
MANILA, Philippines — In recent years, there was a time when flip-flops, sandals and mules ruled the summer streets.
This summer, however, sneakers reign as the "athleisure" or athletic leisure trend which still dominates fashion.
From boardroom to beaches, sneakers are "in," more so because of innovations that make them almost as light, convenient and as comfortable as slippers. With the comeback of 1990s styles, sneakers are also now being paired with almost anything – from chinos and joggers to Bohemian skirts and floral dresses.
Check out four sneaker innovations that can complete your summer #OoTD (outfit of the day).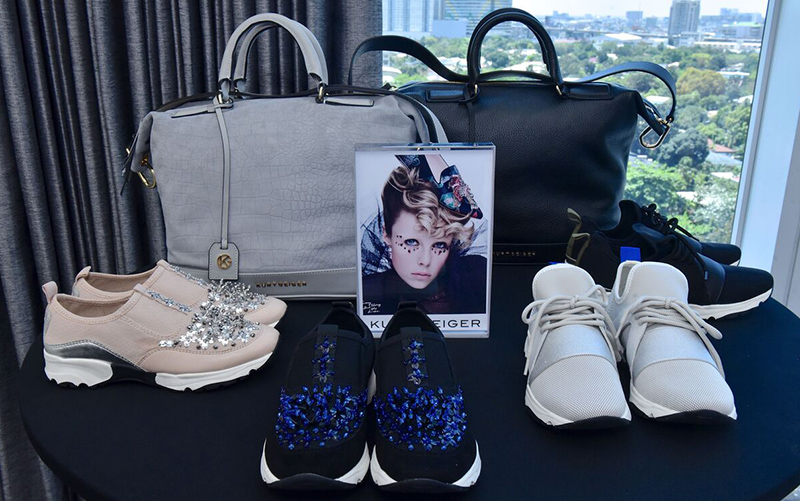 Kurt Geiger spring-summer 2017 collection
Footwear fairytale
Last year was a tumultuous one with political uncertainties brought about by elections in the Philippines and abroad. So, this year, people deserve to take a break from all the politics and minimal fashion and rediscover the fun in maximalism, said a representative of British footwear and accessories retailer Kurt Geiger.
Thus, for spring-summer 2017, the brand introduces a collection that is more playful than usual, inspired by fairytales.
Kurt Geiger London operates internal and external brands, giving it the edge of having links with the luxury world and the first hand at key trends of the seasons.
But while still focused on luxury, the brand has noticed that athleisure now makes up 30 percent of its business. According to the company's representatives, athleisure's growth through the years is not only caused by more and more people becoming more sports-minded, but because they find out that it is essentially comfortable to wear sneakers from day-to-night and from denims to dresses.
Hence, among the key pieces in the brand's latest collection are beaded sneakers, or as a brand representative described, "femininity and glitz and glamour on a sneaker." These, along with mules with oversized bows reminiscent of fairytales, can be worn from casuals to cocktails.
Available in the brand's stores in Estancia Mall and Greenbelt 5, the new collection evokes romanticism in its fairytale-like details like tulle, nudes, pastels, rose and blues.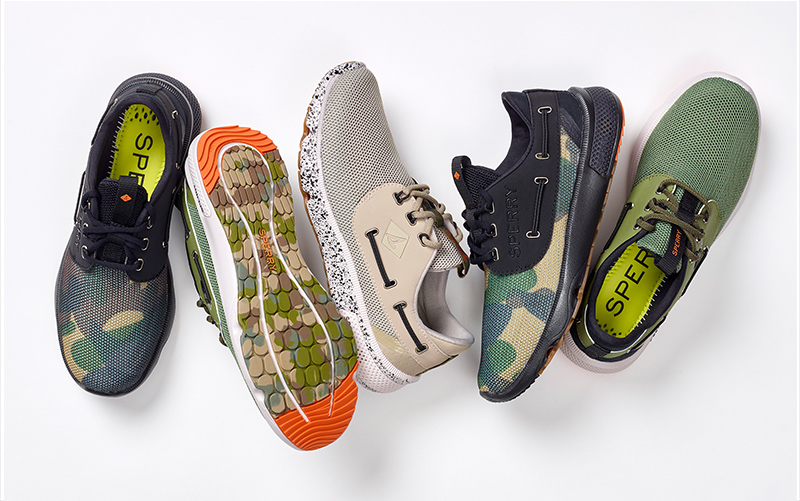 Sperry 7 Seas Camo collection
From the seas to the streets
Global lifestyle brand Sperry announced recently the launch of the Sperry 7 Seas, a new line of shoes built for exploration in land and sea. Since the brand's inception in 1935, Sperry has been creating purpose-built tools for adventure. An updated boat shoe design featuring 21st century technology that was developed in partnership with some of the world's best athletes, the 7 Seas shoe is the newest offering from the iconic American brand.
Its new design elements provide good traction, fit and vent. Terrain traction pods and the brand's classic non-marking rubber outsole with Razor-Cut Wave-Siping technology assure superior grip.
The shoe also has the brand's trademark 360-degree lacing system, MocFit construction, and SeaBound integrated energy return system to provide a fit that gives the wearer confidence in both sun and storm.
Lastly, its hydrophobic mesh uppers with HydroPel technology and OmniVent construction ensure the shoe sheds water and dries quickly, providing ventilation when facing the elements. Besides providing breathability, these vents also act as drainage for water, said Karen Ong of Sperry Philippines.
"The 7 SEAS shoe marks a quantum leap for the Sperry brand," said Rick Blackshaw, the brand's president. "This shoe was born from the sea and built for the world. This is the shoe our founder Paul Sperry would have designed if he were still with us today."
Because of its technology inspired by the extreme sailing organization America's Cup, the 7 Seas can meet the evolving desires and needs of people from seas to the streets, and could be the one pair you can use from airport to adventure and you do not need to bring other shoes for backup, said Ong.
The Sperry 7 SEAS embodies the brand's mission and honors the innovative spirit of founder Paul Sperry. The 7 Seas collection is available for men and women across several colorways.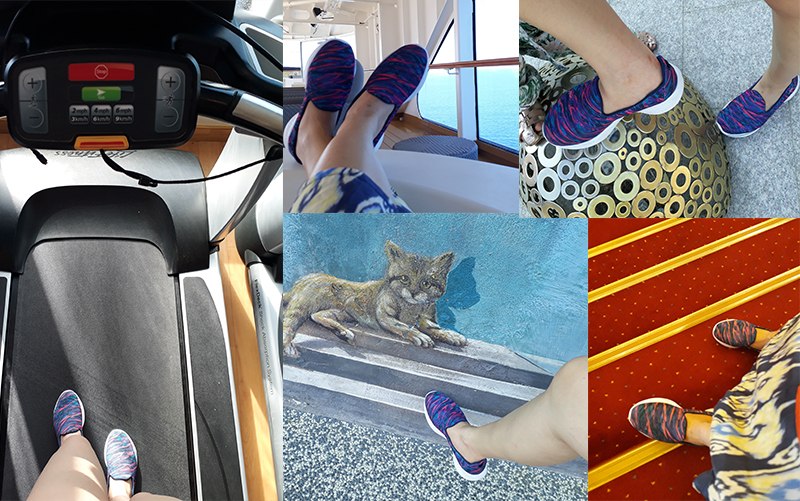 Skechers GoWalk 4 used in a cruise to Taiwan and Hong Kong. Philstar.com/Deni Rose M. Afinidad-Bernardo
Shoes as soft as squishy toys
Goga Max, a new memory foam in-sole said to be as soft as babies' squishy toys, make the new Skechers GOwalk 4 as comfortable as slippers.
As the shoes' name suggests, they have been designed for a great walking experience whether for working or traveling.
The shoes' breathable upper dries quickly even when one puts one's feet into the shoes straight from the pool or the sea. A bamboo-lined footbed makes the shoes anti-bacterial, making them comfortable to wear with or without socks.
Goga Pillars technology gives the footwear a clean, smart and sleeker look than its predecessor, the GOwalk 3. This also gives the shoes a snug fit, so they will not slip off during brisk walking or even thread mill running.
The shoes come in a variety of summer colors and prints that complement any outfit. There are also slip-on styles, eliminating the problem of tying shoelaces and making the shoes easy to pull in and to take off – that is if one would even want to take them off as they are so comfortable, one can take them to bed!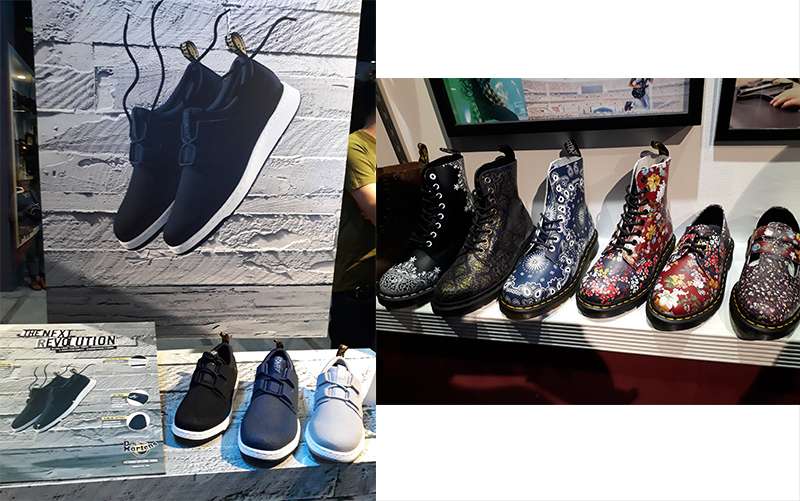 DMs Lite and Dr. Martens summer 2017 collection
New take on summer boots
While on leave from the German army during World War II, Dr. Klaus Martens injured his ankle during a ski trip in the Bavarian Alps. His army boots were too uncomfortable for his injured foot, so while recovering, he modified his boots to include soft leather and air-padded soles out of tires.
The shoes' popularity reached England in the 1960s. British shoe manufacturer R. Griggs Group Ltd. bought the patents to produce the shoes and gave them a better fit and their trademark yellow stitching. Thus born the iconic boots, Dr. Martens (DMs).
Last autumn-winter 2016, DMs introduced what it considers as its "most revolutionary" concept since the '60s: to reengineer its original "AirWair with Bouncing Soles" technology was engineered as a performance shoe for those on the go. The result is the new DMs Lite.
DMs Lite, said the company's Philippine representatives, are for those who want the DMs boots feel of a solid silhouette and ample ankle support but minus the heat of leather.
"DMs have always been known for their durable leather boots, but with DMs Lite, they're pushing it forward, creating innovation and diversity. DMs have always been about diversity, so this new collection is all about tapping DMs' loyal customers, but as well as tapping DMs' new market who want to discover the brand," the representatives explained.
This new sneaker line bears the brand's trademark durability and memory foam in-sole, only rendered in breathable mesh upper, making it ideal for summer, the representatives added.
Since DMs are also associated with music especially in the '90s, the brand also vouches for its limited-edition Beavis and Butthead collection. Beavis and Butthead were popular Music Television Channel characters. Soon, the brand will also roll out its collaboration collections with Korean and Japanese artists in line with its ethos of feeling the pulse of the youth's street culture.