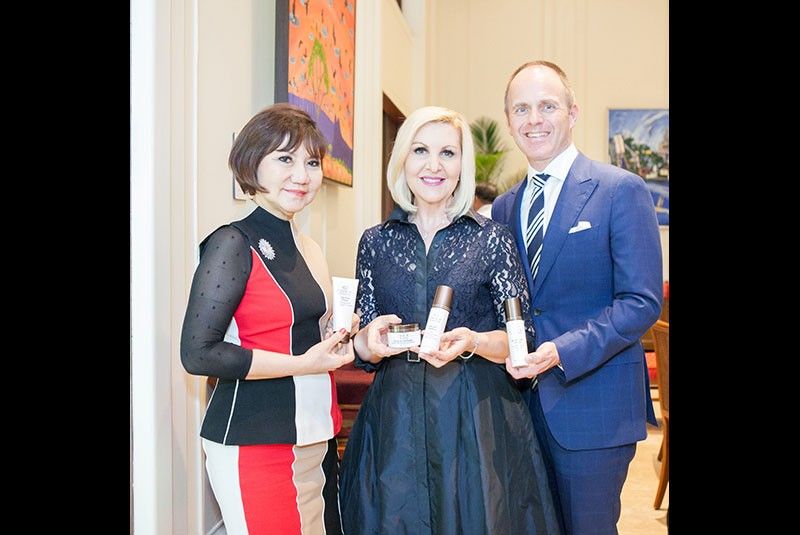 Grace Cosmetics Philippines president and CEO Myrna Yao, director of marketing and product development and founding family member Julie Fittler-Charanduk, and her husband general manager and cosmetic manufacturer Joe Charanduk, all brought together by their heart for empowering women through the economic independence of direct-selling.
Amazing Grace: Aloe vera for glowing skin
The first ingredient matters, as any disciple of the natural, organic-loving life would know when perusing a product's ingredient list. The order in which the ingredients are listed represents the quantity of each one in decreasing amounts. It isn't surprising to find water being the most common first ingredient, often listed as aqua — and that shouldn't be so bad, right?
In a video of Australian entrepreneur Julie Fittler-Charanduk shown during afternoon tea as she introduced her botanical direct-selling brand Grace Cosmetics to the Philippines at Australian ambassador Amanda Gorely's residence, she demonstrates applying a cream from another brand on one hand and running it under tap water. The cream was easily rinsed away, and she explains to members of the media, "because it only sits on top of the skin." She then applies a cream from Grace Cosmetics on her other hand, places it under the tap, and then even when it's wiped off with a towel, there is no visible residue.
"Water is not a carrying agent. It won't take with it the other active ingredients past the top layer of the skin," she points out. Her brand uses aloe vera as its number one ingredient. "Aloe vera is three times more effective in allowing actives to penetrate the skin past the epidermis. This is good for the Philippines because you have so much humidity," she claims.
Grace Cosmetics doesn't use the usual aloe vera. "We use a proprietary method of taking out the pure active inner leaf gel of the aloe so aloin — the bitter, yellow-brown compound close to its skin — isn't included. We do not use a machine that squeezes the pulp out along with the aloin into a big vat. Aloe vera extract is inferior when aloin is included. It's been proven that aloin kills cellular reproduction while pure inner leaf aloe gel prolongs cell life so we age more gracefully and heal eczema, burns, and psoriasis."
Solving The 'Organic' Dilemma
"Just because something is organic doesn't necessarily mean it is good for you. You have to have the correct percentages and it has to be synergistically formulated so it can maintain stability and activity once applied to the skin," she illustrates, "The right amount of vitamin A and vitamin E together is necessary for each one to work."
Their ingredients are all botanical and organic of origin, but the issue with going botanical or organic-grade is that it doesn't take long for the ingredients to go bad.
"We are a contract manufacturer, and we have people bringing in organic products with problems about it sitting on shelves. The ingredients have to be stabilized. We are using food grade preservatives. You can keep your Grace Cosmetics products for one to two years not left in the sun, stored away from your windowsill," says Fittler-Charanduk's husband, Grace Cosmetics general manager and cosmetic manufacturer Joe Charanduk.
Fittler-Charanduk concocted her first aloe vera cream 33 years ago when she was struggling with adult acne and found no relief from anything available on the market. Through a research-oriented practice, she also learned of acne's hormonal nature and that more than buying into topical treatments, internal care shouldn't be neglected. "Whatever you see on the outside of the body, whether it be acne or eczema or psoriasis or dermatitis, it is only one-third of what is taking place on the inside," she says, which is why she came up with the Aloe Vera Organic Drinking Juice among a fully topical line. "The body can heal from within if it is given the correct environment. It does not need all the steroids and cortisones that all these young people are using and are now showing signs of depression and mood changes. And then you can use botanical ingredients topically."
There have been many reformulations and improvements in Grace Cosmetics' topical products since as they explore new technology and further research. "If there's an organic and botanical ingredient that will reduce depth of a wrinkle or help with scar tissue or lighten or brighten skin tone you can be sure we are going to use it," she assures.
Myrna Yao, CEO of Grace Cosmetics Philippines (known for being CEO of RichPrime Global, the local distributor of products like Goodyear Tires, Barbie, Fisher and Price, and Chicco) can attest to Infiniti-C Moisturizer's claims, discovering the line three years ago when she had dark spots on her cheeks from melasma. "I used expensive creams that either didn't work or it took a long time to see a difference, then the spots would go back," she confesses. Yao was introduced to the brand with a trial pack and immediately noted how non-greasy it was. (You know an aloe vera product has aloin in it because its bitter taste or unpalatable color necessitates artificial colorants, fragrances, and sweeteners to mask it. For topical products, that means greasy pore-clogging mineral oils.) "Everyone who saw me would say that my skin was glowing. It was never like that before."
But why direct selling?
Yao only decided to bring it in when she discovered it was a direct-selling company. "It really coincides with my purpose to help not only make my friends beautiful but help the women to go into business, give them livelihood and economic empowerment," says Yao, who is also a founding chair of the Philippine Federation of Local Councils of Women. For Filipinos interested in joining Grace Cosmetics, training doesn't just stop with products and the business but extends to building and projecting confidence.
Under Australian direct sales umbrella company Pro-Ma Systems which also operates in New Zealand, Canada, USA, United Kingdom, and Papua New Guinea, Grace Cosmetics is fully family-owned and operated. Aside from being manufactured by the owners themselves, the model has allowed Grace Cosmetics' price points to be relatively affordable (a 13-piece set is available at 30-percent off, at P19,000) considering its quality.
Fittler-Charanduk shares that where no method of employment is available for women who choose to be stay-at-home mothers, direct-selling is a way to make them economically independent, saying, "We believe that whether you are highly educated or otherwise, everyone deserves to live a prosperous life." And they can be beautiful while living it, too.
* * *
Visit gracecosmetics.com.ph for more product and direct-selling information.