Smells like Trump spirit
February 8, 2017 | 12:00am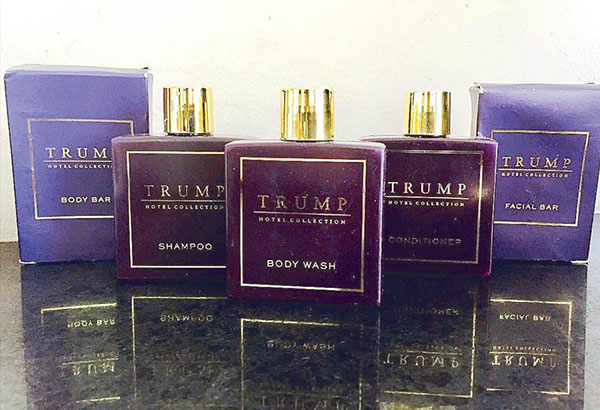 If they could bottle the scent of success, surely people would flock to get some and use it daily. Right?
That might have been what my Filipino Uncle Togs was thinking when he visited a Trump hotel in Florida recently, and gifted me with an array of swiped Trump bath products.
Or maybe he just has a good sense of humor.
Trump: The Hotel Collection may not exactly scream "I have arrived"; it may not make you smell like a million bucks; but it's certainly a good peek into how the other half — pardon, the other one percent — live.
Actually, in the manner of all things Trumpian, it has an ersatz quality of glitz about it. The plastic bottles of Trump Shampoo and Trump Conditioner have fake gold twist-on caps, maroon coloring and gold lettering that signifies — well, that this is something with Trump's name on it.
Unscrew the caps, and one does not immediately register that this is what money smells like; the shampoo smells much like other hotel shampoos in plastic bottles do — perhaps with a faint soupçon of Mr. Bubble. The conditioner has a faint scent of something more woodsy and herbal.
I have not used the Trump shampoo and conditioner yet, so I can't testify as to whether it gives your hair that trademark Trump sheen and swoop. Does the US President recommend his own hair products, along with a rich diet of Finasteride, to combat male-pattern baldness? The White House, as of press time, offers no comment.
There's also a Trump Body Wash, which smells rich and leathery, but no trace of Trump Hand Gel, which we now know would be useful for a world leader who is a self-confessed "germaphobe" reluctant to shake the outstretched paws of his enthusiastic fans. Trump Hand Gel would be useful for this new commander-in-chief when dealing with touchy situations involving possible germ transfer, such as laying one's hand upon a Holy Bible during swearing-in sessions. Imagine the many sweaty hands of countless past presidents laid over that thing! Imagine the microbes!
The Trump Hotel Collection does not go as far as antibacterial hand spritzers, but it does include a Trump Facial Bar and Body Bar, for relaxing grooming sessions while staying at one of the glitziest hotels in modern post-Roman Empire history. No, not really, but with the Trump name, you will be assured of at least four-star cleanliness.
To my wife's more nuanced nostrils, the soaps have a woodsy, herbal scent. A touch of leather, perhaps. According to Forbestravelguide.com, a "fresh, ocean-like smell" that is "gender neutral." Nothing too overbearing or offensive — unlike the actual Trump, speaking at campaign rallies or tweeting. While one might detect a whiff of ripeness to the US President's frequent unmoderated claims of voter fraud, or Putin's unmitigated awesomeness, or the "bad hombres" trying to cross the borders, you will find no such ripeness in the facial and body bars.
Of course, now that The Donald is president, we can expect to see even more things plastered with his monicker. In recent years, self-named neckties, suits, leather accessories and eyewear have been hawked on trump.com. Trump steaks and bottled water have conspicuously littered press conference tables, causing critics to say Trump is trying to "cash in" on all his political success. (And are those suits really made in China and Bangladesh, as CNN claimed?)
Where does one draw the line? Well, women offended by Trump's sexist image during the campaign responded with a boycott of Trump-related businesses (#GrabYourWallet). That boycott list has spread to include companies that have seemingly offered support of Trump's administration like Uber (whose head Travis Kalanick has since quit the Trump business advisory council), Amazon, Bloomingdales, Belk, Filene's Basement, Century 21, Burlington Coat Factory and Bed, Bath & Beyond, among others. And it seems Nordstroms and Neiman Marcus recently drew the line at Ivanka's shoe line, which it no longer will carry, citing "poor sales." Not everything Trump-related has the Midas touch, apparently.
In fairness, the Trump Hotel Collection is largely indistinguishable from other bath products provided in high-end hotel chains across America, though there is a certain generic anonymity about it. The scents seem just "good enough" to pass muster at an upscale hotel, but not enough to make you start blog-raving about its quality. Just good enough to convince you it belongs in a big name hotel, but nothing more. The extra ingredient, apparently, is the name itself: Trump, in case you forgot. In short, the products seem good enough to swipe from the hotel, but perhaps nothing you'd go out of your way to purchase in a boutique or at Barney's. Unlike the fine scents of L'Occitane or Hermes, say, the Trump Collection does not go out of its way to offer a "story." Nothing about the special blend of ingredients or roots or flowers making up its unique bouquet. Trump you see is Trump you get.
Oh, but there is a little clue to its origins printed on the back of the bottles: the products were "Made in Canada." So it's a wash, one way or the other.