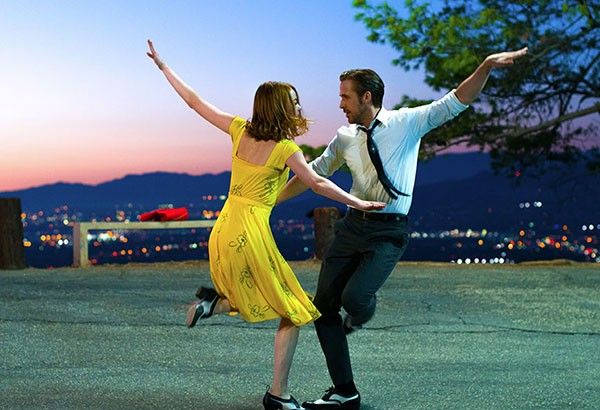 Swingers: Emma Stone and Ryan Gosling hoof it in style in La La Land.
Dig the jazz-era threads of 'La La Land'
As Damien Chazelle's La La Land prepares to sweep the Oscars off its feet, we must concede the fact that, despite some minor flaws, the bittersweet Hollywood fantasy does contain some pretty cool men's clothes. Ryan Gosling, playing Sebastian — a fledgling jazz pianist in Los Angeles who, like co-star Emma Stone, has very big dreams — somehow manages to support a pretty hip wardrobe despite his modest digs.
Key in his collection is a pair of Worldtone two-tone wingtips, set loose in one memorable dance sequence silhouetted against the LA skyline during magic hour. (Worldtone was a relatively lowkey dance shoe store based in New York and Westwood, LA, but not anymore. They've probably had a boatload of orders for Nuevo Epoca Buenos Aires wingtips since the movie dropped.)
Gosling also sports a selection of natty blazers selected by costume designer Mary Zophres (wool, not polyester, Sebastian insists) set off by colorful Fendi and Michael Kors neckties popping against crisp button-downs. The whole point is effortless cool: nothing too put-together or fancy for Sebastian.
According to Hollywood Reporter, Zophres used a wide range of musicals — not just '50s color-saturated fantasies like Singin' in the Rain, but '90s musicals like Baz Luhrmann's Strictly Ballroom and Spielberg's Catch Me If You Can — to inspire the retro-cool look.
For Gosling's shirts, Zophres was thinking of the silky, loose styles of jazz pianist Bill Evans and eternal icon of cool, James Dean. Gosling usually wears his wide-lapel shirts over a white tee. So retro.
The other dude in the movie, John Legend's jazz fusioneer Keith, gets it together with Madison Supply sweaters and sharp fashion watches from Bulova.
Stone, playing struggling actress Mia, has her own attire down pat, including colorful sleeveless dresses throughout (even some from H&M), plus some fashion pieces by Jason Wu.
How does fashion play a role in La La Land? We're instantly drawn into a Hollywood soundstage world of saturated colors and dazzling choreography from a long-gone era. Gosling's neat-cut threads, high-waist trousers and muted tones contrast well with Stone's Cinemascope-rich dresses; they're the Fred and Ginger of the new, post-truth era. The movie may sport a Hollywood fantasy gloss, but crack that thin surface and there's an undercurrent of sadness and bittersweet, fleeting dreams. Welcome to LA, kids.
And yes — that opening LA freeway number does totally rip off music videos by Bjork and R.E.M.