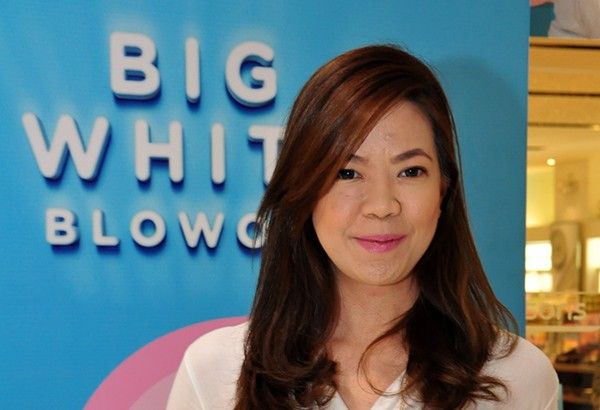 Watsons group marketing manager Karen Fabres
Mind-blowing deals at Watson's Big White Blowout Sale
For many fellow Filipinas, having glowing, fair skin has been #goals for decades now. Don't believe me? Seriously? Turn on the TV or head down the nearest highway and you're bound to hit a skin-whitening ad sooner rather than later.
Controversies aside, whitening products are a booming business in these here parts, and a personal-care powerhouse like Watsons is all too familiar with that. That's precisely why they've brought back their annual Big White Blowout sale, which means crazy deals and discounts on all their items that promise to lighten, brighten, and whiten. Talk about a triple treat.
"There's been a more holistic approach to whitening nowadays," says Karen Fabres, Watsons group marketing manager. "It's no longer just about topical products like (whitening) lotions and face washes. Whitening oral supplements have become popular and Filipinos are more open to trying such products."
How popular, exactly? The amount of celebrities, from Ruffa Gutierrez to Alden Richards, as endorsers for whitening capsules of all kinds, should give you an idea. Since the first campaign was a raving success last year, Watsons had no hesitations about giving it a much-awaited return.
"It's also that time of the year when Filipinos want to start looking radiant and fairer for the New Year and the upcoming summer months," adds Kim Reyes, the Watsons group category manager for skincare, "and we want people to know that Watsons has everything they need to achieve that."
Speaking of needs, allow me to share with you some of my favorite Watsons must-haves that I've already hoarded — I mean, snagged — from the sale at even better-than-normal prices.
• Belo Intensive Whitening Bar
A big name in the beauty business, Belo whitening products have been dominating shelves and your average Filipina's vanity table for years now, including yours truly. I even brought all three products from their Kojic Acid + Tranexamic line with me during my yearlong stint in Tokyo. Why do I love it? Let me slap down some quick science for you: Kojic acid is a tried and tested ingredient that prevents melanin production, aka skin darkening, and Tranexamic acid helps get rid of stubborn dark spots and patches. Don't let the word "acid" fool you, though, since the soap is gentle but powerful. The result? Simple. Brighter and smoother-looking skin in just a couple of weeks.
• Pond's Flawless White Brightening Night Cream
Sometimes I think that dark spots are the bane of my existence. Okay, not really, but they still suck. Top that with my naturally dull and dry skin and I'm not a happy camper. That's why a regular repurchase of mine is the Pond's Flawless White Brightening Night Cream. It's enriched with GenActiv Formula that gets down deep into your skin to free you of both dark spots and dullness. Plus, it moisturizes my dry skin like a dream. I always make sure to slather some on just before bed to make sure I really get my much-needed beauty sleep.
• Body Treats Whitening and Moisturizing Body Lotion (Flawless White)
If you've ever set foot in a Watsons branch, like I have hundreds of times, you'll know that they carry their own collection of personal-care products that range from hand soaps to packets of pocket tissues (a must-have in my bathroom and purse, respectively). Their collection of body lotions are a sure staple for me because they're not only priced perfectly, they do the job, too! My recommendation? Their Flawless White Whitening and Moisturizing Body Lotion from Watsons' own Body Treats line. Not only do I get rid of my cursed dry skin with it, but my complexion is also more even-toned and instantly nourished. I'm also a sucker for just about anything lavender-scented.
• Cosmo Skin L-Glutathione
Sometimes our skincare regime needs a little bit of oomph to it and that's where supplements come in. I may be a newbie to this form of skincare and whitening, but I finally saw what all the fuss was about. Cosmo Skin L-Glutathione is one of those all-in-one wonders in a bottle. Just popping two pills a day before or after my meal doesn't only mean I end up with more evenly toned skin, it also helps prevent blemishes, promotes anti-aging, and even ups my immune system. No wonder the brand is backed by more than a few local celebrities. How much more complete can your skincare get?
• Nivea Extra Whitening Anti-Perspirant Deodorant
Look, no one's going to admit it, but some… parts of our body get darker than others. It can either be natural or caused by bad habits. Whatever the case, we don't want them "turning to the dark side." Right after every shower, I swipe on my Nivea Extra Whitening Anti-Perspirant Deodorant because it works hard at controlling odor and sweat, prevents darkening (especially great for those of you who shave regularly), and keeps my underarms as smooth as a baby's bottom. It's available as a convenient spray, too, for non-roll-on fans!
For all the dudes out there, don't worry. Some of your favorite, "bro-approved" grooming products like Old Spice and Gillette are also part of the sale, including dozens (and dozens) more other personal-care items. I'm talking hair color, toothpaste, and shampoos, just to name a few. Thanks to Watsons, you can toast to a new and better you for the New Year! Champagne, anyone?
The Watsons Big White Blowout Sale is happening in all Watsons branches nationwide and runs until February 22.
* * *
Follow me on Instagram (@arianyupangco) and check out my beauty and lifestyle blog, Ari's In Wonderland at http://www.arisinwonderland.com/.