How to get that sexy 'kawaii' look
K-Palette, the Japanese makeup brand that has become my HG (holy grail) for eyeliners and brow liners, has done it again.
At an event that captured all the fun, magic and kawaii cuteness of K-Palette products, local distributor Beautybox Corp. launched a new collection called "1Day Magic," which consists of — not just one — but four HG products.
K-Palette founder Eiji Kinoshita was in attendance, along with Beautybox couple Cheryl Tan and Richard Chua Jr., highlighting the significance of the launch. Kinoshita-san (his name is the "K" in K-Palette) told me that, contrary to popular belief, K-Palette is not some upstart brand that came out of nowhere but a beauty company begun by his father that's been manufacturing skincare, makeup and hair care in Japan for 49 years.
"Before K-Palette we had a different brand business in Japan," Kinoshita said. "Then we decided to switch the brand name and came up with K-Palette."
The company's expertise in skincare accounts for all the "beauty essences" infused into K-Palette products, like hyaluronic acid, water-soluble collagen and various botanical extracts. For me, it's the icing on the cake: if the products already work well and have beneficial ingredients besides, then it's an added bonus, or more value for my money.
But even with all the extras, K-Palette remains an affordable brand, even in Japan, where it's available at drugstores and what the Japanese call "variety stores," which sell everything from cosmetics to fashion to toys (I guess in local parlance we'd call them department stores).
Makeup artist Sayaka Nagashima, with the help of translator Aisaku Yokogawa, showed us how to get the sexy yet kawaii look that is all the rage in Japan and Korea nowadays.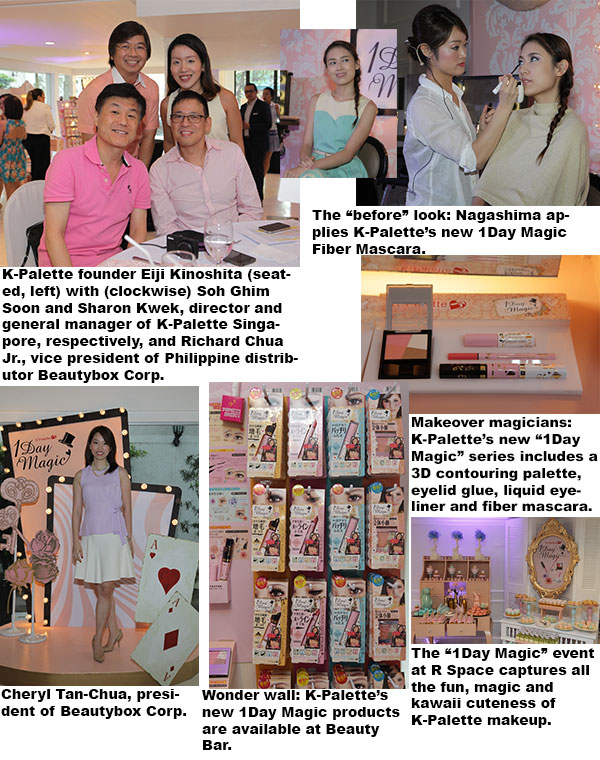 K-Palette Eyebrow Mascara
One of the latest products, this has a small showerhead brush good for filling in sparse areas, or keeping eyebrow hairs in place. Apply it twice: once going against the hair growth and then in the opposite direction to groom brows and create a 3D effect. Waterproof, it's also enhanced with minerals to make brows grow healthier.
1day Magic 3d Palette
This is a must-have for Asian girls with round faces. It makes contouring — even for beginners — a breeze. I love it because the small compact contains two shades you can use as eye shadow and two shades you can use as blush, as well as an applicator with short and long brush tips.
For the eyes, use the white highlighter shade on the brow bone to make it pop. You can even use it to line the lower lid and inner corners for a bright, wide-eyed effect. Apply the camel-toned contouring shade from lid to crease. Nagashima used a darker purple shade on the outer corner and blended it up towards the brows to create a cat's-eye effect.
To contour the face, apply the orange shade in a circular motion on the apples of the cheeks, and the pink shade on top of the cheekbones. Apply the white highlighter on your "T zone" — down the bridge of the nose — and the "C zone" on the temples. Then apply the contouring shade down the sides of the nose, and below the ears to the chin to create the illusion of a slimmer face.
1day Magic Eyelid Glue
Back in the day Asian girls who didn't have a double eyelid fold needed to get surgery, but today technology is such that you can create the look with a tube of glue and a wand. Simply brush the glue on your eye crease, let dry, then create an eye fold by pushing the lid back gently with the enclosed Y-shaped stick. It's water-, heat- and sebum-proof and the effect lasts 24 hours. The fact that you can also use this as false eyelash glue is an added bonus.
1day Magic Liquid Eyeliner
Eyeliners are K-Palette's undisputed hero products, and this new addition is perfect for beginners, as well as pros whose hard-lining days are over. Kinoshita says, "Eyeliner is our bestselling item and we do a lot of research. If they find something wrong, we keep changing, even slight changes."
What I love is that the brush tip is three times thicker than the regular brush — flat on one side and thin on the other, so you can draw thin or thick lines with one stroke. Plus, it's waterproof and repels sebum so it doesn't smudge. For a cat's-eye effect, wing out the liner on the upper outer corner, for a doll-like kawaii effect make your liner thicker in the middle of the eye.
1day Magic Fiber Mascara
The concept behind this product is actually an old makeup artist's trick, but I appreciate the fact that K-Palette has modernized and brought it to the masses. The double-ended tube contains soft, cottony fibers on one end and black mascara on the other. Curl lashes first, apply one coat of mascara and then the white fibers on tips to extend and thicken. Then apply mascara again over the fibers. Repeat until lashes reach desired length. For bottom lashes, apply mascara by holding the wand vertically and brushing the tip across the lashes. This mascara, which contains argan oil, only comes off with an oil-based remover. Nagashima's tip is to add a drop of moisturizer to achieve a fashionable wet look.
* * *
In the Philippines, K-Palette is available at Beauty Bar stores.