Beauty Box: Estée Lauder's anti-pollution, anti-fatigue eye cream
The product: Estée Lauder New Advanced Night Repair Eye
What it is: Estée Lauder's New Advanced Night Repair Eye Synchronized Recovery Complex II re-ignites the youthful light in eyes. This breakthrough treatment maximizes the power of night to restore vital, youthful light that can fade due to fatigue, pollution and age. Advanced with multi-patented ChronoluxCBTM Technology as well as all the repair and prevention processes of revolutionary serum, Advanced Night Repair Synchronized Recovery Complex II, New Advanced Night Repair Eye is Estée Lauder's most comprehensive eye treatment ever.
What it does: Anti-pollution technology helps continuously repair damage caused by environmental factors such as pollution and UV rays; while anti-fatigue soothers calm and reduce irritation. Eyes wake up looking more radiant, rested, and smooth.
Where to get it: Estée Lauder is available at Rustan's.
Colorful crayons you can wear from Revlon
The product: Revlon ColorBurst Crayon Collection
What it is: The new Revlon Colorburst Crayon Collection includes 20 hot, must-have lip colors — go Demure at the office, Standout on that big date, or get Vivacious for lunch with the girls. And, these come in your choice of lip finishes — lacquer and matte — so you can switch it up as you please. Both the high-shine Lacquer Balm and the velvety Matte Balm are infused with Triple Butter Complex of shea, mango, and coconut butter, for lipbalm-like moisture.
Fun bonus: The Revlon ColorBurst Lacquer and Matte Balms come in an innovative Propel/Repel crayon packaging, which means there's absolutely no sharpening required to keep them in top shape.
Where to get it: Revlon ColorBurst Crayon Collection is available at department stores.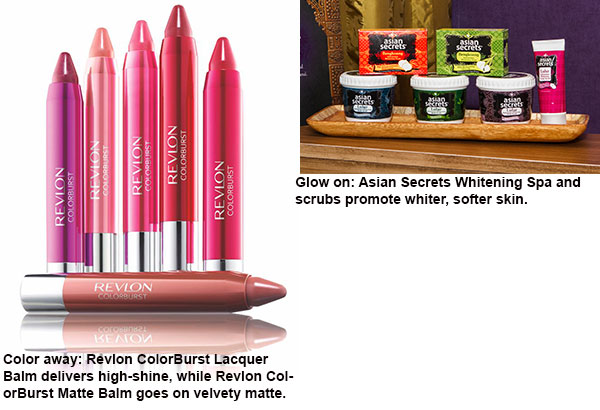 * * *
Asian Secrets to smoother, lighter skin
The secret: Asian Secrets Whitening Spa and Asian Secrets Body Scrubs
What makes the spa unique: Asian Secrets Whitening Spa is the first whitening spa in the country to offer the luxurious whitening and pampering ritual called, Lulur.
Once exclusively enjoyed by the Javanese royalty, the Lulur is a 300-year-old whitening ritual experienced by brides-to-be, 40 days before their wedding day. The Javanese princesses were treated with the Lulur to give them softer, smoother, and fairer skin on their most awaited day. This royal Javanese ritual became a tradition passed down through generations, and has now been enjoyed as a purifying indulgence by men and women. This privilege is offered at the Asian Secrets Whitening Spa as a whitening and relaxing experience.
What makes the scrubs unique: Unlike the jagged edges of many body scrubs, the Asian Secrets scrub has spherical beads that gently roll over the skin when applied. This gentle exfoliation gives you a smooth, even-toned, fair skin without being abrasive. The Asian Secrets Lulur Scrub is used on all whitening body scrub services of the Asian Secrets Whitening Spa. There are three variants you can choose from: Green Tea, Licorice, and Seaweed. Asian Secrets also has Bengkoang Soaps and the Lulur Facial Scrub, for softer, brighter skin.
Get the treatment: The Asian Secrets Whitening Spa is located at the 5th flr. of The Block, SM City North EDSA. Visit Asian Secrets Whitening Spa on Facebook for information. Asian Secrets products are available at department stores, drugtores and supermarkets.