STYLE S.O.S.
(The Philippine Star) - June 25, 2014 - 12:00am
Dear Lucy,
I do not have eyebrows, and I am not even remotely considering getting it tattooed in any way. I have turned to using a pencil, but it looks so unnatural! Can you suggest anything that will work?
Tania
I asked some makeup experts, as well as friends I know who have the same dilemma as yours and this is what they have to say: Pencil can work, if it is the right one, and another good option would be powder. If your problem is sparse eyebrows, then they say it may be best to go for powder, which can be more easily dispersed and will not give you a look that seems painted on. Bear in mind the color of the powder, make sure it matches your hair color. Laura Mercier has some brow powder duos that you can choose from, and is best applied with a stiff angled brush. Use short, feathered strokes. To set the look, mist an eyebrow brush with hairspray and brush it through.
Happy Skin's Eye Love View Eyebrow Duo has become a quick and easy favorite beauty find for many. It has an eyebrow pencil tip on one end and a liner tip on the other. The former makes application of color easy (and it is in a very natural hue, too) while the latter allows you to achieve feathery strokes that mirror real brow strands. They have made it smudge-proof and water-resistant, too. So you need not worry about brown streaks trickling down your face when you get all sweaty, or when you find yourself suddenly caught in a heavy downpour.
Lucy
* * *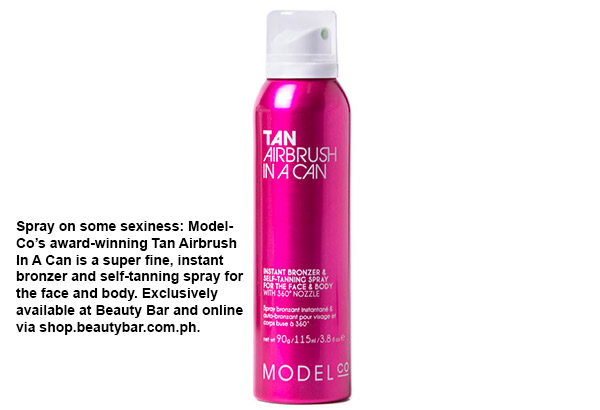 Tan will make you thin
Dear rissa,
Can you share a quick tip on how to look thinner and make my cellulite less visible?
Jenna
The easiest way to look slimmer without surgery is to get a tan. Sexy golden skin not only makes any girl look slimmer, it also makes the orange peel appearance of cellulite less visible to the naked eye. That's why a lot of celebrities and models make sure they are beautifully tanned for swimwear runway shows and photo shoots. The best tanning products that come to mind are from the Australian cult beauty brand Model Co (exclusively available at Beauty Bar). Celebrity fans of the brand include Kylie Minogue, Jessica Simpson, Lindsay Lohan, Hillary Swank, Uma Thurman, Cate Blanchett, Kate Winslet, Renee Zellweger, Kate Beckinsale, Jade Jagger, and Sienna Miller.
The brand's award-winning hero product is Tan Airbrush In A Can. This self-tanner gives you safe sunless tanning. It puts an end to messy, stained hands and uneven coverage. It's non-greasy, it smells great, and is so easy to use! It simply sprays on like a fine mist, resulting in a smooth, even tan (no streaks and patches, no uneven tanning). The best thing about it is it works with your natural skin tone to deliver lasting natural color with an instant bronzer that deepens over six hours. This is the same product responsible for the tanned and glowing bodies at the Victoria's Secret shows. What I like about Model Co tanning products is that they give the most natural color — nope, you will not turn orange! Their self-tanners also never give a "fake-tan smell."
To get the smoothest, streak-free color possible, always make sure to exfoliate your skin first before applying self-tanners. If your skin is on the sensitive side, avoid shaving your legs several hours before applying a self-tanner. Use tanning products sparingly on the knees, elbows, and ankles. If you feel you've accidentally put too much on those areas, rub your elbows and knees with a little lotion to lighten the effect.
Rissa
* * *
Send e-mail to Lucy Torres-Gomez at ltg@pldtdsl.com. E-mail Rissa Trillo at stylesos_rissa@yahoo.com or follow her on Twitter @RissaMananquil. Send Regina Belmonte your questions at vivatregina.tumblr@gmail.com or tweet her @vivatregina.