Getting a polished look for your nails
DEAR RISSA,
What's a reliable and long-lasting brand of nail polish? (Not gel nails please because I find them so damaging to the nails!) I'm sure as a model, you need your polish to last long and you have tried several brands already. I'm also looking for a smaller-sized bottle. It is more practical for me because I never finish the regular size of nail polish any
way. Thanks for your help!
CRISTINE
Not a lot of people know it, but I'm actually very anal with my nails. I'm not the experimental type who will try trendy shades or even nail art. I'm the kind who watches the nail technician with eagle eyes and checks on every microscopic detail. Blame it on the perfectionist in me. Haha. But as a professional model, it's part of my job to arrive at photo shoots with well-groomed nails that don't need to be Photoshopped. I don't like giving the people I work with that burden, especially if it's a jewelry or beauty shoot where shots are up close. So yes, I've tried a good number of nail polish brands.
I really like the nail polish brand Anny. It's founded by certified nail professionals and I've fallen in love with this German brand because it is so reliable. I bring my own bottle of Anny nail polish every time I have my nails done at Nail Spa. Whenever I use this nail polish, I get an amazing coat of color in one swipe. Even the nail technician who has been doing my nails for years is so impressed with the brand — she says it's the strongest and shiniest polish brand she has seen. It dries quickly and has a long-lasting finish, too. The nails on my hands can last more than a week, beautifully chip-free and shiny! On my toes, they can last as long as a month.
What I love even more is that the brand offers mini sizes of their bottles. It's true — the average woman can never finish a regular-sized bottle anyway. I salute them because this option for mini bottles is not just practical and more affordable; it's responsible and environmentally friendly, too!
RISSA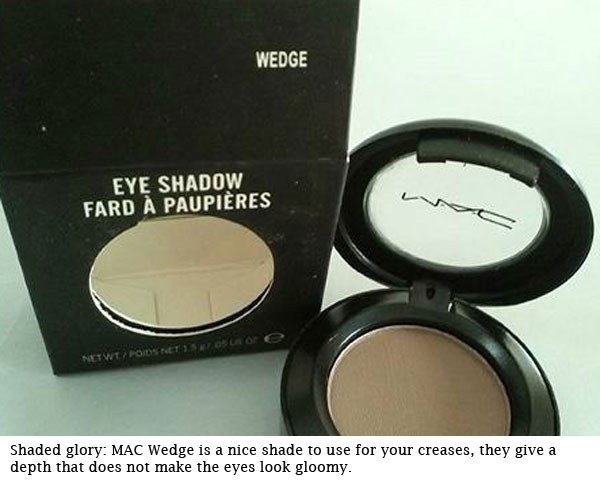 * * *
Brown is beautiful
DEAR LUCY,
How do I make my eyes look pretty without actually spending 30 minutes on them?
And what can I use for a sun-kissed look that looks natural? When wearing a dress in a bold red color, do my lips have to be either just nude or red also?
KC
Brown, many shades of it, is the easiest and fastest way to go. Just dust beige shadow under the brow and, to define the eyes gently, use a darker taupe on the lids and creases. If you want to heighten the look some more, line your upper lid with dark brown powder (use a brush for this) and turn it up and out towards the outer corners of the eyes. Carefully curl your lashes. Put on brown or black mascara. MAC Wedge and MAC Haux would be nice shades to use for the creases, they give a depth that does not make the eyes look gloomy.
For a natural sun-kissed look, I like using a cream blush, like MAC Hush. You just apply it on the apples of your cheeks and sort of diffuse it by blending it out a bit. Becca Beach Tint will work wonderfully as well.
As for choosing lipstick to match the color of your dress, I would say you do not have to. In fact, it will be fun not to. Who says you cannot wear fuchsia lips with a red dress? Or bright red lips with a magenta top? No rules, you will know when you look pretty. The mirror will not lie.
LUCY
* * *
Send e-mail to Lucy Torres-Gomez at ltg@pldtdsl.com. E-mail Rissa Trillo at stylesos_rissa@yahoo.com. or follow her on Twitter @RissaMananquil. Send Regina Belmonte your questions at vivatregina.tumblr@gmail.com or tweet her @vivatregina.