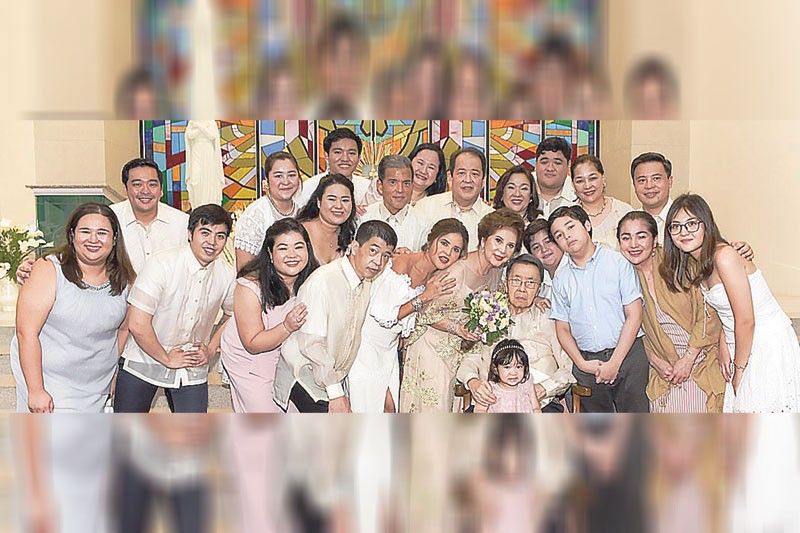 The Concepcion family: (foreground) great granddaughter Anna Inocencio. (front row, from left) Nikki Inocencio, Franco Araneta, Maita Concepcion, Robie Concepcion, Rica Araneta, Menchu and Ronnie Concepcion, Benito Concepcion, Antonio Concepcion, Mykie Concepcion and Natalia Araneta. (2nd row, from left) Raffy Inocencio, Cowie Concepcion, Katsy Concepcion, Patrick Concepcion, Jojo Concepcion, Joy Concepcion, Karen Concepcion and Ton Concepcion. Last row (from left) Gabe Concepcion, Maling Concepcion and Raj Concepcion.
(The Philippine Star) - December 29, 2019 - 12:00am
MANILA, Philippines — Last Nov. 21, Raul "Ronnie" and Menchu Concepcion celebrated their 60th wedding anniversary. The celebration started with a mass, then renewal of marriage vows in the church they donated to the community in Sumulong Highway, Antipolo. Reception followed in their rest house "La Veranda" in Antipolo.
Menchu was hesitant to celebrate the occasion since her husband Ronnie is no longer in a condition to socialize and enjoy parties. But Menchu wanted to show to her friends the beautiful church named "San Pedro Calungsod Parish" that they donated to the community in Antipolo. The church is a way of giving back to the Lord all the blessings He has been giving the family. She is also grateful Ronnie is still with them, as he celebrates his 88th birthday this December.
Menchu wrote a journal titled 'Giving Back' which she gave to her friends. It is a journal of her personal experience on taking care of Ronnie.