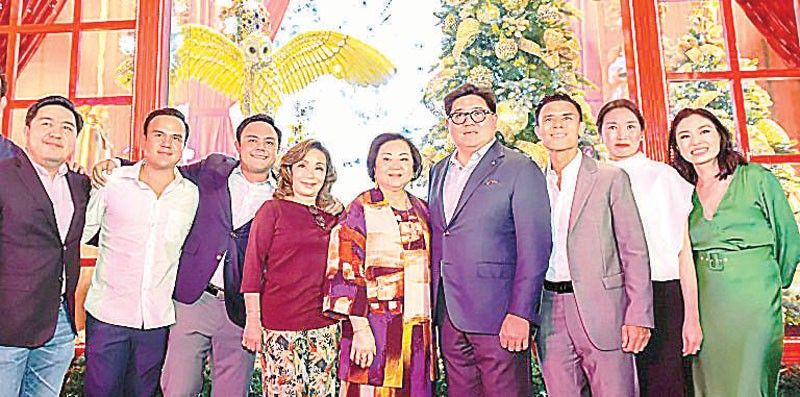 The Tantoco Family: Specialty Food Retailers Inc. business development head MJ Tantoco, Chris Tantoco, Rustan's administration manager Paolo Tantoco, Rustan's member of the board Maritess Tantoco-Enriquez, Rustan's chairman and CEO Nedy Tantoco, SSI Group Inc. president Anton Huang, Rustan's president Donnie Tantoco, Rustan Marketing Specialists Inc. GM Catherine Huang and Rustan's head of marketing and communications Dina Tantoco
Joey Viduya
(The Philippine Star) - December 8, 2019 - 12:00am
MANILA, Philippines — Rustan's unveiled its Christmas windows on Oct. 24 with the theme, "The Sweetest Christmas," which raised the interesting question: What makes Christmas sweet for you?
Rustan's chairman and CEO Nedy Tantoco says that what makes Christmas sweetest for her is getting together with the whole family. "We're very close-knit and for my father, it's a very important requirement," she says. "We should all be with him on Christmas Eve even our children studying abroad come home for that."
"The sweetest Christmas is about the sentiments of the season," says Dina Arroyo-Tantoco, Rustan's marketing and communications manager. "So it's about having sweet memories, being sweet to each other, sweet gifting, festive feels it's warmer. And that's what we're trying to do here."
Rustan's ultra-creative visual merchandising department which turns all the department stores and Christmas windows into breathtaking Yuletide wonderlands every year decorates Nedy's house every year.