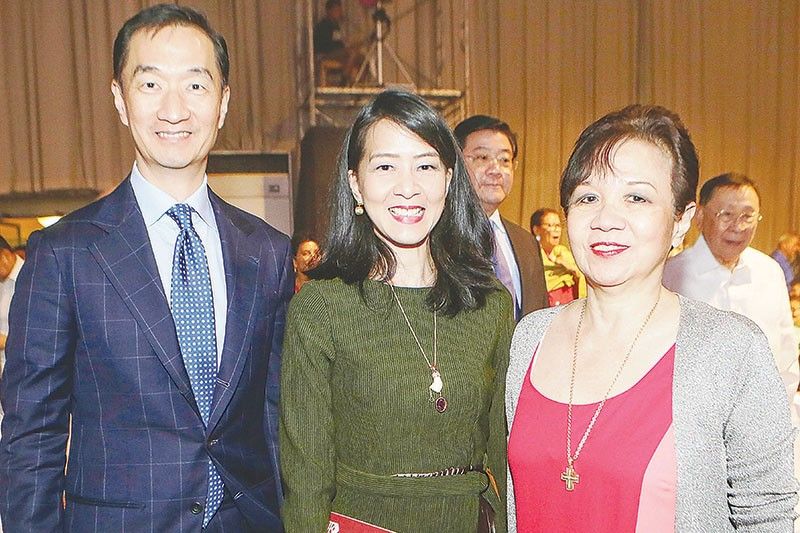 Metrobank and MBFI chairman Arthur Ty, Federal Land Inc. and MBFI SVP Anjanette Dy-Buncio and Grace Glory Go.
Geremy Pintolo
Promising young artists receive Metrobank Art & Design Excellence feat
(The Philippine Star) - October 13, 2019 - 12:00am
MANILA, Philippines — The Metrobank Foundation Inc. (MBFI) recognized this year's Metrobank Art & Design Excellence (MADE) awardees in a ceremony held on Sept. 19, at the Le Pavillon, Metropolitan Park in Pasay City.
On its 35th year, MADE chose the theme "UNLEASH" to reflect MBFI's continuing advocacy to seek out and exalt Filipino visionaries—young individuals who bring vibrancy to the evolving art scene whether they are working with a blank canvas or a space waiting to be transformed.
"Our founder Dr. George S.K. Ty was not just a man who owned a bank, but an artisan of meaningful banking. He envisioned art as an asset to our democracy, and an important investment for economic development. And so, from the outset, MADE became an extension of Metrobank's commitment to engage with communities, improve lives, and boost the economic growth of the country," said MBFI president Aniceto Sobrepeña.
Special piano concert by Noriko Ogawa
Last Sept. 11, Japanese Ambassador Koji Haneda hosted a mini-concert at his residence, featuring London-based world-renowned pianist Noriko Ogawa.
Ogawa's characteristic eloquence and mastery thoroughly radiated in her performance of a curated selection of famous classics: Wolfgang Amadeus Mozart's "Turkish March," Frederic Chopin's "Waltz Op. 18," Robert Schumann's "Traumerei (from Kinderszenen)," Franz Liszt's "La Campanella," Toru Takemitsu's "Rain Tree Sketch," Edward Elgar's "Salut d'Amour," George Gershwin's "Rhapsody in Blue," and an encore performance of Erik Satie's "Je Te Veux."
A long-time friend of Ambassador Haneda, Ogawa has an illustrious career that spans across multiple appearances with major European, Japanese, and American orchestras. Her various stints as competition judge and active involvement in her advocacy for the welfare of children with autism further add to her impressive résumé.