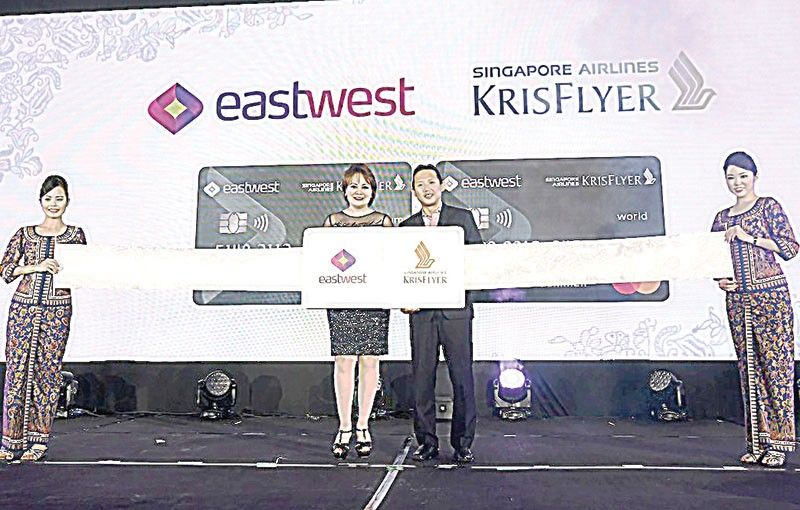 EW SEVP and consumer lending cluster head Jacqueline Fernandez and SIA VP loyalty marketing Ryan Pua conduct a seatbelt ceremony to seal the strategic partnership.
Bening Batuigas
EastWest and Singapore Airlines unveil the new premier credit card for travel
(The Philippine Star) - September 22, 2019 - 12:00am
MANILA, Philippines — Vacations in exciting international destinations just became easier as EastWest, in partnership with KrisFlyer, the frequent flyer programme of Singapore Airlines, launched a brand-new premier credit card for frequent and aspiring travelers: the EastWest Singapore Airlines KrisFlyer Mastercard.
The EastWest Singapore Airlines KrisFlyer Mastercard was formally introduced at Shangri-La at the Fort and it was graced by highly valued customers and partners. The event was hosted by Issa Litton and was capped off by a mesmerizing performance by none other than EastWest brand ambassador Lea Salonga.
"We recognize the importance and resurgence of travel among Filipinos, which is why we have taken our service to the next level by partnering with one of the world's most awarded airlines to bring jetsetters a premier travel credit card," said EastWest senior EVP and head of Consumer Lending, Jacqueline Fernandez. "The new EastWest Singapore Airlines KrisFlyer Platinum or World Mastercard is a product of our strategic alliance, providing unparalleled travel and luxury benefits to our customers. Through this credit card, we help fulfill every travelers' dream of achieving new milestones and experiences around the world."
"We are very excited to partner with EastWest in launching our first ever co-brand credit card in the Philippines. This premium card is specially curated and will enable members to 'Earn Easier, Redeem Faster, and Travel Better'," said Singapore Airlines VP Loyalty Marketing Ryan Pua. "We believe this new credit card will enrich the travel and lifestyle needs of every KrisFlyer and PPS Club member, and make their journey with us even more rewarding."
20 years of exemplary service
Last August 6, at the Turf Room of Manila Polo Club, Jamaica Consul General Miguel Ma. Guerrero celebrated his exemplary service of 20 years and was given a citation by the Commonwealth of Jamaica. His Excellency Jamaica Ambassador Ricardo Allicock flew all the way from Tokyo to personally present the award to him.
A number of Ambassadors as well as members of the diplomatic and consular corps, together with the Guerrero and Tesoro families and friends were present to grace the occasion. An international food buffet was served and Carribean music was provided by Marcy for the enjoyment of everyone.