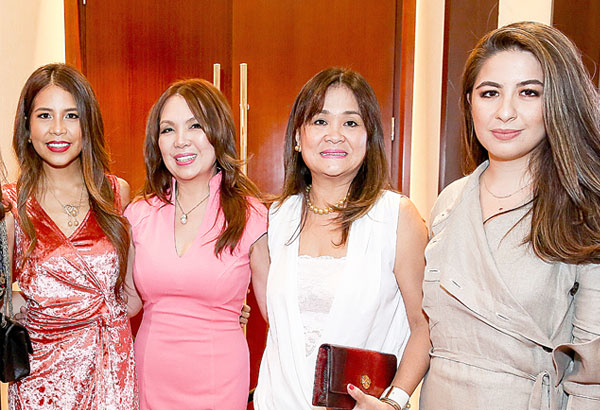 Mia Arcenas-Branellec, Iris Arcenas, Glenna Guidicelli and Vania Romoff
Jewelmer champions fight for life @ Raffles Makati
(The Philippine Star) - December 31, 2017 - 12:00am
MANILA, Philippines — Partnering with Jewelmer for the first time, the ICANSERVE Foundation hosted FASHIONCANSERVE last Oct. 8 at Raffles Makati, honoring the strength of women in the fight against breast cancer.
Since 2015, FASHIONCANSERVE has been an annual fundraising initiative, showcasing the creations of Filipino fashion designers, and raising awareness on the foundation's advocacy.
This year's show put focus on women's source of strength and inspiration – on their personal causes and their loved ones who compel them to keep on fighting.
"Our theme is 'Why We Fight' because even though we do fight for ourselves, having loved ones to fight for gives one extra strength for the battle," said Libet Virata, breast cancer advocate and survivor, and chairwoman of the ICANSERVE foundation. "If ICANSERVE has come this far, it's because we don't wage this battle alone. We have banded together as sisters, and we have family and friends like you fighting with us."
"This condition is creating a lot of heroes among us. Today, we celebrate their strength, their unbreakable spirit," says Jewelmer EVP and deputy CEO Jacques Christophe Branellec. "We share in their challenge and we share in their hope. Never give up the fight."