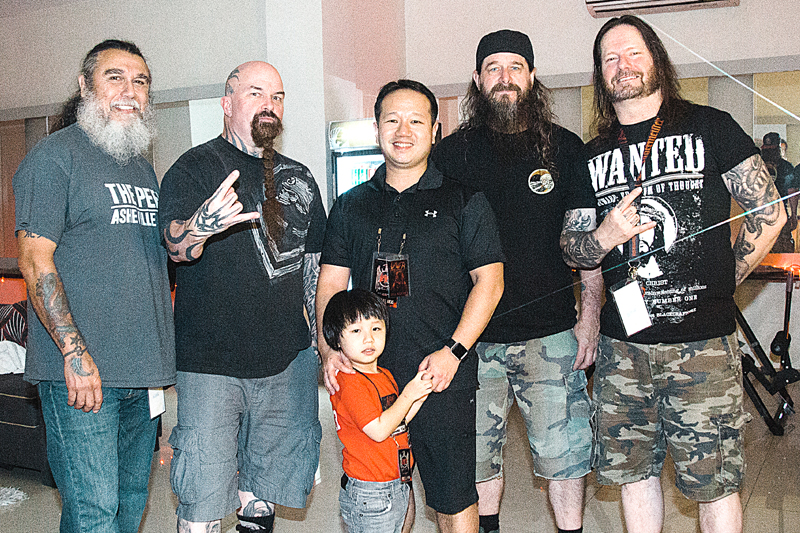 The Philippines Yearbook, PULP magazine & PULP Live World president & publisher Vernon Go and son Winter (center) with Slayer's bassist & vocalist Tom Araya, guitarist Kerry King, drummer Paul Bostaph and guitarist Gary Holt Photos by Joel Garcia / Stephen Lavoie
Slayer makes heavy metal history in Manila
(The Philippine Star) - December 2, 2017 - 4:00pm
MANILA, Philippines - Pinoy metalheads trooped to the Kia Theatre on Oct. 11 to witness Slayer in Manila – something metal fans waited for over a decade and as expected, it was nothing short of amazing. Some lucky fans who got a soundcheck upgrade got to witness the band prepare before the show. The group was clearly impressed by the enthusiasm of the crowd. With fans losing their minds, it was clear that they knew what they were in for.
Not only was this the very first time the legendary thrash metal band arrived in Manila, it was also the band's only show in Southeast Asia for the year.
Minutes before show time, you could feel the anticipation thick in the air. Once the houselights went out and the slow dread of the instrumental track began to play, the crowd began to stir in anticipation. They were finally going to see Tom Araya, Kerry King, Gary Holt, and Paul Bostaph in the flesh doing what they do best. Their setlist was a collection of all their classics both old and new.
Career-long staples such as "Antichrist," "Dead Skin Mask," "War Ensemble" and "South of Heaven" were paired with their more recent hits such as "Disciple," "Repentless," and "You Against You," making for one deadly arsenal. The band ended the show with crowd-favorites "Raining Blood," "Chemical Warfare," and "Angel of Death." As the band's most well-known songs and arguably one of the best heavy metal songs ever written, it was the perfect way to end a historic night.
SLAYER IN MANILA was presented by TRIBAL in cooperation with PULP Live World.