Female start-up leaders come together to discuss role of women in technology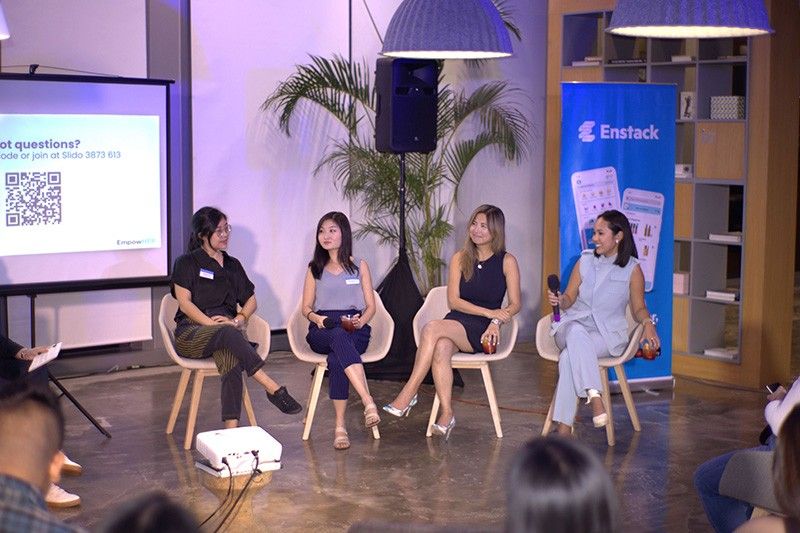 MANILA, Philippines — Notable women recently gathered to share their views in a forum designed for women working in the technology industry.
Enstack, a small to medium enterprises (SME) app that allows SMEs to sell online and offline, recently hosted the said forum titled "EmpowHER."
With "Conversations on Reengineering a Female-led Future for Tech" as its theme, the event tackled the importance of diversity and inclusion in technology as a way of opening more opportunities for women to take a larger role in a traditionally male-dominated industry.
Forum participants were mostly women working in different functions that fuel the technology ecosystem in the country, from start-up founders, executives, venture capitalists to government officials.
Notable women in government and public service were invited to speak at the forum. Bangko Sentral ng Pilipinas (BSP) Deputy Governor Bernadette Romulo-Puyat and Department of Information and Communications Technology (DICT) Undersecretary Anna Mae Lamentillo were keynote speakers.
In her speech, the BSP deputy governor discussed the importance of technology in boosting financial inclusion, especially for women-led micro-small to medium enterprises (MSMEs).
"Filipinas lead and own the majority of MSMEs in the country. However, these women leaders still face several challenges in financial inclusion, such as less economic participation, credit access challenges, and low utilization and knowledge of financial products. Addressing these challenges require interventions in creating an enabling and empowering environment that allow Filipina entrepreneurs to thrive in a digital environment. Technology offers tremendous potential in bridging these gaps so we can set up more Filipinas for entrepreneurial success," said Romulo-Puyat.
DICT Usec Lamentillo, meanwhile, underscored the importance of bridging the digital gender divide.
"Bridging the digital gender divide is a requisite of gender equality. But we cannot do this alone. When we talk about women's rights, we also have to open the dialogue about how men can play a role in this cause. Men need to be engaged in the fight for gender equality. We can achieve this by sowing the value of providing equal opportunity for women, that women's participation is critical in our society and in the overall welfare of our nation," Lamentillo said.
Inspired by the United Nations' theme for International Women's Day, "DigitALL: Innovation and Technology for Gender Equality," the event also saw women leaders in technology lend their perspectives about the past, present and future for women working in the industry.
The role of diversity in powering technology
"Diverse viewpoints lead to better technology. During Women's Month, we celebrate the impact of women in technology and encourage the next generation of women technologists to drive innovation," shared Stephanie Sy, Founder and CEO of Thinking Machines.
Mentoring women to advance in tech and leadership roles
"It is pivotal for women who want to pursue their careers in tech to see that there are women leaders in these fields. Our job now is to help mentor and inspire the younger ones to continue to challenge themselves and continue cultivating their strengths," added Ruoshan Tao, Head of Marketing, Shopee Philippines.
Empowering women leaders for inclusive fintech innovation
"Creating a more inclusive fintech industry begins with empowering more women leaders to offer their fresh ideas to spur innovation. Viewing the needs of the current payments landscape through a gendered lens allows us to see how we can create infrastructure that is equally accessible for both men and women," noted Yangyang Zhang, Managing Director for Xendit.
Fostering women-led tech ecosystems
"Women are the backbone of economies, and tech is no exception. We've seen this first-hand in our interactions with thousands of women-led SMEs that have been embracing digitization through our Superapp. By providing different channels to support these businesses and foster strong linkages among women in our ecosystem, we can unleash their inherent creativity to solve problems, fuel economic growth and drive innovation," said Enstack Co-Founder and CEO Macy Castillo.
She added: "While representation and participation of women in tech in Southeast Asia is relatively higher than other parts of the world, we still need to keep track of emerging conversations on representation, access, and even policy. Through EmpowHER, we hope to contribute to the community's collective goal of camaraderie, so we can all work towards a more inclusive future for the tech industry."
RELATED: Speaker vows women empowerment through digital technology