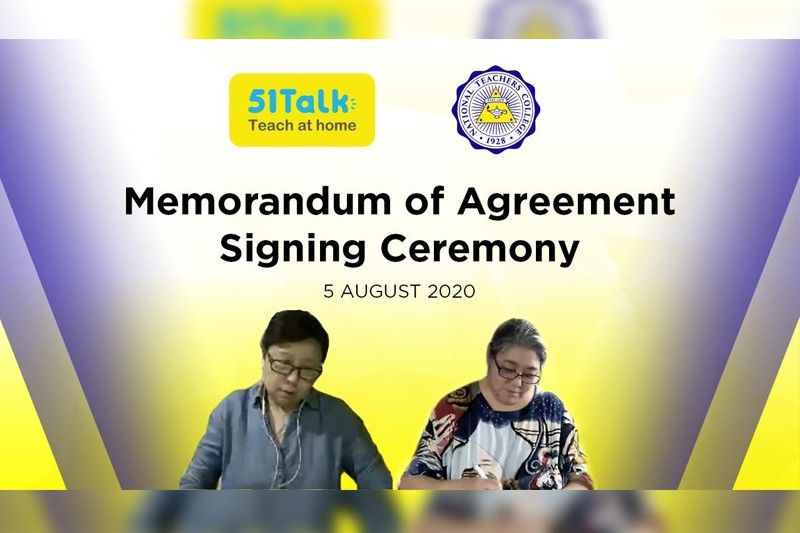 (From left) 51Talk Country Head Jennifer Que and National Teachers College Executive Vice President Pamela Wu sign the partnership agreement between the two parties that will enable teachers to acquire new skills as a way to adapt to the new online learning environment.
Photo Release
51Talk, National Teachers College gear up to develop online teaching in the Philippines
(Philstar.com) - September 7, 2020 - 3:00pm
MANILA, Philippines — As schools and universities across the Philippines reopen, educators are required to adapt and teach online using digital implements through a computer, making it necessary that they are upskilled and trained to handle online classes.
Being a step ahead of the pack, leading online English education platform 51Talk and premier education institution National Teachers College (NTC) formally inked a partnership that provides support, training, and assistance to students and alumni to equip them with the skills and knowledge in facilitating online classes effectively.
The signing of the memorandum of agreement between 51Talk and NTC was conducted through a Zoom online event.
"This is definitely one of the great milestones for both of our organizations. 51Talk is proud to partner with NTC, the Philippines' premier educational institution. We are optimistic that the courses 51Talk facilitated have given both NTC faculty members and students a broader understanding of online teaching, enabling them to bring their classroom teaching expertise online," said Ms. Jennifer Que, country head of 51Talk Philippines.
"51Talk has been in the online education business for more than nine years and we are more than happy to share our knowledge, experience, and best practices," she added.
National Teachers College Executive Vice President Pamela Wu affirmed Que's message by sharing how 51Talk provided the training needs of the NTC faculty and students via a series of webinars and online certification courses.
"51Talk's contribution to the presentation and development of our courses has been very helpful for NTC as we chart new courses in digital education and learning opportunities for our students," said Wu.
"These efforts with partners like 51Talk help keep our curriculum and teaching relevant as we mold the new breed of NTC teachers for the next generations. On behalf of the National Teachers College community and our President, Fred Ayala, thank you very much."
Throughout the pandemic, 51Talk has been hard at work in empowering Filipinos across the Philippines by continuously spreading awareness about their home-based online English teaching opportunities. They have also been active in sharing their expertise about online education to educators and aspiring teachers, through their partnerships with schools, universities, and local government units across the country.
51Talk recently announced they are seeking 30,000 online English teachers this year due to the increasing demand for English language education from China. Daily, 51Talk delivers more than 100,000 one-on-one online lessons that mainly cater to young learners.
Interested college graduates with a good command of the English language who have an up-to-spec desktop or laptop computer and a wired internet connection may register online via 51Talk.ph to jumpstart their online English teaching journey. The screening, training, and onboarding are all done online, so applicants need not leave their homes to start teaching and earning.
"51Talk, according to the Global Monitoring of Online Learning Services, is one of the leading service providers for online English education in China and for Southeast Asia," shared Dr. Ed Fermin, vice president for Academic Affairs at NTC.
"When we work with industry leaders in offering alternative learning systems and provisions, we are able to prepare our teachers better. Historically, 51Talk is the first industry partner of NTC to have participated in the design and delivery of one of our certificate courses in preparing teachers for online education. We look forward to making this partnership grow and to move forward in building our nation through meaningful education," he concluded.