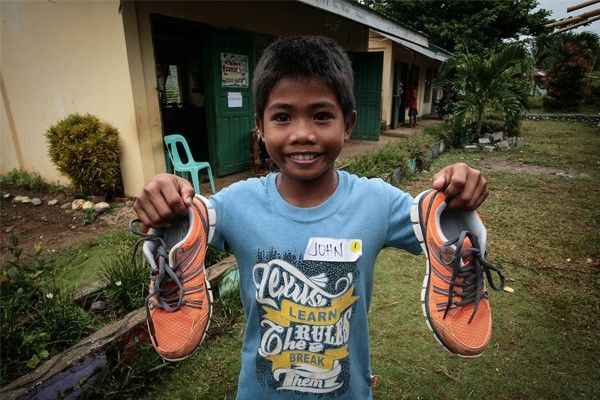 John, a nine-year-old student of Diasan Elementary School, shows off his new pair of shoes. Through Share Shoes, The SM Store hopes to make the journey of kids safer and more comfortable.
Photo Release
The SM Store brings 'Share Shoes' project to far-flung community in Isabela
(The Philippine Star) - September 23, 2019 - 8:00am
ISABELA, Philippines — The SM Store continues to bring happiness to Filipino communities, this time reaching out to the remote farming barangay of Diasan in Isabela province.
Home to more than 600 people, Diasan is teeming with vast fields of corn, bananas and pineapple. Here, life is simple. Most of the residents have never set foot in a mall before. But on September 17, The SM Store came to them through its Share Shoes program, which distributed shoes to students and conducted a medical mission.
"We are here to show the residents that while they may be far from the city, they are never forgotten by SM, that is why we are bringing Share Shoes here," said Cielito Velasquez, assistant branch manager of The SM Store Cauayan, which is a two-hour drive away from Diasan.
The road to Diasan provides scenic views but the terrain is quite challenging, even for expert drivers. Residents to this day experience challenges in accessibility, what more the young ones.
Tucked in the middle of the barangay is the Diasan Elementary School. To get here, many of the students have to walk for hours on dirt roads and slippery slopes.
By donating new shoes to the students, The SM Store's Share Shoes hopes to make the journey of the students easier and more comfortable.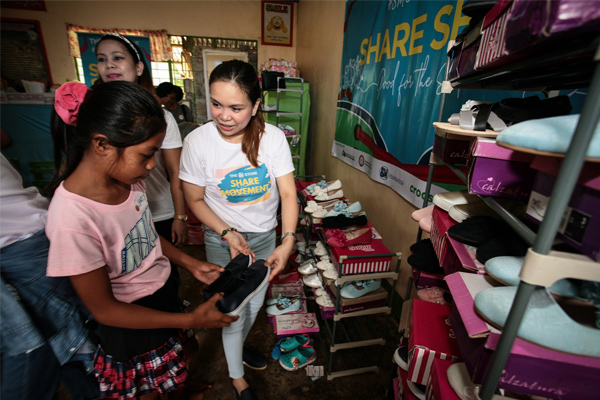 Cielito Velasquez, assistant branch manager at SM Store Cauayan, assists one of the kids in picking a new pair of shoes. The SM Store transformed one of the classrooms to look like a shoe store, replicating the department store experience. Photo Release
Department store experience
Employee volunteers from The SM Store, Savemore and SM Foundation, as well as Diasan residents worked together to build a big tent, assemble racks and decorate classrooms where kids could pick new shoes and play with their friends.
The children eagerly awaited for their turn to enter a classroom-turned-shoe store, where they chose from clogs, sneakers, sandals, flats and slip-ons donated by The SM Store MLC Shoes and Bags, and SM's retail affiliates Crocs and Simply Shoes.
The kids could not wipe off the smiles on their faces as volunteer employees from The SM Store Cauayan assisted them in selecting and trying on their shoes, replicating the department store experience.
Volunteers and the community leaders also helped in washing the feet of the children, imparting to them the importance of taking care of one's feet.
The kids were then treated to fun games and groceries from Savemore. They even participated in a Zumba session initiated by SM employees.
The kids seemed to be more confident in their actions and interactions with others, knowing their feet were comfortable and secure in their new shoes.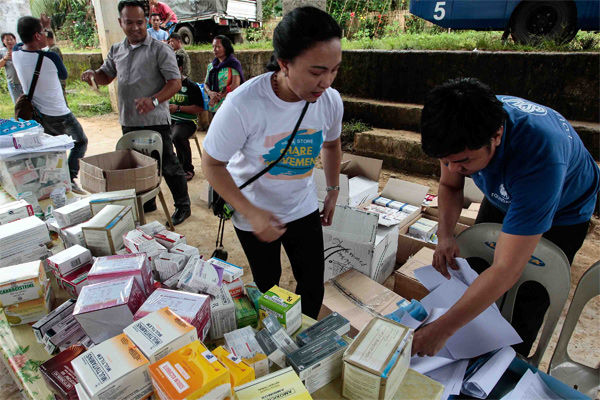 SM Foundation's resident physician and project officers arrange medicines for the medical mission in Barangay Diasan. Photo Release
Teacher-in-charge Domenador Mayuyo Jr. said the new shoes the kids received will provide an additional boost for them to go to school.
"It's the first time some of our students have ever received shoes. With their new shoes, they will definitely be more encouraged to come everyday," Mayuyo said.
John, a nine-year-old student who picked a pair of orange rubber shoes from the rack, said that those were the first pair of shoes he has ever owned. He said he specifically chose them so he could wear them to school and during basketball games with his friends.
A culture of sharing
The SM Store also partnered with the SM Foundation, Caritas Philippines and the Diocesan Social Action Center of Ilagan to set up a medical mission, where residents of Diasan were able to avail of medical and dental consultations, laboratory work, X-ray, and ECG examinations courtesy of the SM Foundation's Mobile Clinic, all for free.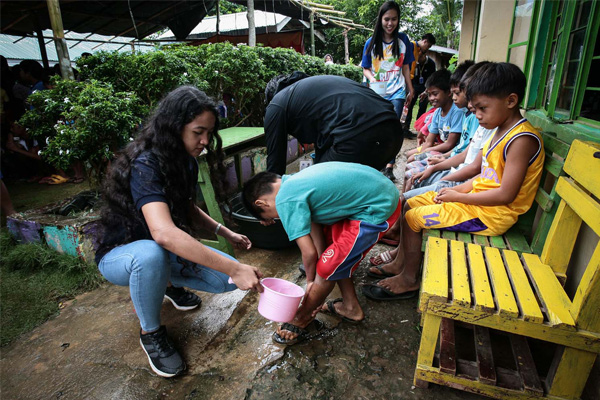 Employee volunteers from Savemore Echague wash the feet of the kids, teaching them the importance of proper hygiene. Photo Release
Aware that shoes are essential to one's journey through life, the SM Store's Share Shoes campaign encourages its shoppers to donate brand new and pre-loved footwear to help kids walk safely and reach their desired destinations.
It is one of the ways The SM Store, under its Share Movement, empowers its shoppers to be a blessing to those who have less in life. Promoting a culture of sharing and purposeful giving, the movement has collected over 1.3 million donations composed of shoes, clothing, books, school kits, disaster kits and toys.
Find out more about the #SMShareMovement's quarterly donation drives and how to contribute to upcoming projects, by liking The SM Store Facebook Page and by following @TheSMStore on Instagram, Twitter, and YouTube.