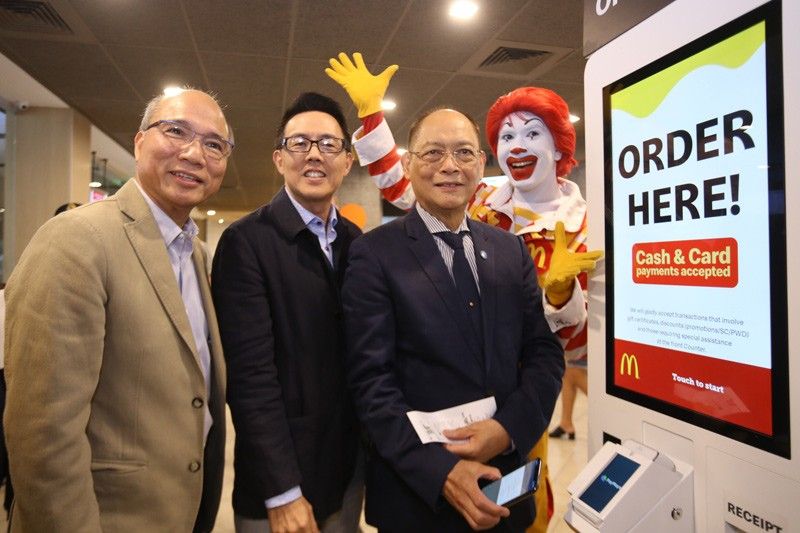 McDonald's Philippines on Wednesday officially announced the expansion of its partnership with PayMaya for QR payments in its NXTGEN stores. Photo shows (from right) BSP Governor Benjamin Diokno, who tried out the QR payments at the self-ordering kiosk, along with McDonald's Philippines CEO Kenneth Yang and PayMaya CEO and founder Orlando Vea.
Photo Release
McDonald's provides better customer experience with PayMaya QR
(The Philippine Star) - September 20, 2019 - 8:00am
MANILA, Philippines — McDonald's customers in the Philippines can expect an even better dining experience as it continues to roll out its NXTGEN store format. This time, the brand scales up digital payment acceptance by offering PayMaya QR, on top of the already existing card payment options in-store.
The new dining and payment experiences coincide with the reopening of McDonald's 32nd Street, located at the corner of 32nd Street and 5th Avenue in Bonifacio Global City, Taguig.
McDonald's NXTGEN offers customers the convenience of multi-point ordering. Its Self-Ordering Kiosks allow customers a digitized alternative to order and pay for their McDonald's favorites, providing a more seamless transaction.
"We've received great feedback from customers about McDonald's NXTGEN. They have noticed the elevated dining experience that it offers, which is why we are bullish about continuing its roll out to more parts of the country. With our expanded collaboration with PayMaya through QR payments on top of card acceptance in our stores, we are able to offer another convenient way for our customers to pay for their favorites," said Kenneth Yang, president and chief executive officer for McDonald's Philippines.
Paying via PayMaya QR is initially available at select stores in Bonifacio Global City in Taguig, with availability in all stores accepting cashless payments anticipated within the next month.
The renewed partnership expands an earlier collaboration which enabled McDonald's to accept Visa, Mastercard, and JCB credit, debit, and prepaid card payments either via its new self-ordering kiosks in NXTGEN stores or over the regular store counter.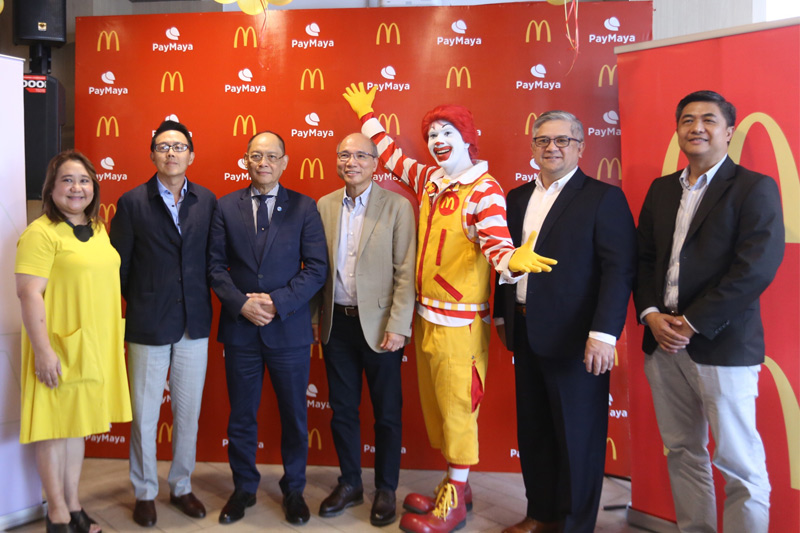 McDonald's Philippines on Wednesday introduced PayMaya QR payments starting at one of its NXTGEN stores in Bonifacio Global City, Taguig. In photo: Benjamin Diokno, governor of Bangko Sentral ng Pilipinas (third from left); Kenneth Yang, president and chief executive officer of McDonald's Philippines (2nd from left); Orlando Vea, found and chief executive officer of PayMaya (4th from right); Margot Torres, managing director for McDonald's Philippines (leftmost); Robert Ramos, chief financial officer and vice president of Finance at McDonald's Philippines (2nd from right), and; Mar Lazaro director and head of Enterprise Business at PayMaya (rightmost). Photo Release
"We congratulate McDonald's for being one of the trailblazers in pushing for innovations in the quick-service restaurant industry, and our expanded partnership with them brings the payment experience of customers to a whole new level," added Orlando Vea, founder and chief executive officer of PayMaya.
On top of improving the experience of their customers, offering more digital payment options is in support of the Bangko Sentral ng Pilipinas' (BSP) National Retail Payments System initiative, which intends to elevate digital transaction usage in the country.
For his part, Benjamin Diokno, governor of Bangko Sentral ng Pilipinas, said: "We, at the BSP, acknowledge the crucial role the private sector plays in driving the digital transactions in the country. Together with the government and key industry enablers, we must work hand in hand towards our common goal of increasing electronic payment transactions in the country to 20% by next year. As we empower more consumers and businesses to adopt digital payments, we are promoting wide access to financial services leading to a more inclusive and sustainable economy."
With the widespread presence of McDonald's across the country, more Filipinos can now experience not just the next-generation of quick-service restaurants but an enhanced digital payment experience as well, be it via cards or using the PayMaya app on their mobile phones.
"We laud BSP for their bid to grow the cashless economy in the country. Through their leadership and partnership with a brand like us and innovative financial service providers like PayMaya, I believe that their goal of the Philippines to be a 20% cashless country by 2020 will be achieved," Yang said.
Using PayMaya at McDonald's
To pay using PayMaya QR at McDonald's all users have to do is download the PayMaya app on their phones, register for an account, and add money via PayMaya's widest network of over 40,000 add money touchpoints nationwide.
Once the account is ready, simply go to one of over 200 McDonald's stores accepting cashless payments, order via the Self-Ordering Kiosk or at the Front Counter, and scan the QR code that appears on the terminal.
Paying via QR is quick, fast, and convenient, because you don't need to fish out bills or coins from your wallet in order to pay. On the side of the merchant, transactions are so much faster and they are able to serve more customers in a shorter amount of time.
Paying via PayMaya QR also means customers can receive instant cashback from various PayMaya promos, which they can see by visiting paymaya.com/deals.